Carrie Tree | Live In Forest Row
About this event
SUPER Excited to be bringing you our very own Lady of Gaia, the lovely Carrie Tree.. will be gracing our shores in August for a NOT TO BE MISSED Intimate concert.
DATE - 17th August
TIME - 7pm
COST - Early Bird £12
(limited early bird tickets available)
VENUE - FOREST ROW
Anderida Community
Next to Java Jazz High Street Forest Row
PLEASE BRING SOMETHING TO SIT ON
Living on a horse livery in Wiltshire with her partner, UK singer-songwriter Carrie Tree writes and crafts her music amongst the fields and forests. She sings with an honesty and dedicated love for this earth and our human journey, touching a deep place inside the hearts of listeners.
She draws us into a world of powerful storytelling and sublime melody with voice, guitar, piano, and percussion, melting borders within us.
Building a dedicated following in the UK/Europe's acoustic music scene for many years, Carrie has toured in countless retreats, festivals and concerts across the world. sharing her love of music and the depth of connection it can bring.
ABOUT:
Carrie has collaborated live and in the studio with the likes of Damien Rice, Fink, Albert Mazibuko (Ladysmith Black Mambazo), Sandrayati Fay, Carly Simon, Rumer, Mirabai Ceiba, Aukai, Martha Tilston and Andy Barlow of Lamb.
Carrie has self-released 3 studio albums - 'The Kitchen Table', 'Home To The Invisible', and 'The Canoe'.
New release July 2021 - 'Sweet Earth' premiered as 'Acoustic Track of the Week' on BBC Radio across the West, comes as a follow up single from 'The Canoe', working again with the magic touch of Markus Sieber (Aukai/MIrabai Ceiba).
The track features stunning guest vocals by Sandrayati Fay (Bali/Iceland), best known for her recent works with Ólafur Arnalds - 'When We Are Born' and Damien Rice 'Song for Berta'
Alongside her music, Carrie sees the need and power of therapeutic work to bring us back into balance with the earth, and has studied in Family Constellations, Holistic Voice Therapy, Zen Coaching, NonViolent Communication, Nature Connection and supports groups in Shamanic ceremony and ritual.
Carrie is committed to the path of healing and connecting music to projects with the intention to bring ourselves and the environment into harmonic symbiosis.
'Really powerful… able to carry a strong message..An early Marianne Faithfull'
BBC WALES, Frank Hennessy
...delivered and presented in a way that suggests magic is at work here.'
17 seconds
'a gift to be savoured like a summer breeze'
Photogroupie
'One of the most natural voices you may ever hear'
XYZ Magazine (Brighton)
'her nomadic heart, absorbing lyrical imagery and deftly arrangements allow her to cross genres as easily as a canoe rides the waves.'
Photogroupie
WEBSITE & SOCIAL MEDIA:
www.carrietree.co.uk
Facebook band page:
https://www.facebook.com/CarrieTreeMusic
www.facebook.com/carrietreemusica
Instagram:
www.instagram.com/carrietreemusic/
VIDEOS…
Sweet Earth
https://www.youtube.com/watch?v=hgIrtRsbQpU
Human Kindness - Union Chapel - London
https://www.youtube.com/watch?v=Q54wEuccmEg
The Canoe - Union Chapel - London
https://youtu.be/qmaJzwhbbDU
VIDEOS WITH SONGS FOR THE EARTH:
Carrie Tree - Only Love - Live in London, Keith Ellis on clarinet
https://youtu.be/6kM-v7W_mf4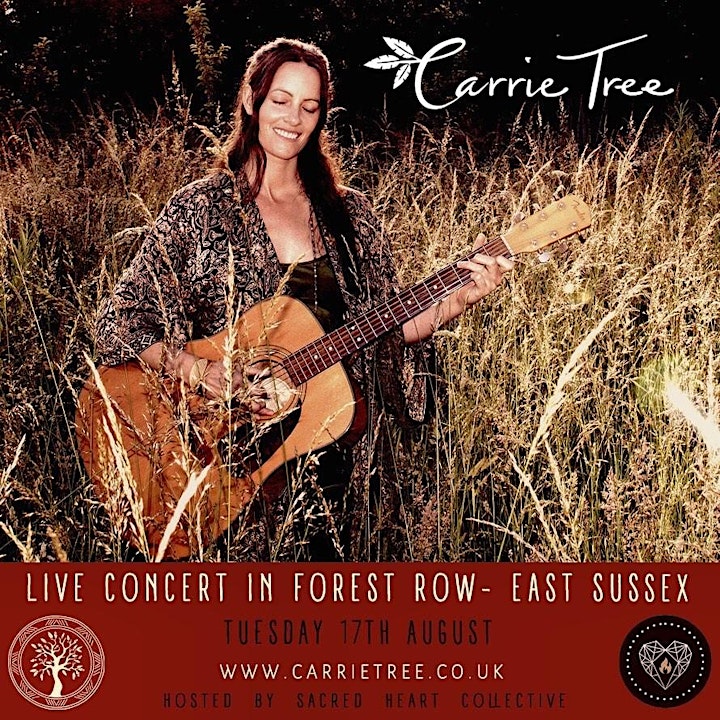 Organiser of Carrie Tree | Live In Forest Row
Sacred Heart Collective
PLEASE VISIT.. FOR LATEST INFO & RESERVE YOUR SEAT
// http://www.sacredsoundfestival.com //
Following the Inspiration, Uplift & Enjoyment of the Sacred Heart Sound Festival, Jan 2020. The Sacred Heart Collective was born.
The Sacred Heart Collective (S.H.C) holds a heart-centred vision which is as follows: "To facilitate and co-create healing spaces using the power of sacred sound, song, chant & movement to inspire, uplift and connect. Elevating consciousness -Celebrating Life. To carry out this sacred work as a collective of equal participants sharing inspiration, workload, support & reward directly related to events organised in alignment with, and in the service of this vision."
The Sacred Heart Collective is a not for profit community association. Events support local musicians, artists & healers as well as giving 10% of profits to a chosen charity.