Cartooning for Communicators: a one-day workshop

Friday, 6 February 2015 from 09:30 to 16:30 (GMT)
Event Details
Want to give your presentations more impact?
Want to make your training even more visual, lively and engaging?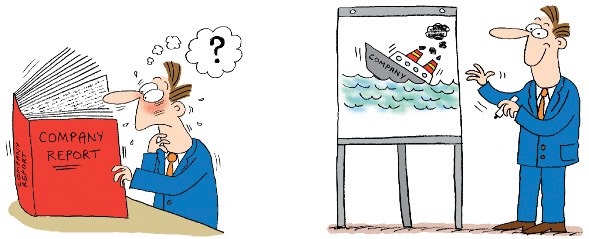 ...learn to think like a cartoonist and discover how visual thinking can breathe new life into the way you communicate!
In this workshop you'll learn how to tap into your visual thinking abilities through the medium of cartooning. Working with professional cartoonist and speechwriter Martin Shovel, you will learn how to:
simplify your message by getting to its essence

draw simple cartoons on flipcharts, slides and handouts, that get your message across with impact

turn abstract ideas into clear, memorable images

use visual metaphors to make your messages stick.
Along the way you'll learn how to draw and use cartoons to enhance your training and presenting, but the workshop is about more than just cartooning – it's about getting to the heart of good communication.
By the end of the day you'll be able to communicate your ideas and messages in cartoon form, and you'll see drawing in a whole new way!
Outline of the day
In the morning we explore what drawing really is, and why everyone can do it. By the end of the session you will be able to draw your own people and animals, expressions, objects and contexts, and you will have the know-how to develop your cartooning as far as you want to take it.

The afternoon session is about 'thinking like a cartoonist' and applying your drawing skills in your work. You will develop cartoon ideas that will be immediately useful to you, and you'll be able to practise live cartooning within the supportive framework of the group. The group is kept small to guarantee everyone individual attention and constructive feedback.
Testimonials
"This workshop has already transformed how I think about communicating. Yes, you learn to draw cartoons, but it has gone much deeper than that, leading me to reexamine my whole approach. Fascinating!" Antonia Mochan, Head of Communication for the European Commission in the UK.
"The day provided a confidence boost, and unpacked a whole new way of thinking about getting your message across. Martin and Martha give you the benefit of their talents and experience, helping you communicate effectively; beware, the results could be addictive." Philip Ball, Palliative Care Services Manager, Sue Ryder
"A fun and very worthwhile day, with some great drawing techniques which can be incorporated into anything you may be working on to lift and inspire others. I've since used the techniques in my training workshops, received really positively by the group! Highly recommend this workshop and Martha and Martin facilitate in a very supportive style, making it easy for all!"    Theresa Foote, Aurora – Potential Realised
"I really enjoyed the course. It has made me think about the importance of focusing on my audience, about how, what and the way I draw benefits them. I now understand the importance of thinking in – and applying – metaphors and metonyms when creating visuals. I will be able to apply this learning to lots of aspects of my work as a trainer and coach, including visually capturing the essence of the content explored when working with individuals and groups."   Kate Chambers, KCA
'I can thoroughly recommend this course. Martin and Martha run an energising, fun and inspiring session that will make you think differently about the way you communicate, from the moment you step in the room. As facilitators they are warm, supportive and immensely encouraging, and their experience and expertise enables them to deliver the session with real credibility. Go for it, I promise you won't disappointed!'   Kirsten Holder, Kickstart Development
 "An engaging day full of learning, new ways of thinking and great fun! I recommend it unreservedly"  Andrena Cumella, Senior Fellow, Office for Public Management, London.
"Every trainer/facilitator should attend this workshop. Invaluable." Barry Bond, Transition Partners.
"Your workshop was superb – both enjoyable and extremely useful. I learned so much, and still use the tools all the time"  Neil Mullarkey, founder member of the Comedy Store Players, actor and management trainer."
"Definitely the best training day I've ever had"  Jennie Naidoo, University of the West of England.
Some tweets following previous workshops...
Sue Parroy (@thehealthmaze): "Fantastic cartooning workshop with @MartinShovel and Martha. Great group of new friends, new ideas and fingers twitching 2 practice."
Philip Ball (@PhilipRABall): "Worth more than you think #CartooningforCommunicators with @MartinShovel  @marthaleyton "
Bhanu Dhir (@bhanudhir): "Brilliant workshop - loved it and happy to recommend to anybody."
Tutors: Martin Shovel and Martha Leyton of CreativityWorks

Visit our website to find out more...
(PS If you work for a charity or as a sole trader, contact us about our special rates.)
 
When & Where

The Studio

B2 5EP Birmingham
United Kingdom


Friday, 6 February 2015 from 09:30 to 16:30 (GMT)
Add to my calendar
Organiser
CreativityWorks helps people who want their message to stand out and be noticed.
Our services include speechwriting, speech coaching, communications consultancy and training in speechwriting and high-level presentation skills.
We offer courses and workshops in speechwriting, message design, and 'thinking like a cartoonist'.
To find out more, visit our website: www.creativityworks.net