Cartooning for Communicators: the 1-day workshop

Friday, 6 May 2016 from 09:30 to 16:30 (BST)
Event Details
Want to give your presentations more impact?
Want to make your training even more visual, lively and engaging?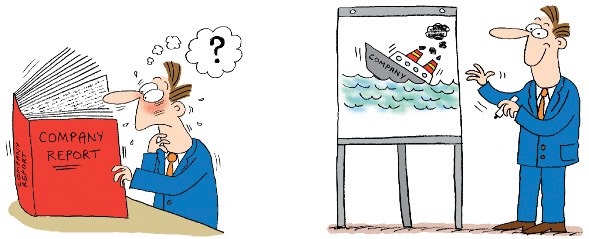 Join us to discover how visual thinking can breathe new life into the way you communicate!
You'll learn how to:

simplify your message by getting to its essence.

draw simple cartoons on flip charts, slides and handouts.

turn abstract ideas into clear, memorable images.

use visual metaphors to make your messages stick.

draw and use cartoons to enhance your training and presenting.
But our workshop is about much more than just cartooning – it's about getting to the heart of good communication. By the end of the day you'll be able to communicate your ideas and messages in cartoon form, and you'll see drawing in a whole new way.

Outline of the day
In the morning we explore what drawing really is, and why everyone can do it. By the end of the session you will be able to draw your own people and animals, expressions, objects and contexts, and you will have the know-how to develop your cartooning as far as you want to take it.


The afternoon session is about 'thinking like a cartoonist' and applying your drawing skills in your work. You will develop cartoon ideas that will be immediately useful to you, and you'll be able to practise live cartooning within the supportive framework of the group. The group is kept small to guarantee everyone individual attention and constructive feedback.

Create compelling messages with cartoon thinking!
Take a look at our video to find out how thinking like a cartoonist can make you a better communicator...
What people are saying about the workshop...
At the end of our Cartooning for Communicators workshop in Birmingham (March 2016) three participants shared what they got out of the day. Have a listen...
"This workshop has already transformed how I think about communicating. Yes, you learn to draw cartoons, but it has gone much deeper than that, leading me to reexamine my whole approach. Fascinating!" Antonia Mochan, Head of Communication for the European Commission in the UK.
"I came away from the Cartooning for Communicators workshop inspired and refreshed. The workshop was a brilliant mix of technical learning (ie how to actually draw some stock images) and how to translate real life situations into cartoon format. You can learn the thinking during the workshop but it's really all about practice, practice, practice! The really powerful part for me was about clarity of message – less noise around a message (whether written or drawn) means a clearer message that will stick with your audience. I'd recommend the workshop particularly for people who present ideas to others (whether formally or informally) and/or people who work in complex systems or with complex ideas that are in danger of being lost!" Leanne Draycott, Coventry City Council
"It was so helpful to take a day out of the busyness of writing and talking to think about how to convey my ideas with cartoons. What really struck me was that it isn't about drawing the perfect cartoon. You showed us that the art is really in thinking like a cartoonist and learning how to take a ream of words and convey the essence of them through a cartoon. So much more engaging for an audience! The day was extremely well structured – from taking the fear factor out of the equation through supporting us to prove to ourselves that we can actually draw a cartoon, to coming up with a cartoon that we can use in our real work. I will be using mine again, and again, and probably again! Thank you both for great facilitation and inspiration. The cartoon for how I feel about the course would be a jumping person with a big smile and lots of ideas and energy!" Leslie Groves, Senior Gender, Inclusion and Human Rights Consultant

"Interesting and fun course that really makes you think about how to simplify communications so that audiences really understand what you're trying to say to them. Martha and Martin make it as interesting and rewarding as it is challenging and this was by far the most enjoyable – and useful – professional course I have ever attended.  Oh, and don't think it's not for you because you can't draw, you can, you just don't know it yet." Bob Maddams, Film-maker
"I thoroughly enjoyed the workshop and found it both illuminating and liberating" Ross McIntosh, Independent HR Consultant, Coach and Business Psychologist  
"The day provided a confidence boost, and unpacked a whole new way of thinking about getting your message across. Martin and Martha give you the benefit of their talents and experience, helping you communicate effectively; beware, the results could be addictive." Philip Ball, Palliative Care Services Manager, Sue Ryder
"I really enjoyed the course. It has made me think about the importance of focusing on my audience, about how, what and the way I draw benefits them. I now understand the importance of thinking in – and applying – metaphors and metonyms when creating visuals. I will be able to apply this learning to lots of aspects of my work as a trainer and coach, including visually capturing the essence of the content explored when working with individuals and groups."   Kate Chambers, KCA
"I really enjoyed the workshop – it was fun and freeing.  The exercises in the morning were great for getting back to that place of just doing something – not thinking too much and avoiding all the hang ups we all have at this stage! But more than that it really made me think more about the way in which I communicate ...  It has given me solid ideas for ways to communicate that are inventive, fun but also getting an important message across.  The focus on using cartoons to create a message was great – it was not simply a 'cartoon workshop' but rather how cartoons and words and messages all work together, or how they can work together.  It is definitely something I will incorporate into my work, either lecturing or presenting. I will definitely recommend the course." Orla Lehane, Dublin City University
"I can thoroughly recommend this course. Martin and Martha run an energising, fun and inspiring session that will make you think differently about the way you communicate, from the moment you step in the room. As facilitators they are warm, supportive and immensely encouraging, and their experience and expertise enables them to deliver the session with real credibility. Go for it, I promise you won't disappointed!"  Kirsten Holder, Kickstart Development
"Definitely the best training day I've ever had."  Jennie Naidoo, University of the West of England.
Tutors: Martin Shovel and Martha Leyton of CreativityWorks
Visit our website to find out more...

FAQs
Where can I contact the organiser with any questions?
Visit our website www.creativityworks.net for contact details, and give us a call to discuss your needs.
This workshop is also available as an in-house workshop for groups. Call us or drop us an email if you'd like to discuss this further.
When & Where

Jurys Inn
101 Stroudley Road
BN1 4DJ Brighton
United Kingdom


Friday, 6 May 2016 from 09:30 to 16:30 (BST)
Add to my calendar
Organiser
CreativityWorks helps people who want their message to stand out and be noticed.
Our services include speechwriting, speech coaching, communications consultancy and training in speechwriting and high-level presentation skills.
We offer courses and workshops in speechwriting, message design, and 'thinking like a cartoonist'.
To find out more, visit our website: www.creativityworks.net