Description

Part funded by the Regional Development Fund
On 6th October Capital Enterprise will be Launching CASTS (Capital Accelerate and Scale Tech Superstars). This ERDF funded programme will help ambitious and able tech start-ups receive the support to build up their team and develop their product and business plan and will be operated through a number of accelerators in the Capital Enterprise Network.

To celebrate the launch of CASTS we're holding an afternoon of talks, workshops, and mentoring on Thursday 6th October featuring over 20 speakers from Google and our accelerator partners including Seedcamp, Startupbootcamp, and Techstars. They will be discussing some of the key topics facing the London Ecosystem today such as: How to raise Investment, Working with Corporates, The Effects of Brexit, and a deep look at the key technologies of the future, including AI and GovTech.
Our full agenda is now here to view, check it out!!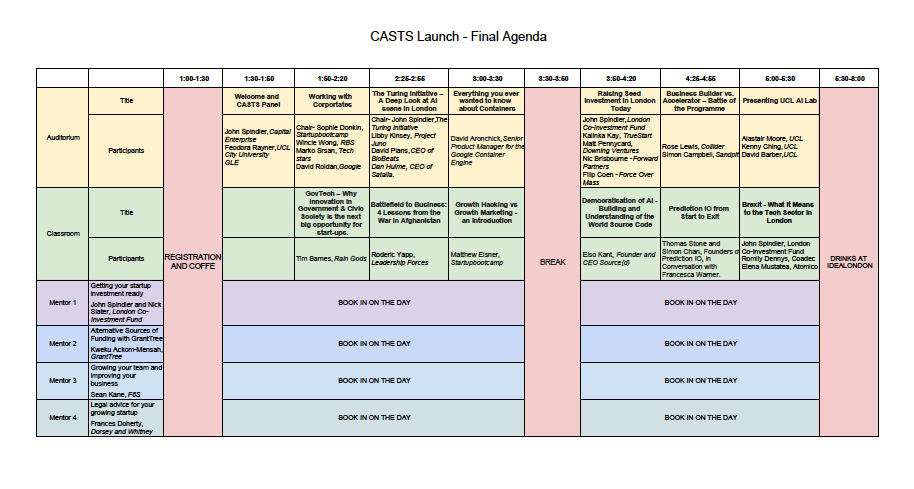 (see the bigger version here)
PLEASE NOTE THAT OUR EVENING DRINKS WILL TAKE PLACE ROUND THE CORNER AT IDEALONDON (69 Wilson Street, EC2A 2BB)
Attendance is free with a £10 deposit to reserve a ticket. This will be fully returned to you if you attend!