Sales Have Ended
Registrations are closed
Gràcies per apuntar-te a Catalans, Welcome! 2021. No t'oblidis de connectar-te uns 5 minuts abans de començament del taller.
Sales Have Ended
Registrations are closed
Gràcies per apuntar-te a Catalans, Welcome! 2021. No t'oblidis de connectar-te uns 5 minuts abans de començament del taller.
"Catalans, Welcome! 2021" és una xerrada interactiva per persones que estiguin interssades a venir a viure al Regne Unit.
About this event
Els objectius de la xerrada taller són:
- Informar a persones que vulguin venir a viure al regne unit sobre els tràmits i procediments legals necessaris per a fer-ho, així com de les restriccions com a conseqüència del Covid-19.
- Donar a conèixer algunes diferències culturals bàsiques entre el Regne Unit I Catalunya.
- Oferir elements bàsics de coaching per ajudar a entendre millor els objectius individuals per a iniciar el viatge i crear expectatives realistes.
- Donar a conèixer Catalans UK i les seves activitats i serveis, així com la Xarxa d'entitats i eines de support de i per a catalans i catalanes a Londres i a UK en general.
A qui va dirigida?
Persones residents a fora del Regne Unit, primordialment als Països Catalans, que tinguin interès a venir a viure al Regne Unit o que estiguin a punt de fer-ho. Aquesta xerrada NO esta destinada a persones que ja resideixin a UK.
Metodologia
L'idioma vehicular de la sessioó serà el Català.
L'activitat es desenvoluparà a través de ZOOM. Si no s'ha utilitzat mai, aconsellem connectar-se amb suficient antel.lacioó per poder descarregar l'aplicació.
La sessió constarà d'una presentació interactiva d'una hora aproximadament amb una segona part d'uns trenta minuts adaptada a les necessitats i situacions dels participatnts( a partir de la informació prèvia que proveixin).
Torn obert de paraules amb debat per uns 30 minuts més.
Les sessions comptaran amb eines de presentació i participació directa com mentimeter.com
Les sessions compten amb el suport i assessorament en els aspectes tècnics i legals de la Delegació del Govern al Regne Unit i Irlanda.
La xerrada serà a càrrec d'Andreu Quintana, Life Coach i resident al Regne Unit.
INSCRIPCIONS GRATUITES FINS A L'11 DE JUNY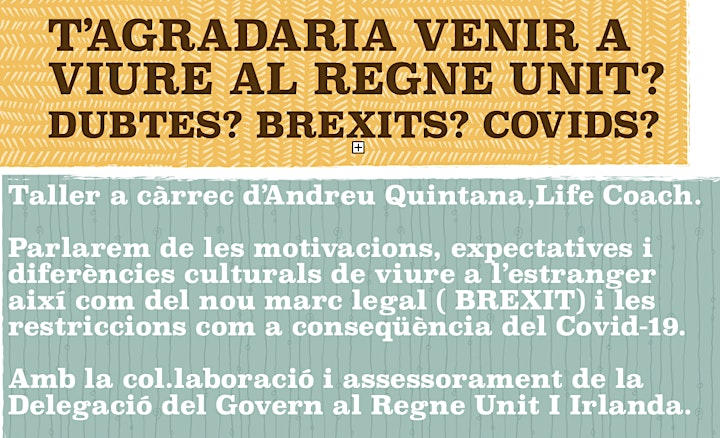 Organiser of Catalans, Welcome! 2021
Catalans UK is the meeting point of all friends of Catalonia in Great Britain.
We are a non-profit organisation composed by a large number of members and supporters, mostly based in London. 

We organise cultural and social events with the aim to encourage people to gather together, make new friends and keep up-to-date with what's happening in Catalonia, as well as to promote the Catalan language and culture in the United Kingdom amongst British people and Catalans living in this country. 

Catalans UK is the Catalan expat group in Great Britain and is supported by the Government of Catalonia, the Generalitat. In September 2007, Catalans UK was recognised as a Catalan Community Abroad as per the pertinent Decree.

In 28th September, 2010, Catalans UK joined the International Federation of Catalan Entities (FIEC), becoming the 64th entity adhered to this Federation, which aims, amongst other objectives, to gather Catalan expat groups and other related associations based in the EU and the rest of Europe, America and all over the world.