Join North East poet Christy Ducker for a writing workshop inspired by one of our most fundamental bodily functions: breath.
About this event
Join poet Christy Ducker for a writing workshop inspired by Life of Breath's Catch Your Breath exhibition. We will write in response to art and ideas from around the world, thinking about breath and respiratory health in new ways. Expect to play with breath in the poetic line, and let the air into your writing!
Suitable for all abilities.
About Christy
Christy Ducker is a poet and teacher of creative writing. Her first full-length collection Skipper was published in 2015, and includes work commended by the Forward Prize judges. Her pamphlet Armour (2011) was a PBS Pamphlet Choice. Two further pamphlets – Heroes (2016) and Messenger(2017) – have since followed. Her commissions include residencies with Port of Tyne, English Heritage, Edinburgh Surgeons' Hall Museum, and York University's Centre for Immunology and Infection; she also devised and directed North East Heroes, an archives and education project funded by Arts Council England. Christy has recently been working as a research fellow on poetry and health at Newcastle University's Institute for Creative Arts Practice.
About the Catch Your Breath exhibition
Breathing isn't just a bodily function. It allows us to speak, laugh, and sing. It connects us to the outside world. It reflects our state of mind and can be consciously controlled. Breath has inspired art and literature. For many, it has a spiritual significance. The personal and cultural meaning of breath goes beyond the simple act of keeping us alive.
Catch Your Breath explores the Life of Breath research project, jointly led by Durham University and the University of Bristol. Bringing together medical history, philosophy, art, music, and literature, the exhibition discovers new ways of thinking about breath and breathlessness and their relationship to both illness and wellbeing.
The Catch Your Breath pop-up exhibition will be on display at Middlesbrough Central Library from Monday 9 December to Friday 13 December 2019.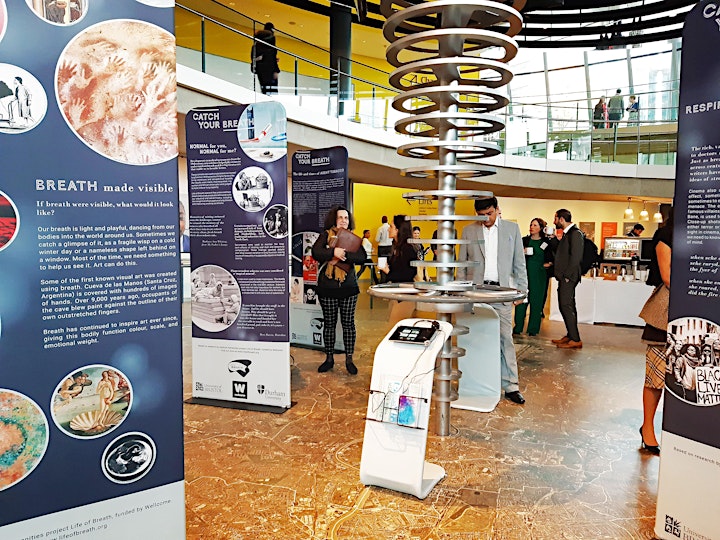 Organiser of Catch Your Breath: a poetry workshop
Life of Breath is an interdisciplinary research project funded by Wellcome Trust, focusing on the every day experiences of breathing and breathlessness. The team - based at Durham University and the University of Bristol - includes individuals from all different backgrounds, including medicine, philosophy, anthropology, history, arts, and literature. Life of Breath also works with the British Lung Foundation, people affected by lung disease, healthcare professionals, and people who use their breath in interesting ways.