About this Event
This Bristol installation of Catch Your Breath is a multi-sensory, interdisciplinary, participatory exploration of breath. This intimate invitation is an opportunity for you to engage with, take part in, and share the exhibition with others.
6.30pm: Speeches and nibbles
7.00pm: A guided preview of the exhibition display in the Brunel Building's beautiful atrium space (until Dec 2019, and then appearing in different forms around the city) together with an opportunity to contribute to a breath related global participatory artwork.
8:00pm: Special performance of 'The Book of Jo' in the hospital Sanctuary
About the performance: The Book of Jo is a new theatre show by Viv Gordon, commissioned by Life of Breath to animate research into Breath and Breathlessness. It explores what happens when life falls apart. How can we maintain hope when the worst happens? And why do bad things happen anyway? A woman faced with a rare and random terminal diagnosis sits in the debris of her life contemplating meaning and social justice with the dubious help of the Old Testament story The Book of Job.
Viv Gordon is a theatre maker and arts activist producing feisty work about mental health and trauma based on her lived experience. Read more about Viv at her website: www.vivgordon.com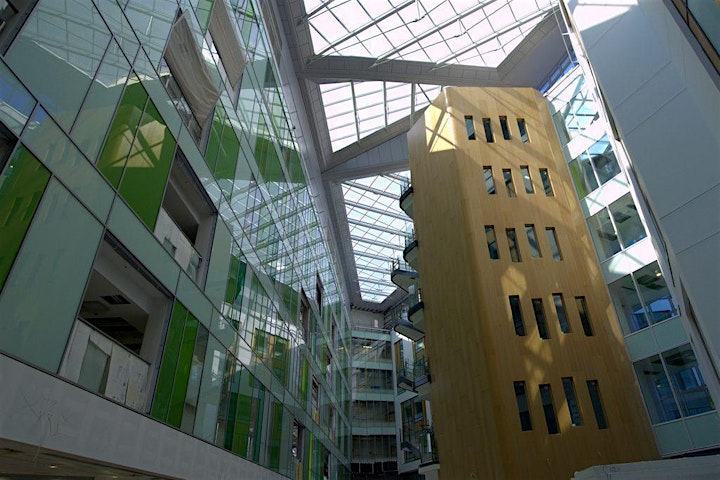 Please check our websites for full event details and to keep up to date: www.catchyourbreath.org and https://catchyourbreath.org/events/
Southmead Hospital is served by over 12 bus services which stop either on site outside the main entrance to the Brunel building, or very close by. For quick and easy route planning visit www.traveline.info.
You can park in the Brunel Multi-Storey Car Park or on Monks Park Road. For further information on car park charges and alternative travel, please visit the Southmead Hospital travel information page.
For queries please contact Life of Breath project administrators Nancy West (nancy.west@bristol.ac.uk) or Jordan Collver (jordan.collver@bristol.ac.uk).