CATIA V5 Assembly Design EXPERT Certification Exam (incl VAT) Oxfordshire
Dassault Systemes EXPERT Certification demonstrates you have extensive knowledge & hands-on experience in leveraging CATIA solutions
About this event
As a Certified CATIA V5 Assembly Design Expert you can boost your competitive advantage by validating your advanced level of expertise. This certification demonstrates that you have extensive knowledge and hands-on experience in leveraging the optimum results from CATIA solutions.
Recommended Preparation course: CATIA V5 Mechanical Design Expert or CATIA Product Design Expert
Exam description: the exam includes several problem sets focusing on assembly advanced features such as assembly analysis, optimization, and flexible sub-assemblies
Topics covered: The exam includes several problem sets focusing on assembly advanced features such as assembly analysis, optimisation, and flexible sub-assemblies.  Constraints and replacing components, detecting clashes, sectioning assembly, creating BOM, publication, creating sub-assemblies and flexible sub-assemblies.
Dassault Systemes Certification Exam written and delivered online, tests users knowledge and skill with CATIA Assembly Design, comprises of a combination of multiple choice questions together with a formal modelling exercise which users then interrogate and answer specific questions on the model they have produced.
It is computer based and answers are submitted online live during the test. At the end you will immediately be given a score and confirmation on whether you have passed. The pass mark is 70%.
More information on Certification Exams and how to prepare >>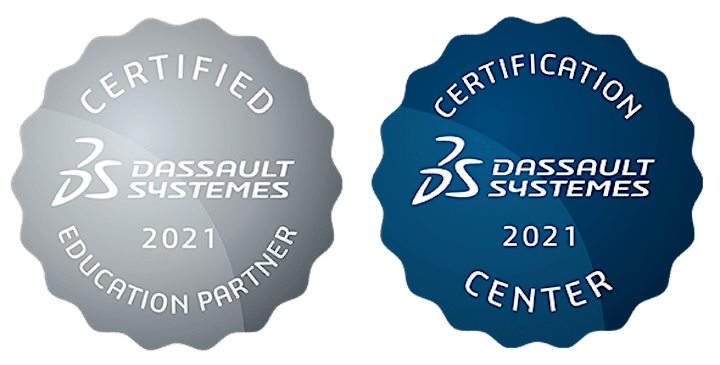 Desktop Engineering Ltd is a Platinum partner and accredited certification centre in the UK for Dassault Systemes.
Please contact DTE on +44(0)1993 883555 as exams have to be ordered on registration.
Organiser of CATIA V5 Assembly Design EXPERT Certification Exam (incl VAT) Oxfordshire
DTE offer online, on-site, on premise training courses.  Due to COVID-19 all our on-site and on premise training is dependent on government guidance. 'Live, online training' is also available.
Courses can be scheduled by arrangement for one-on-one training, group session, on-site or on-premise, call 01993 883555 and speak to our training administrator, or send us your request for more details, visit  www.dte.co.uk/training for more information and how to order.

 Founded in 1986, Desktop Engineering (DTE) has developed an extensive customer base in the automotive, aerospace, architecture and general mechanical engineering markets, providing full turnkey solutions for CAD, CAM, FEA, CAE, PLM solutions: consultancy, training and software.
As a fully accredited Dassault Systèmes platinum partner, we've helped customers overcome their challenges and help them become super users in CATIA, 3DEXPERIENCE, SOLIDWORKS, ENOVIA, DELMIA, and 3DVIA to name just a few software products.
In addition, we are the UK agent for MSC Software products Nastran, Patran, Marc, Apex and Adams and we also work with complementary software products and can provide both simple and specialist NC Post Processors and Machining Simulations with products from ICAM Technologies, Idecam and CENIT.