Description
In Good Company
Cave Direct is 40 years old and we would love you to come and celebrate with us!
It's a huge milestone for any company but in the fast moving world of craft beer it's especially remarkable. To mark the occasion, this June we are holding a weekend celebration at our venue, The Beer Merchants Tap in Hackney Wick.
"In Good Company" will be a celebration of the breweries & beer industry partners we've worked with throughout our 40-year history as a company. We will be pouring beers from 30+ breweries throughout the venue with a room dedicated to Lambic, food traders, outdoor bars and tutored tasting. We will have some of the very best beer from breweries we proudly represent throughout the weekend. As well as the Tap we are taking over our neighbour's warehouse to double our capacity, so even more of you can come celebrate with us!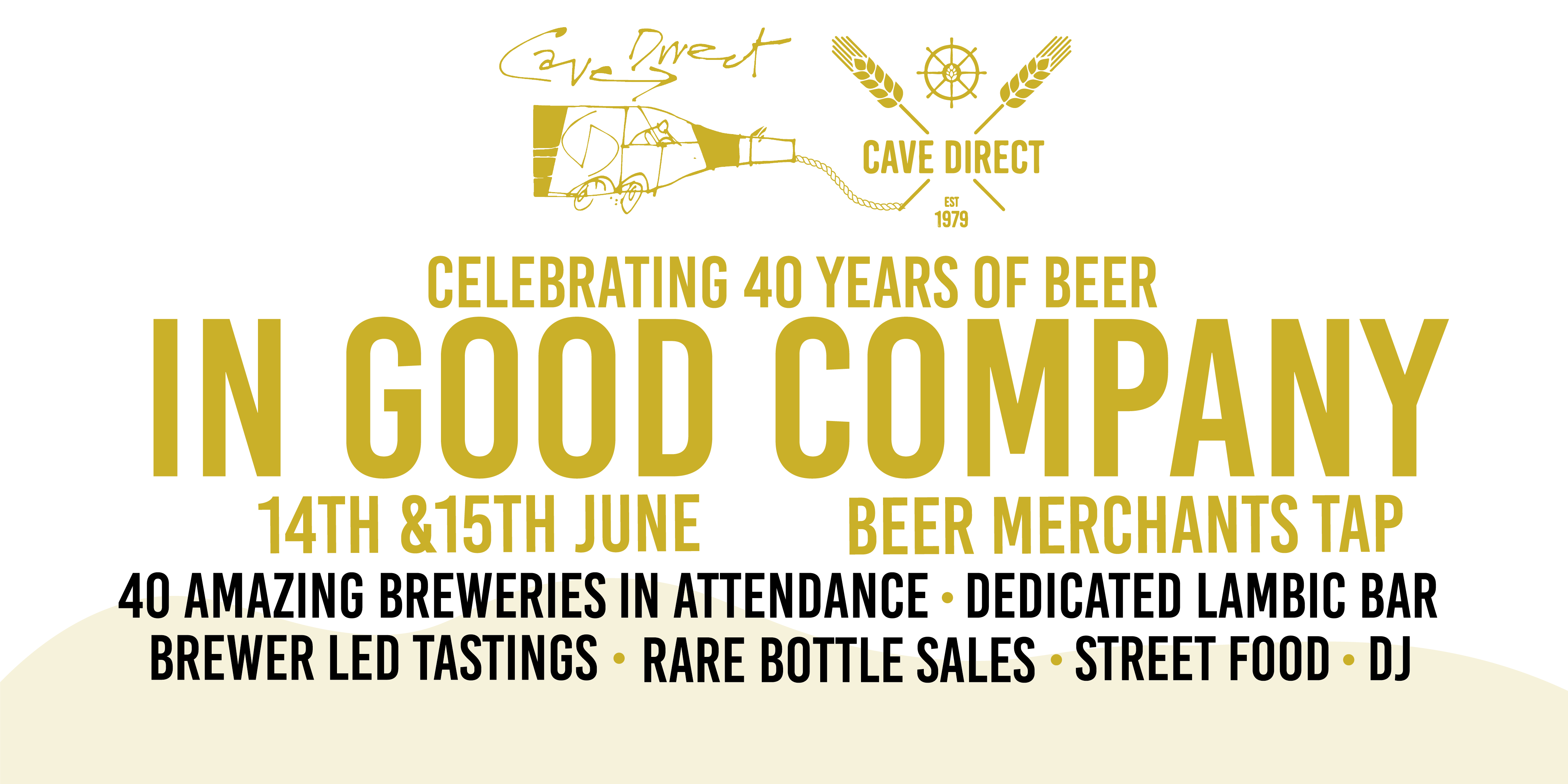 Attending Breweries
Lervig | Omnipollo | Tiny Rebel | Brasserie De La Senne | The White Hag | Garage | Westmalle | Oedipus | Siren Craft Brew | Magic Rock Brewing | Pressure Drop | Northern Monk | Beavertown | Cloud water | Mahrs Brau | Delirium | Lost and Grounded | Collective Arts | Paulaner | Hawkes | Yonder | Pohjala | The wild beer co | Kona Brewing co | The Musketeers | Burning sky | Siphon | Verzet | Gipsy hill | Cantillon | Brouwerij Boon | Lindemans |
Sessions
There will be three public sessions running:
Friday 14th June 6pm - 11pm
Saturday 15th June 12pm - 5pm
Saturday 15th June 6pm - 11pm
Session tickets include glass and 2 tokens.
Tutored Tastings
We will be releasing tickets for tutored tastings held during the event down the line. These will be add-ons to your exisitng ticket. You will require an "In Good Company" ticket to attend. We will launch all tutored tastings through our social media so follow us on twitter @cavedirect and Instagram @cavedirectuk.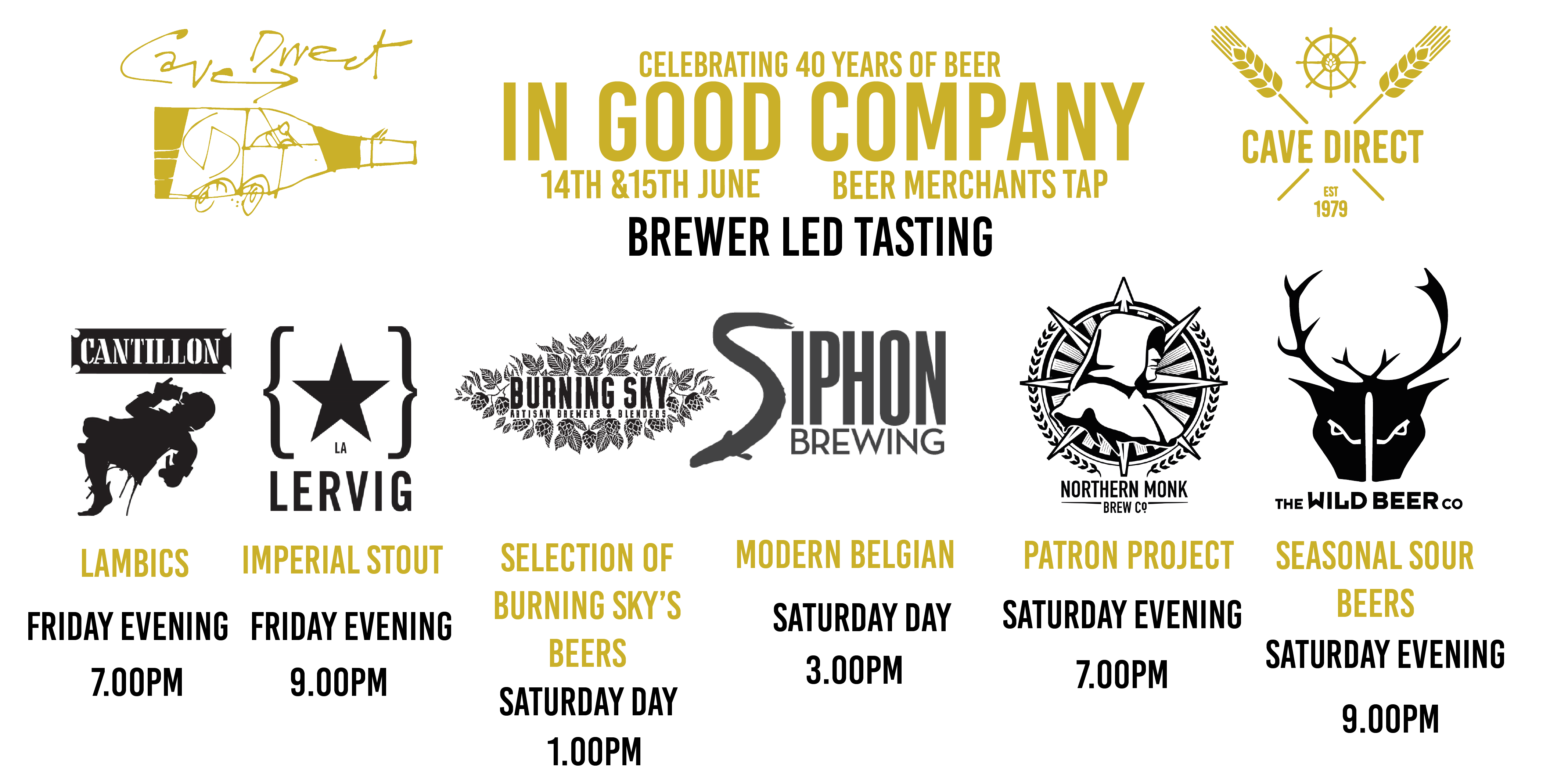 We can't wait to have you over for a stupendous 40th Birthday Celebration!
---
FAQs
What does my ticket get me?
Entry, the glass and 2 beer tokens.
What are my transport/parking options for getting to and from the event?
Beer Merchants Tap is just a 3 minute walk from Hackney Wick Overground Station and just 20 minutes from Stratford International. Local bus routes: 26, N26, 30, 276, 339, 388 & 488. We have no private parking.
Will there be food?
Yes, we are going to be working with at least 3 food vendors to bring some delicious munch to go with the suds.
How much is a token and what does that get me?
Tokens cost £2.50 and get you a suggested measure of 1/3 or 1/2dependent on the beer. Some extra special beers will cost two tokens per 1/3.
How do I purchase tokens and where can I use them?
You can purchase tokens at stations throughout and they can be used at each bar and for all draught on the main bar.
Can I buy takeaway beers?
Yes, all takeaways will be available to purchase with cash or card. As well as a range of Softs, Spirits and Wines.
Can I keep my glass?
Yes, please do
Can I get a refund for tokens?
Yes, of course. We will also have a charity box in areas around the bar you can donate the value of your tokens to.
What's the refund policy?
You can refund your ticket up to 1 day before.
Can I bring my kids and / or doggos?
We are a family pub and about as dog friendly as you could be, but due to licensing we will only allow under 18s to attend the Saturday day session. Under 18s don't need a ticket but must be accompanied by an adult at all times & obviously cannot partake in any beery fun. Likewise doggos are only allowed on the Saturday day session as the venue will be too busy & loud and during the evening sessions.
How can I contact the organiser with any questions?
Any questions please email our event manager holleigh@cavedirect.com who will be happy to help.
Are you as excited as we are?
Even more so than you can possibly imagine.