Location
The Celtic Manor Resort
Chepstow Road
Caerleon
NP18 1HQ
United Kingdom
Sales Have Ended
Ticket sales have ended
Tickets for this event are no longer available.
Please note: Details for all parties attending will need to be provided at the time of purchase for contact tracing purposes.
About this event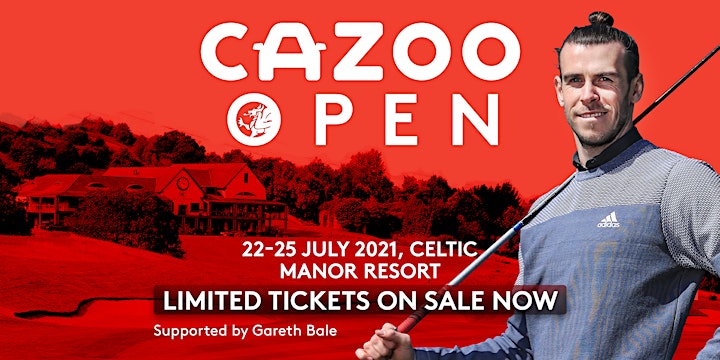 Lateral Flow Testing for the Cazoo Open Supported by Gareth Bale
A lateral flow test is required within 24 hours before attending the Cazoo Open for all spectators. This includes those who have been vaccinated and those that have recovered from the virus. If you are attending the tournament on multiple days you must test in advance of each day.
Testing is compulsory for those 18 and over, and at parents discretion for Under-18's.
Overview of lateral flow testing Lateral flow tests are used to identify people with COVID-19 who are not showing symptoms. Around 1 in 3 individuals with COVID-19 do not have any symptoms. If left undetected they will continue to spread the virus. Testing those without symptoms is an important tool in the fight against coronavirus. Each positive case identified can help prevent many more infections. LFTs are easy to use and give results in 30 minutes. They are easy to interpret and can be used in a wide range of settings.
Ordering a free NHS lateral flow kit
Lateral flow testing kits can be ordered through the government for free. and can be ordered to your home in 1-2 days. You can also collect testing kits in person from distribution sites or collect from most pharmacies. 1 testing kit includes 7 tests at a time.
Order free kits - https://www.nhs.uk/conditions/coronavirus-covid-19/testing/regular-rapid-coronavirus-tests-if-you-do-not-have-symptoms/ - Click through to 'Order Rapid Lateral Flow home test kits on Gov.UK' .
Find your nearest collection point - https://maps.test-and-trace.nhs.uk/
Local Pharmacy offering free lateral flow kits - https://111.wales.nhs.uk/LocalServices/
Administering a lateral flow test
Instructions on how to take a lateral flow test are included in your test kit. You can also find information on taking tests, along with video guidance, and other frequently asked questions (FAQ's) through the below government link.
https://gov.wales/lateral-flow-testing-people-without-symptoms
Uploading a lateral flow test and proof of testing
You will be required to upload your lateral flow result on the government website found here: https://www.gov.uk/report-covid19-result .
This will send you an email/text confirmation, which can be shown as proof of having undertaken your test on entry to the Cazoo Open.
FAQs:
I have bought a ticket for one day of the event, but would like change to a different day. Is this possible?
Tickets are not refundable or exchangeable under these circumstances.
What happens if the event is cancelled or goes behind closed doors?
Ticket buyers will receive a refund if their ticket is cancelled by the PGA European Tour due to COVID-19. Full details can be found within our Ticket T&Cs .Ticketing for this event is subject to the Government's position on the prevailing regulatory and epidemiological situation.
What happens if capacity for the event is limited due to COVID-19 restrictions?
Ticket buyers will receive a refund if their ticket is cancelled by the PGA European Tour due to COVID-19.
Will tickets be available on the door?
Tickets must be purchased in advance, and will not be available on the door.
Will there be social distancing in place at the event?
The Health & Safety of fans, players & staff will be at the centre of all planning for the event, and government guidance at the time of the event will be followed in this respect. If there is a requirement for social distancing or contact tracing during the event, we will contact ticket purchasers directly to advise on next steps.
What happens if local COVID-19 restrictions where I live impact my ability to travel to the event?
If the Ticket Purchaser is unable to attend the 2021 Cazoo Open with spectators because they live in an area which is subject to a local lockdown, restricting them from being able to come to the venue, a full refund will be issued (Subject to conditions outlined within the Full Ticketing T&Cs).
Can Juniors come to the Cazoo Open for free?
Complimentary tickets for those aged 12 years and under are available online. Tickets will not be available on the day.
Do you offer concession tickets at a reduced rate?
Reduced ticket prices for the Cazoo Open are available to the following groups: Concessions 13-17 years old. Valid ID must be presented at the door to gain entry.
In recognition of their ongoing contribution to the COVID-19 Pandemic and as a thank you to our Key Frontline Workers, a percentage of public tickets will be made available to them for this years' event. We will confirm closer to the event how these tickets can be secured.
How do I sign up for event news, ticket & player announcements etc?
You can also follow the Cazoo Open Social Channels on Facebook, Instagram and Twitter, where announcements.
https://twitter.com/cazooopen
https://www.facebook.com/CazooOpen
https://www.instagram.com/CazooOpen/
When will I receive my tickets for the event?
All tickets for the 2021 event will be E-Tickets, with no printed tickets available for purchase.
Is there parking available for the event, and how much does it cost?
Parking will be available for the event and will be available to ticket holders free of charge (subject to availability).
When I buy tickets, will I need to provide details for everyone attending?
Yes, details for all parties attending will need to be provided at the time of purchase for contact tracing purposes.