CBA12: Local experience driving climate action
Sales Have Ended
Ticket sales have ended
Thank you for your interest in CBA12. Ticket sales have now ended.
Sales Have Ended
Ticket sales have ended
Thank you for your interest in CBA12. Ticket sales have now ended.
Description
The 'CBA12: Local experience driving climate action' event will take place in Lilongwe, Malawi from 11-14 June 2018 and will focus on getting local experience on climate action heard.
The information below gives you further information about registering for CBA12.
---
CBA12 offers two days of hands-on workshops focused around three workstreams followed by two days of interactive dialogue with investors, donors and government representatives.

Workstreams:
Transforming 'lived experience' and local knowledge into better policies and investments
Building a shared understanding of effective devolved climate finance
Innovating in applying adaptation technology
Over the two days you'll find: a market place to share innovation and learning through showcasing case studies and examples; skills clinics to exchange knowledge and build expertise; open space sessions to discuss burning issues; and gain skills to pitch to investors.
Day three will bring in decision-makers and investors. You'll be able to pitch your ideas to them in a 'Dragon's Den' and an open space session will further discussions.
Day four we'll be joined by the UNFCCC, the LDC Expert Group and government representatives at the Regional National Adaptation Plan (NAP) Expo.
Read the CBA12 programme for further details.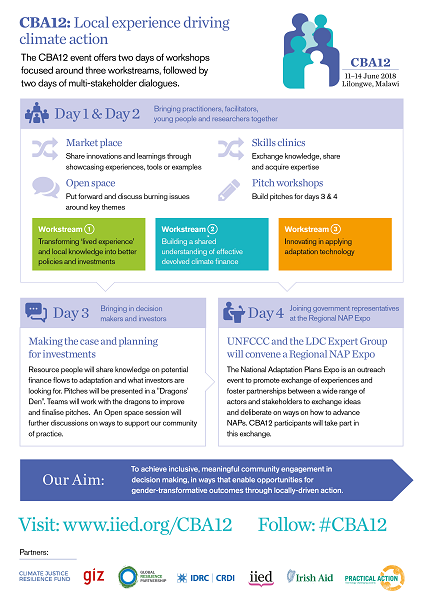 What's new about this year's CBA event? Read more at the IIED website.
---
Latest information
Full and up-to-date information on the programme is available via www.iied.org/CBA12.
---
Organising partners
This event is being organised by IIED in partnership with the Climate Justice Resilience Fund, GIZ, the Global Resilience Partnership, the International Development Research Centre, Irish Aid and Practical Action.
---
Tickets
Prices
Option A: Full four-day programme: £400.00
Option B: Two-day programme (days three and four): £200.00
Option A includes:
Registration for the four-day event
Online information pack for delegates
Lunch and refreshments throughout the event, and
Event dinner.
Option B includes:
Registration for days three and four of the event
Online information pack for delegates
Lunch and refreshments on days three and four of the event, and
Event dinner.
Both ticket options exclude: travel, accommodation, visa, and travel insurance.
Registrations will close at midnight on 1 June (or sooner if the event reaches capacity).
Full venue and accommodation information will follow once registration is confirmed. Once you have registered, the CBA team will send you regular email updates, including information about the venue, hotels and logistics, guidance on travel and visa processes, as well as news and programme updates.
---
How to register
Click the green 'Tickets' box above to complete your registration, and please have your passport and payment information ready. If you have any issues or questions about your registration, or are unable to pay with a credit or debit card please email cbaconference@iied.org.
The CBA team will publish regular email updates, including logistics information, guidance on travel, accommodation and visa processes, as well as news and programme updates. If you have any questions about the event or registration, email us at cbaconference@iied.org.
---
Travel and accommodation
You are responsible for arranging your own travel, accommodation, visa and travel insurance. Once registered you will receive information on the venue and nearby hotels.
Visas
You need a visa to enter Malawi as a visitor. You can find details of the application process on the Malawi High Commission website. The Malawi authorities strongly advise you to get a visa before travel. If you can't get a visa before travel, you can get a visa on arrival at any port of entry.

If you require an invitation letter from IIED to complete your visa application, please email cbaconference@iied.org with your passport information to request one.
Our partners in the Government of Malawi have offered assistance for processing "visa on arrival" for those CBA12 delegates with no local Malawian embassy and who are unable to obtain a visa in advance of travel please email cbaconference@iied.org with:
The subject line 'Request for visa on arrival'

Attachment of a clear scan of your passport first page

Eventbrite registration code

This should be received no later than 21 May 2018

(make sure to bring cash – see below)
Your details will be sent the Ministry of Immigration and a letter authorising visa-on-arrival will be requested. If successful, on arrival in Malawi you will be asked to show your printed letter and pay 75 USD cash to receive your visa. The Ministry requires an admin fee of 15 USD for these requests, therefore, you will not be able to check-in at CBA without providing cash or either USD 15 or GBP 10.
---
Registration and payment methods
Payments can be made by Mastercard, Visa, Visa Debit and American Express credit cards. Please have your card details ready when registering, as well as your passport information.
If you have any difficulties registering, please email cbaconference@iied.org.
After you have completed the registration and payment process, you will will receive a confirmation email from Eventbrite. Please keep this confirmation email for future reference.
---
Refund and cancellation policy
You will be eligible for a ticket refund if you notify the organisers before 10 May. The level of refund you will receive depends on the date of notice. If you are eligible for a refund the funds will be processed five days after the event has ended. You will receive:
50% refund if cancelled before midnight on 10 May (10 per cent admin charge)

No refund if cancelled after midnight on 10 May
The notification of cancellation should be made in writing to cbaconference@iied.org.
---
Disclaimers
All participants are responsible for securing their own travel insurance.

IIED reserves the right to postpone or cancel the event or transfer it to another site if

unforeseen circumstances warrant such action.

In the event that the event cannot be held or is postponed due to events

beyond the control of the organisers, or due to events which are not attributable to wrongful

intent or gross negligence of the organisers, IIED cannot be held liable by delegates for any

damages, costs or losses incurred, such as travel, accommodation, insurance, visa

applications and other related costs. Under these circumstances IIED reserves the right to retain

the ticket fee of the participant.

The event will be photographed and/or videotaped on behalf of the organisers for display,

distribution and broadcast, including on television and via the worldwide web. By attending

or participating in this event you agree to give your consent to be photographed and/or

videotaped, and waive any claims regarding the use of your image or contribution.

By registering you agree to receive periodic emails from cbaconference@iied.org strictly related to important CBA event announcements. We will not share your information with any third parties but will continue to contact you after the event with future CBA announcements. You can opt out at any time.
---
How can I contact the organiser with any questions?
For all enquiries, please contact cbaconference@iied.org and the event organiser (Amy Gibson) will respond promptly.