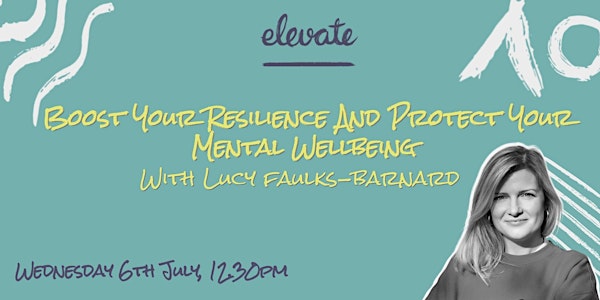 CBC WC: Boost your Resilience and Protect your Mental Wellbeing
Sales Have Ended
Registrations are closed
All tickets have now been allocated for this event. If you would like to attend please contact Gill Wilson gill.wilson@cuhp.org.uk to be added to the waiting list. Thank you.
Lucy Faulks-Barnard looks at tools and skills for boosting resilience and protecting our mental wellbeing
About this event
Registered participants will be sent the Zoom link in their order confirmation.
Please note that this event will NOT be recorded and therefore you will need to attend on the day.
In this CBC Wellness Campaign webinar with Lucy Faulks-Barnard, we will look at a host of tools and skills for boosting resilience and protecting our mental wellbeing. Attendees will learn practical skills for real-time resilience, including identifying stress triggers and self-care strategies, building awareness around negative thinking traps which inhibit resilience and add to stress, encouraging resilient thinking using sentence starters as well as creating their own master resilience plan.
Lucy Faulks-Barnard is the founder of award-winning employee wellbeing company Elevate, where their mission is to deliver wellbeing consultancy and campaigns with a no fads, no jargon and no judgement approach. Lucy studied Positive Psychology on Dr Martin Seligman's resilience programme at the University of Pennsylvania and she is a Co-Active Certified Coach, with years of experience coaching executives. Lucy combines positive psychology interventions and tools, with coaching skills and mindfulness techniques to deliver impactful wellbeing solutions that are anchored in evidence-based practices. Lucy has taught the Action for Happiness Exploring What Matters course in London and she is currently training to become a couples therapist with the Tavistock Relationships Institute.
With grateful thanks to Elevate Your Health for sponsoring this event: "at Elevate we combine the latest behavioural science, positive psychology and expertise from our world-renowned specialists to deliver forward-thinking employee wellbeing programmes to suit your needs. We pride ourselves on a no-nonsense approach to wellbeing and will always use the best, most credible wellbeing experts to create and deliver our sessions – there is no 'one-size-fits-all' here!"We provide webinars and online classes, wellbeing workshops, mental health first aid training, financial wellbeing guidance, keynote speakers – we can provide one off activities for team meetings and away days, wellbeing weeks, activities to mark key awareness days and curate a full wellbeing calendar based on the results of an employee survey and audit. https://www.elevateyourhealth.co.uk/
This event is part of the 'CBC Wellness Campaign' – a series of webinars supporting the 21,000+ people who work on the Cambridge Biomedical Campus, many of whom are at the forefront of the changing face of healthcare. However, these events are also for anyone looking for additional support: you don't have to work here and there is no charge to attend.
These events will be recorded and a link will be sent to all participants afterwards. It will also be posted on the Cambridge Biomedical Campus YouTube channel.