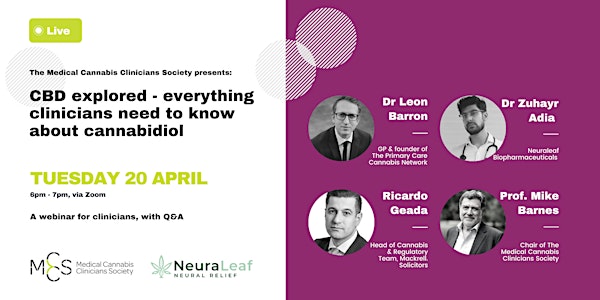 CBD explored - everything Clinicians need to know about cannabidiol
Clinicians are welcome to join the Medical Cannabis Clinicians Society for an webinar which explores CBD.
About this event
CBD explored - everything Clinicians need to know about cannabidiol
Over the past few years, over the counter Cannabidiol (CBD) products have gained popularity in the UK and across the world. CBD appears to have caught the imagination of the general public, who are using it for many health conditions ranging from pain and anxiety to depression and sleep.
Used as a health supplement by an estimated 4- 6 million people in the UK, we know that doctors report receiving mixed messages about whether these products are legal, safe and effective. We also know that clinicians are largely unfamiliar with what patients are using and what impact this could have on their health.
In this webinar, Dr Leon Barron, Society Committee Member, GP and author of A Clinician's Guide to CBD, will present an overview of CBD for clinicians, including its modes of action and therapeutic effects, pharmacodynamics and dosing.
Dr Zuhayr Adia of Neuraleaf Biopharmaceuticals will also join us. Neuraleaf researches the medical applications of cannabis-based medications and produces the only OTC (over-the-counter) CBD that is recommended by doctors. Neuraleaf will run clinical trials on its formulations in 2021 in partnership with a team of academics and clinicians from a renowned research university.
Ricardo Geada, Head of Cannabis & Regulatory Team, Mackrell. Solicitors kindly joins us to summarise the current legal status of CBD in the UK and particularly the impact of Novel Foods.
Attendee Q&A
Attendees are welcome to ask questions during the live webinar. To ask a question in advance, please email the Medical Cannabis Clinicians Society at contact@ukmccs.org.
Meet your speakers
We are pleased to be joined for this informative and interactive webinar by leading clinicians and legal experts working in the medical cannabis sector.
Dr Leon Barron, GP & Executive Committee Member, The Medical Cannabis Clinicians Society
Dr Barron is dedicated to improving people's quality of life through access to medical cannabis. As a GP and through his work with The Primary Care Cannabis Network, Dr Barron highlights the benefits of opening up prescribing options to encompass primary care clinicians.
Dr Zuhayr Adia, Managing Director, Neuraleaf Biopharmaceuticals
Dr Adia is the founder and Managing Director of Neuraleaf Biopharmaceuticals, which carries out research and development of cannabis-based medical products.
Ricardo Geada, Head of Cannabis & Regulatory Team, Mackrell. Solicitors
A solicitor specialising in cannabis regulation, Ricardo Geada's interests include drug policy reform and regulation particularly the legal developments in medicinal cannabis. Ricardo and his team are instructed regularly by local and Global clients both in the medical cannabis and the CBD & Wellness sectors. London and Birmingham based Mackrell. Solicitors is part of Mackrell International, which has approximately 4500 lawyers across 60 countries.
Professor Mike Barnes (Moderator)
Medical cannabis expert and neurologist Professor Mike Barnes has dedicated the latter part of his career to medical cannabis excellence, education and clinical leadership. Chair of The Medical Cannabis Clinicians Society, Prof. Barnes co-authored the All-Party Parliamentary Group report on the evidence for medical cannabis as part of its Drug Policy Reform.