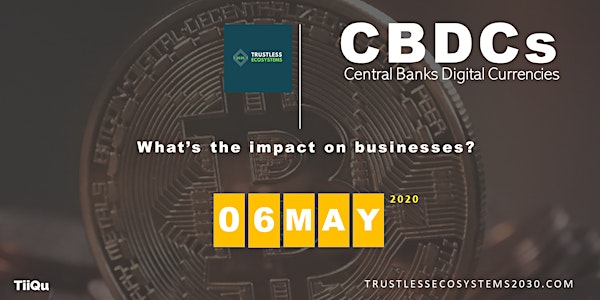 CBDCs | Central Banks Digital Currencies: what's the benefit for businesses
Sales Have Ended
Registrations are closed
Tickets are now sold out, however we often receive last minute cancellations so please sign up to the waiting list, you will be automatically added as a seat becomes available. Thank you !
Big players, countries and banks launching their digital currencies : will businesses benefit somehow ?
About this event
To date, countries that have issued their own cryptocurrencies include Ecuador, China, Senegal, Singapore, Tunisia, though these countries will not be standing alone for long with Estonia, Japan, Palestine, Russia and Sweden looking to launch their own national cryptocurrencies. Some of these countries are likely to take it a step further and replace paper tender altogether with China being one nation that is looking to take one step beyond a virtual and paper version.
Beside governments other typically centralized systems like banks and global corporations like Facebook are exploring how to enter the crypto world.
Will businesses end up having any benefit from big players and governments launching their cryptocurrency? We will be discussing this with experts in the CBDCs space.
Speakers
Global Managing Director – Blockchain Technology Lead Digital Assets, Custody & Central Bank Digital Currencies
John is a Managing Director in Accenture's Technology Consulting workforce, based in London. John is Accenture's Global Blockchain Technology Lead working with industry teams to develop the firm's global Blockchain delivery capability. John is currently leading several Blockchain engagements with top tier global organizations. John leads Accenture's work in digital assets, custody & central bank digital currencies.
John specializes in capital markets, payments and financial services but also has many years of experience in other industries. Several years ago John went on a long term leave of absence where he was the CEO of a Blockchain start-up developing leading edge enterprise grade crypto-currency wallet solutions for exchanges, hedge funds, banks and HNW individuals. Prior to his leave, John was also the Europe Africa and Latin America lead for Accenture's security strategy and risk services practice.
Paul is the Chief Technology Officer at coinpass.com, one the UK's premier Crypto/Fiat Exchanges. He has almost 20 years experience in the various industry and having worked in various countries across the global. Paul has lead, designed, architected and engineered solutions for FTSE and Fortune 500 companies, Media, Entertainment, eCommerce and Manufacturing organizations. Paul's expertise has enabled him to leverage this experience and deliver cutting edge technology and security. Blockchain and Crypto technology is where Paul spends his time now and excited to learn, push the industry and be part of the next evolution in Technology and Finance.
Nick Gogerty is the founder of SolarCoin. He has worked with one of the world's largest hedge funds, been chief analyst for an advanced research institute modelled on the MIT LAB. Won an MIT solve challenge, received an award for a micro-grid design at UN COP talks. He is also the author of the book "The Nature of Value." His interests include sustainable economic development, poverty reduction, renewable energy and solving large complex problems.
Aleksander Berentsen is Professor of Economics at the Faculty of Business and Economics of the University of Basel. His current research focus is DLT (blockchain and cryptoassets) and monetary policy instruments such as negative interest rates and balance sheet extensions. He is a research fellow at the Federal Reserve Bank of St. Louis, a technical advisor for the Bank for International Settlement in Basel, and a member of the advisory board of the thematic equity funds for Credit Suisse Asset Management. He also used to be an external consultant for the Swiss National Bank. He publishes in top academic journals such as the American Economic Review, the Review of Economic Studies, and the Journal of Monetary Economics, and is a co-author of the book "Bitcoin, Blockchain, and Cryptoassets" that is forthcoming in MIT-Press.
Panel discussion to be moderated by Philippe Nadouce
Philippe is a blockchain Trainer/Lecturer at INSEEC-U where lecture on bitcoin/blockchain, digital currencies (DC), open financial systems, blockchain technologies and applications, principles of disruptive innovation in DLTs, regulation and governance.
About Trustless Ecosystems 2030 Meetups
Events are designed to facilitate knowledge sharing in the blockchain space and enhance dialogue and collaboration between the blockchain and the real-world.
Panellists from the start up ecosystem and stakeholders from relevant industries share their knowledge and direct experiences in a combination of friendly panel discussions and short talks. Attendants are invited to take active part to the Q&A and to the networking time that follows our events.
Follow Trustless Ecosystems 2030
Sponsorship
The event is supported by TIIQU
Recording
Trustless Ecosystems 2030 events are recorded and made available in the You Tube Channel here
Speaking opportunities
If you are actively involved in a blockchain/ AI -based project and you want to contribute to this or other panel discussions, please contact us via website or the Linkedin Group