CBRE Breakfast Briefing - The Evolution of FM

Wednesday, 17 October 2018 from 08:15 to 12:00 (BST)
Event Details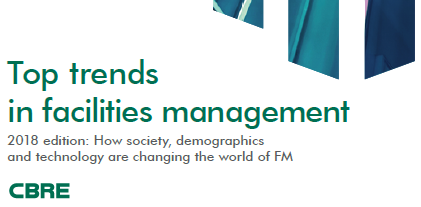 Join professionals involved in, or associated with, the management of real estate, property or facilities to look at the trends the industry has experienced this year and project what impact they will have on the future requirements of the 2040 portfolio. You will even have the chance to see the Crown Jewels!


This is a free of charge, must attend event for anyone managing or directly
involved in the management of FM, Property and Real Estate.

The Breakfast Briefing will demonstrate how society, demographics and technology are changing the world of FM, whilst also looking at how we can we can prepare for a radically different real estate future:



- Optimising user experience (focus on the user not the building)
      + Personalisation, Flexible space and Wellness
- Digitising the Workplace 
      + Smart workplace, Data-driven and AI 
-Workplace 2040
      + Places of the future and what should we do
- The new age of Outsourcing
      + Outsourcing Evolution
- Collaboration and partnerships
      + Supplier/Client relationship and long-term partnerships

The first Breakfast Briefing, on Counter-Terrorism for FM, was a huge success and was completely booked out weeks in advance. There are a limited number of complimentary seats available for this Briefing, so don't miss your chance. Register your interest to attend now! No exceptions can be made.


Strictly for End User Clients. Aimed at Head of Property, Property Managers, Head of Facilities, Facilities Manager, Consultants or those in associated roles, operating corporate office space, iconic buildings, manufacturing facilities and other associated FM industries.  No Service Providers will be permitted.

Register To Attend                              Contact Organiser 
Morning Agenda

 
 
 
 

08:15

Arrival & Check-in

 

Guests arrive, check-in and mingle whilst enjoying a complimentary breakfast sandwich and coffee.

 
 
 
 

09:00

Breakfast Briefing Begins

 

Event Opens with a brief introduction from CBRE and ThisWeekinFM.

 
 

09:10

"Current Trends in Property and FM"

 

Richard Holberton, Director of EMEA Research, CBRE
Mike Gedye, Executive Director, Strategic Advisory - Occupier, CBRE

 

1. Optimising user experience
2. Digitising the workplace
3. Workplace 2040

 
About Richard
 



Richard heads EMEA Occupier Research at CBRE. His role is to develop and refine CBRE's research agenda in this area through market analysis, client briefings and consultancy. Richard is also responsible for the flagship European Occupier Survey. Over the previous four years he led the development of CBRE's research coverage of the European logistics markets. He holds a Masters qualifications in Urban & Regional Planning and Property Investment.

 
 
 
 
 

About Mike

 
 

Mike has over 25 years of targeted experience in corporate real estate, focusing on the mobilisation and management of multinational portfolios for a diverse range of Corporate Occupier clients. He leads CBRE's occupier focused Strategic Advisory activities with a focus on delivering measurable Client Outcomes, Innovation and Operational Excellence, leveraging CBRE's scale to access specialist market knowledge, industry vertical focus and data driven insights. Mike is also a recognised expert in emerging Disruptive Technologies and the impact of Smart Buildings on workforce productivity, cost optimization and the end-user experience.

 
 
 
 

10:00

"The New Age Of Outsourcing & Top Tips"

 

Daniel Hawkins, Alliance Director EMEA, CBRE

 

1. Evolution of outsourcing
2. Developing true partnerships

 

About Daniel

 
 

With more than 15 years of Facilities and Workplace management experience, Daniel has extensive experience working across the UK and more recently EMEA.





Daniel also actively engages in the promotion of our industry in his capacity as the Co- Head of the 'Young Managers Forum', a UK based networking body for young professionals in FM and Workplace Management.

 
 
 
 

10:30

Q&A

 
 
 

Includes a short 'Thank You' from CBRE and ThisWeekinFM.

 
 
 
 

10:45

Networking and Tour of Crown Jewels

 

Guests will have an opportunity to enjoy a drink and discuss today's briefings amongst themselves. The presenters will also join Guests on the floor. A complimentary tour of the Crown Jewels will also be available.

 
 
 
 

12:00

Breakfast Briefing Ends

 

 

Event Ends and Guests will leave the Tower of London to continue their day

.
We hope you can join us for a relaxed and informative morning.
| | |
| --- | --- |
| This event is powered by  | |
When & Where

Tower of London

EC3N 4AB London
United Kingdom


Wednesday, 17 October 2018 from 08:15 to 12:00 (BST)
Add to my calendar
Organiser
CBRE
With broader and deeper capabilities than any other company, CBRE is the leading full-service real estate services and investment organisation in the world. They offer a broad range of integrated services, including facilities, transaction and project management; property management; investment management; appraisal and valuation; property leasing; strategic consulting; property sales; mortgage services and development services.


ThisWeekinFM
Described as "bringing a welcome approach moving forward, by not only incorporating FM, but recognising the potential associated with effectively managed Building Services, Property and Support Services as a whole", ThisWeekinFM.com is the leading online information and news service for facilities and workplace professionals.