About this event
CCA Festival (CCAF) is a Music, Bodypainting and Fashion event, created to celebrate diversity and creativity. The festival celebrates our diversity and creativity. While raising Cancer awareness, building cohesion across cultures and identities, showcasing an ambitious, inclusive, and vibrant community.
VOLUNTEERS NEEDED
VOLUNTEERS NEEDED
Volunteer for CCA Festival 2021. Have you ever wanted to participate in a festival? We are calling for volunteers to help in this great CCA charity event. Our long term vision is to make this festival one of the UK's largest events, filled with fun and creativity. We aim to celebrate our unique diversities and creativities.
To volunteer please go to www.ccafestival.org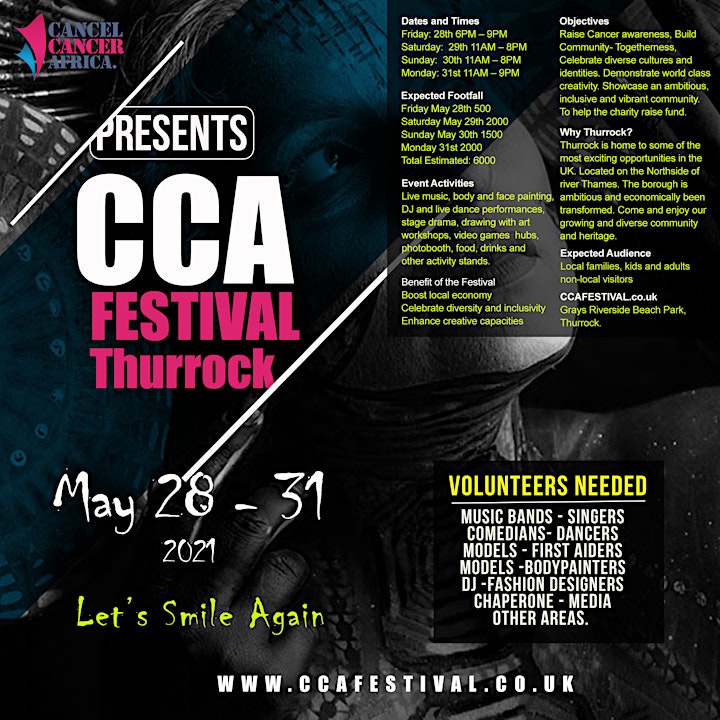 Organiser of CCA Festival 2021
We are very excited and grateful for your interest in Cancel Cancer Africa; we pray that through trusting partnership and understanding we will help save to more lives in Africa.
Our goal is to reduce the rate of morbidity and mortalities caused to Cancer in Africa by creating sustainable partnerships and engaging in awareness activities, screenings and treatments programs in collaboration with the local governments in Africa.
We visit rural communities in Africa educating women on how to self examine their breasts for changes and also share information about the early signs and symptoms of Cancer (Breast, Prostate and. Cervical). Our team of volunteers is a mixture of medical and non-medical professionals.
Below are the key functions expected from each volunteer. Please fill in the form if you would like to join us.
1, The volunteers distribute simple printed materials explaining how to Self-Examine their breast and what changes to look out for.
2, In each community we work along side the local health centers, this allows us to transfer knowledge and develop continuity with the Nurses and Doctors.
3, The medical teams Examine the women in private rooms, while explaining to each woman to repeat the examination and note any observation.
4, One of the biggest challenges in rural Africa is the absence of accurate data, so we gather information through questionnaires.
Cancel Cancer Africa is a UK registered Charity organisation. REG: 1165140