CCACE 8th Annual Research Day

Tuesday, 1 September 2015 from 11:30 to 17:15 (BST)
Event Details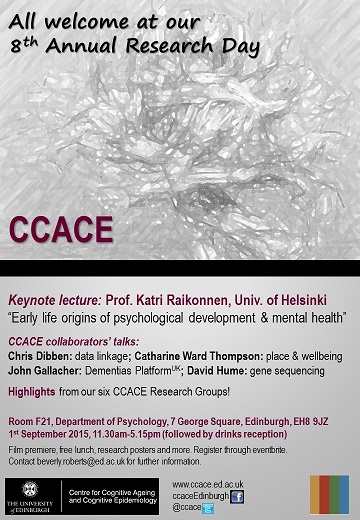 The University of Edinburgh Centre for Cognitive Ageing and Cognitive Epidemiology (CCACE) is holding its 8th Annual Research Day on 1st September 2015. Join us from 11.30am when we will be screening Ann Milne's film "The Living Brain" which is based on the Lothian Birth Cohort Studies of 1921 and 1936. A free lunch will follow at 12noon with a poster session covering the research work of some of our PhD students and junior reseachers.
The meeting proper will commence at 1.00pm. We are very pleased to announce that Professor Katri Raikonnen from the University of Helsinki will open our meeting with her keynote lecture entitled "Early life origins of psychological development and mental health". We are also delighted to host Professor Chris Dibben, Professor John Gallacher and Professor David Hume who will give outlines of the collaborative work they are doing with CCACE.
After a short tea break, the second half of the meeting will be handed over to our six CCACE research group leaders who will report on their group's major achievements over the previous year. Our six groups are Cognitive Epidemiology (Professors David Batty and Catharine Gale), Human Cognitive Ageing I: Individual Differences (Professor Ian Deary), Human Cognitive Ageing II: Human Cognitive Neuroscience (Professor Sergio Della Sala), Mechanisms of Cognitive Ageing (Professors Alasdair MacLullich and Megan Holmes), Genetics of Brain Ageing (Profesor David Porteous) and Human and Animal Brain Imaging (Professor Joanna Wardlaw).
The meeting will close at 5.15pm with a drinks reception.
Full Programme
11.30am-12noon: Screening of the LBC film "The Living Brain"
12noon-1.00pm: Lunch and poster sesson
1.00pm: Welcome from CCACE Director
1.15pm: Keynote presentation
2.15pm: Presentations from CCACE collaborators
3.00pm-3.30pm: Tea/coffee break
3.30pm: Presentations from CCACE Research Groups
5.00pm: Closing remarks from CCACE Director
5.15pm: Drinks reception
When & Where

Room F21, Department of Psychology
University of Edinburgh
7 George Square
EH8 9JZ Edinburgh
United Kingdom


Tuesday, 1 September 2015 from 11:30 to 17:15 (BST)
Add to my calendar
Organiser
The University of Edinburgh Centre for Cognitive Ageing and Cognigitive Epidemiology (CCACE) is part of the Research Council's Lifelong Health and Wellbeing (LLHW) programme which is administered by the Medical Research Council (MRC) Neurosciences and Mental Health Board. The Centre focuses on the reciprocal influences of cognition and health across the human life course.