Location
University of Cambridge Judge Business School
Trumpington Street
Cambridge
CB2 1AG
United Kingdom
Refund policy
Refunds up to 30 days before event
Description
The CCARHT Summer Symposium 2019
The Several Rs of Trafficking Research.
Research, Risks and Rewards, Refugees, Returns, Removals, Rights, Remedy, Reparation, Reporting, Response, Religion.
Hosted at Judge Business School - University of Cambridge
July 1st to 5th 2019: Week long Senior Symposium.
Opportunity for Graduates in relevant Social Science, Legal, Economics, Technical disciplines to engage with Senior Researchers, Directors of Research and counter-trafficking Projects, Enforcement and Protection personnel. This is an invaluable opportunity for exploring in more depth some of the leading challenges presented by the human rights contraventions, illicit and criminal activities, human harm inflicting and cisruptive 'trading cycle' represented by Human Trafficking and Modern Slavery contraventions, in global and national perspective.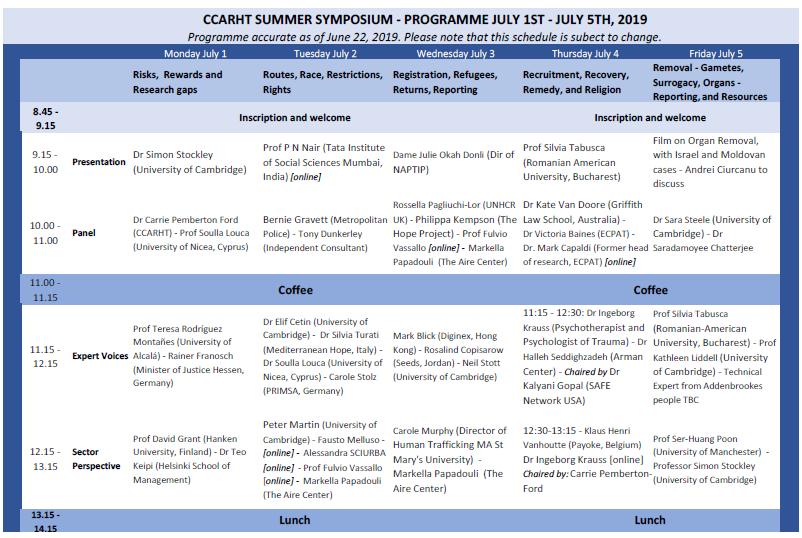 July 6th: Extra Research Workshop and Masterclass for research development.
Please send an email to symposium@ccarht.org with RESEARCHDAY in the subject heading to find out more about this significant opportunity to develop bespoke skills in Human Trafficking and Modern Slavery research, and to learn alongside some of our leading report writers, and researchers in the UK field, at the end of the symposium. This day is open to rising graduates, post graduates , those undertaking PhDs, Public Sector and NGO researchers and project leads. The Ethical constraints and concerns raised in the process of researching Human Trafficking, Establishing a trusting and reciprocal network with agencies and survivors, Ensuring the incorporation of VOICE, Participant Action Research, Narrative based interviews, The use of film, Deploying the power of Face Book and social media, Qualitative and Quantitative constraints, Measuring Impact, Taking care of yourself in the midst of secondary trauma, and risky situations. The day is a master class style day, with the presentation of papers from participants, interacting with leading exponents in the research field.

---
Monday Inscription: 10.30am registration - 6.30 pm close.

The Risks and Rewards of Human Trafficking

An update on the current state of the economics, business models and prosecution rates in the UK, and affiliated source countries.
Speakers Dr Simon Stockley (Judge Business School)
Prof David Grant (Hanken School of Economics, Finland)
Dr Carrie Pemberton Ford (CCARHT)
Prof Loraine Gelsthorpe (Institute of Criminology, University of Cambridge)
Kerry Gibson (British Columbia)
Benjamin Greer U.S. Attorney Homeland Security State of California
Dr Neil Stott Director of the Cambridge Centre for Social Innovation
Professor Teresa Rodriguez (Criminal Law, University of Madrid )
Professour Soulla Louca (University of Nicosia) Cyprus
Dr Teo Keipi (Helsinki University School of Management)
Rainer Franosch Senior Prosecutor in Hessen Germany
Tuesday 9.30 am start - 6.00 pm close
Routes, Restrictions and Rights
The law of the sea, U.S. border matters, global movements, the rise of Nation State protectionism, safe routes, the right to migrate in safety.
Formal Conference dinner - inclusive for 5 day ticket holders.
Caroline Haughey QC Chair Modern Slavery Act Review Board
Professor Efthymilios Papastraviridis University of Oxford
Peter Martin 'Halaida' Mediterranean Observarory, University of Cambridge NGO
Professor Paolo Naso Executive Director of Mediterranean Safety
Dr Elif Cetin The Eastern gateway, Migration, Turkish solutions for Syrian disbursal
Valeria Ragni Anti Trafficking Adviser British Red Cross
Dr Neena Samota Director of Criminology St Mary's University
Professor Kristofer Allerfeldt Dept of History Exeter University
Bernie Gravett (TBC) Athelrey Consultancy, Former lead on Operation Golf
Dame Julie Okah Donli Executive Director NAPTIP Nigeria
Markella Papadoulli European Litigation Lawyer The Aire Centre
Riel Karmy-Jones QC 18 Red Lion Chambers


18 Red Lion Chambers
Wednesday 9.30 am - 6.00pm close *Film night 7.30 -9.30pm with panel
Refugees, Registration, Reporting and Returns

Hear from experts working with Unaccompanied Children, Refugee NGOs working in Calais, Palermo, the UK, Cambodia, those working with IOM and State authorities implementing current Return policies, the head of Nigeria's NAPTIP programme on further requirements for safety.
Dame Julie Okah Donli Executive Deputy NAPTIP
Rosella Pagliuchi Director UNHCR UK
Mark Blick (Diginex - Government Solutions ) Hong Kong
Liam Vernon (National Crime Agency - National Referal Unit) UK
Dr Esohe Agatise (Former President and founding member of Frantz Fanon Association and Centre, Turin, Italy)
Markella Papadoulli European Litigation Lawyer The Aire Centre


Evening FILM presentations (Horns on the Woman, and a new presentation from Spanish Film makers on North African aspects of Nigerian forced migration) with Panel discussion and interview with directors.


Thursday 9.30 am - 6.30 pm close

Recruitment, Recovery, Remedy and Religion.
Lover boy Eastern Europe, the deployment of ancient rituals of 'contract' West Africa, Cyber recruitment into on - line porn - global, exploitation of vulnerabilities.

The long term nature of psychological and social recovery.
From the registering of 'missing persons' to ensuring that minors are located in migratory movements, and that those in IDPs and Refugee camps are registered and brought meaningful citizenship. The role of Blockchain to assist security in identification and other initiatives now being developed to enable earlier reporting by those suffering trafficking in labour exploitation.
The role Religion now plays in both trafficking's manifestation and interdiction. Representatives from Orthodox organisations working here in Britain and in Europe, Roman Catholic initiatives, Jewish networks seeking to make sense of Trafficking infractions, Free Church and Pentecostal initiatives working on community awareness raising, the role of Religion in supporting recovery programmes through safe housing, and addressing the knotty problem of addressing demand. Remedy of the crime of human trafficking and modern slavery. Examples of new legislation and prosecution strategies to support financial remedy for victims of different types of trafficking, and how this plays back into the opening day of Risks and Rewards. Raising the costs of the trafficking enterprise.

Just Sex in the Evening Infusion Physical Theatre company will present a bold fusion of contemporary dance and physical theatre outlining the deception and coercive control of Lover Boy recruitment for those pimped into prostitution and the ongoing chalenge of addressing demand. Limited tickets available for outside participation.

Panel following Physical Infusion presentation 8.00 - 10.00pm: Representatives of the Swedish Police, Cambridgeshire Constabulary and members of our convened symposium. (included in week ticket)
Professor Silvia Tabusca Ecler Romania
Silvia Lamonaca Payoke Belgium
(TBC)
Kate Van Door Griffin Law University,
Mandy Sanghera Human Rights advocate: working on Forced Marriage and Human Trafficking challenges for UN Women and EU commission
Sabine Muzaffar Executive Editor ANANKE a digital platform for Women's Empowerment.
Recovery
Dr Ingeborg Krauss Berlin Germany
Dr Halleh Seddighzadeh Specialist Trauma Psychologist Executive Director. Arman Centre
Dr Kalyani Gopal Trauma Psychologist: President SAFE network US
Religion
Representatives working in counter Trafficking work from the Unitarian, the Roman Catholic, Anglican, Muslim, Jewish and Orthodox Christian communities. What is the role of Religion, and what is it currently bringing to the fight against Human Trafficking.
(final delegates bringing papers for discussion currently being assembled)
Revd Dr Carrie Pemberton Ford - Executive Director CCARHT on the current paradigms of Religion and Social Interventions in Human Trafficking.
Remedy and Reparations
Bishop Jo Aldred Churches Together in England Reparations?
Professor Kristoffer Allerfeldt What do we learn from the eighteenth Century and Slavery in the Americas.
Markella Papadoulli European Litigation Solicitor. Aire Centre UK What Remeides are being pursued.
Friday 9.30 - 6.00 pm
Removal (of Organs) Resources, (social) Reproduction, Rape and Reparations
Organ trafficking is changing across Europe, Latin America, Asia, Africa, the Middle East and the Far East. What is happening, how to effectively research what is occurring in this most hidden of crimes, and what governments can do to interdict its growth. We shall hear from experts in changing the landscape of Organ trafficking here in the UK, and those working on its interdiction in the Balkans.

Examination of the role of Gendered exploitation in the thematic of how social Reproduction becomes intrinsically caught up in Trafficking and Modern Slavery, from the exploitation of surrogacy, the extraction of gametes, gametes, and women from their own familial nurturance to nurture the children of wealthier 'patrons'.
We will weave back themes looked at earlier in the week on Race, Rights, and Remedy, alongside in this wider context taking a contemporary look at how earlier instances of slavery are now being pursued in the search for Reparations.
There will be a Lunchtime visit to St John's Library and the Modern Slavery Exhibits which are held by the Library.
Evening - 7.30 pm Punting (if Fine) and Dinner at the Rupert Brooke in Grantchester.
Location of Rupert Brooke, Virginia Woolf, and the BBC Crime drama 'Grantchester'.
Professor Silvia Tabusca Lecturer School of Law Romanian-American University Bucharest
Andrei Ciurcanu Film maker on Organ harvesting in the Balkan Region – Bucharest
International Organisation for Migration - Experiences from the field
Dr Sara Steele Assistant Director Intellectual Forum Jesus College Cambridge
Dr Saradamoyee Chatterjee By-Fellow Lucy Cavendish College
Academic Visitor Department of Development Studies University of Cambridge
Kristoffer Allerfeld Department of History University of Exeter
Kieran Guilbert Reuters Trust Foundation - observations on reporting and key areas requiring more investigation and resource. Building networks for change.
END of Week long Senior Symposium 5th July 6.00pm

For those wishing to undertake the ILM certification available for this Symposium Level 5 in Value based Leadership and Management there is separate additional ticketting to purchase to cover the costs of inscription and supervision. Please see the ticketing for clarification.

Please see www.ccarht.org/site/symposium for more information as the timetable and programme is finalised.
---
Saturday Masterclass. - separately billed available as a single day.

Who is it for: Rising graduate and post-graduate researchers - English as the working language for this Masterclass and day of paper presentations and analysis. ( ideal for MA and pre presentation PhD) and NGO based project managers and researchers.
July 6th SATURDAY MASTER CLASS - 0.00 - 5.00pm
We shall be exploring some of the pitfalls which face researchers working on Human Trafficking and Modern Slavery topics, and the opportunities which are present for impactful and evidence secured research on policy, and improved responses for law enforcement and prevention efforts. This is a separate component of the Week - please source the appropriate ticketing for this event. Some of our senior symposium panellists will be contributing to the teaching and reflection of this much sought after day.


Master classes and workshops on key issues arising for research - and how to address them
The ethics committee - doing no harm
Access to vulnerable persons / survivors
Building 'voice' into your model
Interviewing in constrained environments - prisons
Creating surveys - modelling, interrogation of data
Deploying social media in research
Designing participatory research
Hybrid research: qualitative and quantitative research
Shaping your proposal
Finding a supervisor
Locating potential partners for field work faciliation
CCARHT as a Research hub
Locatiing scholarships and support
Building your publication portfolio

This day is separately ticketted and designed particularly for rising graduate and post-graduate researchers breaking into the Trafficking research field. Early booking for this day is recommended, as we expect the take up for this bespoke day guided through by experienced researchers and Principal Investigators in Cambridge to be extremely popular.
---
SUBMIT YOUR ABSTRACT FOR CONSIDERATION.
Any who believes their research is congruent with our schedule or aligned to the Several Rs of Trafficking, submit a 300 word synopsis, CV, and indicative publications aligned to the research. We shall be receiving until April 20th.
Acceptance includes coverage of days participation in the symposium and a reduced fee for the week.
Publication expected in a peer-reviewed combined paper journal for those accepted – curated by CCARHT.
Email all abstracts to symposium@ccarht.org.
---
FAQs
Are there ID or minimum age requirements to enter the event?
Ages 20+
What are my transport/parking options for getting to and from the event?
Cars need to be parked at park and ride facilities around Cambridge. Cycling and walking is advised for the centre of Cambridge. There are excellent rail links to London.
How can I contact the organiser with any questions?
Please send all enquiries to symposium@ccarht.org.
What's the refund policy?
Refunds will be available up to 30 days before the event with the exception of an administration fee.
Is my registration fee or ticket transferrable?
Registration fee is transferable with clear communication with the CCARHT offices.
Is it ok if the name on my ticket or registration doesn't match the person who attends?
Where possible please nominate the name of the person who will attend to alleviate administrative logistics for the event.