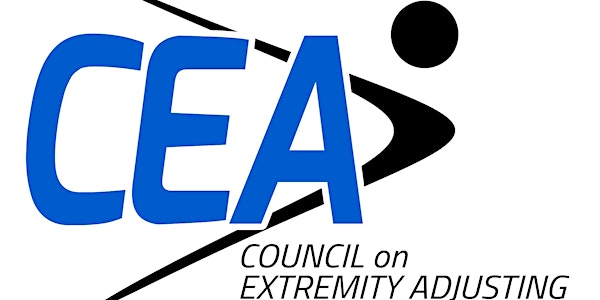 CCEP 4 Introduction to Principles of Foot, Gait & Orthotics - CPD
Location
AECC University College
Parkwood Campus
13-15 Parkwood Road
Bournemouth
BH5 2DF
United Kingdom
Refund policy
Refunds up to 30 days before event
We are pleased to be running the full Certified Chiropractic Extremity Practitioners series. Please book each seminar individually
About this event
Registration Saturday: 08:15 
Saturday: 08:30-18:30
Sunday:   08:00-14:00
This seminar is open to Chiropractors and Chiropractic students only. Students who are actively enrolled in a course of study leading to a chiropractic qualification may take the entire course. However, one of the seven courses must be taken after they have graduated. A copy of your degree from an accredited chiropractic college must be provided to the senior instructor at the practical exam.
This course is accredited for 14 CPD Hours by the European Academy of Chiropractic. 
We want to reduce our impact on the environment by limiting the amount of paper we are using for our CPD courses. Course notes: Not provided in hard copy. You will be notified by email to access notes via Dropbox or similar (this is free to access and you will not need to set up a Dropbox account)
AECC University College are pleased to be running the full Certified Chiropractic Extremity Practitioners series. You will need to book each seminar individually, the dates are as follows:
CCEP 1 - Advanced Principles of Upper Extremity Adjusting (Marius Jensen) 19-20 March 2022
CCEP 2 - Advanced Principles of TMJ, Ribs, and Shoulder Girdle (Marni Capes) 7-8 May 2022
CCEP 3 - Advanced Principles of Lower Extremity Adjusting (Kevin Hearon) 15-16 October 2022
CCEP 4 - Advanced Principles of Foot, Gath & Orthotics (Dan Prince) 18-19 March 2023
CCEP 5 - Soft Tissue methods for the Spine & Extremities (Jared Jensen) 13-14 May 2023
CCEP 6 - Advanced Principles of Extremity Rehabilitation (Marius Jensen) 14-15 October 2023
CCEP 7 - Global Assessment of the Extremities (John Downes) – TBC
The Certified Chiropractic Extremity Practitioner (CCEP) seminar series presents practical objective-based solutions for treating the extremities. The seminar series teaches how diagnosis and treatment is made simple through understanding the biomechanical functions of each joint.Chiropractic often stresses the importance of nerve interference in the spine, but neglects that it may also occur in the extremities. This simplified process utilizes muscle tests as indicators for adjusting, providing instant feedback for patients when their strength returns immediately. While these seminars do teach some of the "textbook" information behind the process, the real value is the "hands-on" approach that will teach you how to efficiently implement these methods into your care the next day . . . and with little more than your hands, you can get started without a huge investment.
CCEP 4  -  Introduction to Principles of Foot, Gait & Orthotics
Presented by Dan Prince
Course Synopsis
Posture, both static and kinetic, is discussed and demonstrated. Primary and secondary shock absorbers of gait are related to their major muscle and nerve root. Neutral position of the foot is defined and demonstrated when it is pathomechanical and truly neutral. Structural deformities such as leg length, rear foot and forefoot varus/valgus, functional hallucislimitus (FHL), equinus, and others will be covered.
Orthotics for common foot disorders and posture problems will be demonstrated. Learn how to cast a foot in true neutral position non-weight bearing. Learn why the foundation of the spine truly starts at the ground. Learn the difference between functional and accommodative foot orthoses, and learn to make functional orthoses (students will be making functional orthoses in this class for themselves).
Day 1
08:30-09:30 - TOPIC: EXAM PROCEDURES/DIAGNOSIS
Overview of Gait, Primary Shock Absorber, Secondary Shock Absorber.
09:30-10:30 - TOPIC: EXAM PROCEDURES/DIAGNOSIS
Discussion: Basic Anatomy, Bones of the Foot, Anatomical Landmarks, Major Muscles
10:30-11:30 - TOPIC: EXAM PROCEDURES/DIAGNOSIS
Discussion: Basic Biomechanics, Pronation and Supination, Medial and Lateral Foot, Pathomechanical Neutral Position
11:30-12:30 - TOPIC: EXAM PROCEDURES/DIAGNOSIS
Discussion: Structural Deformities, Leg Length Discrepancy, Coxa Vera, Coxa Valga, Forefoot Varus, Forefoot Valgus, And Functional Hallucis Limitus.
12:30-13:30 LUNCH BREAK
13:30-14:30 - TOPIC: EXAM PROCEDURES/DIAGNOSIS
Discussion: Overall Mechanics of Bone Movement in the Lower Extremity and the Pelvis, Subtalar Pronation, Subtalar Supination
14:30-15:30 - TOPIC: EXAM PROCEDURES/DIAGNOSIS
Discussion: The Effect of Lower Limb Abnormalities on Foot Function, Talus Motion, Intrinsic Foot Deformities.
15:30-16:30 - TOPIC: EXAM PROCEDURES/DIAGNOSIS
Discussion: Shoe Definitions, Functional Orthotics, and Accommodative Orthotics, Kinetic Wedge Modification.
16:30-17:30 - TOPIC: ADJUSTIVE TECHNIQUE (HEARON)
Discussion: Patient History, Past and Present, Examination Non Weight Bearing and Weight Bearing.
17:30-18:30 - TOPIC: ADJUSTIVE TECHNIQUE (HEARON)
Adjustive Technique for the Talus, Calcaneus, Cuboid, Navicular, Cuneiforms, Metatarsals, and Phalanges.
Day 2
08:00-09:00 - TOPIC: ADJUSTIVE TECHNIQUE (HEARON)
Foot Casting standing and sitting, Generic or Neutral Position.
09:00-10:00 - TOPIC: ADJUSTIVE TECHNIQUE (HEARON)
Ordering or Prescribing Orthotics from the lab.
10:00-11:00 - Product distribution, purpose of items, video of protoco
11:00-12:00 - TOPIC: ADJUSTIVE TECHNIQUE (HEARON)
Hands on application: Making in House Foot Orthotics.
12:00-13:00 - TOPIC: ADJUSTIVE TECHNIQUE (HEARON)
Modifications to Orthotics reviewed for varied anomalies.
13:00-14:00 - TOPIC: ADJUSTIVE TECHNIQUE (HEARON)
Session Review and specific issues cleared up.
Speaker
Dr. Dan Prince served in the United States Air Force until a shoulder injury jeopardized a promising career. He turned to chiropractic care and experienced amazing results. Following this experience he immediately decided on a new career path to help others. He attended Palmer College of Chiropractic West in San Jose, California. Prior to graduation he was awarded a select post-graduate internship position in Albuquerque, NM.
Dr. Prince is in private practice in Edmond, Oklahoma and serves as the official chiropractor to the Men's and Women's U.S.A. Sitting Volleyball teams.
FAQs
How can I contact the organiser with any questions?
For more information contact the CPD team on +44 (0)1202 436 237 or email cpd@aecc.ac.uk. 
Will lunch & refreshments be provided?
A light lunch & refreshment breaks will be provided.
What if I have a Dietary requirement?
Should you have any genuine dietary requirements please email cpd@aecc.ac.uk who will pass this information onto the catering team.