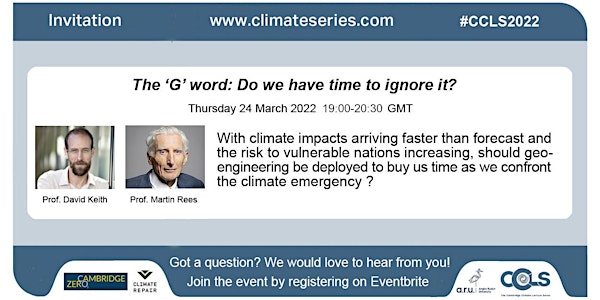 CCLS: The G Word, do we have time to ignore it?
The G Word, do we have time to ignore it?
About this event
With climate impacts arriving fast than forecast and the growing risk to vulnerable nations increasing, scientists remain vocally divided on whether geoengineering should be deployed to buy us time as we confront the climate crisis.
Professor Lord Martin Rees has spoken previously of the need for climate geoengineering research to be progressed but has highlighted the need for caution in what the overall impacts might be. He has also stressed the risk of disputes between countries if impacts continue to strike once deployment has occurred, predicting that the people who will benefit the most will be the lawyers.
Professor David Keith is a Harvard-based climate policy and energy expert, as well as being a leading authority on solar geoengineering and carbon capture from the atmosphere. He is an advocate for further research into solar geoengineering, stating that climate modelling results demonstrate that the benefits to the most vulnerable nations could by far outweigh the risks.