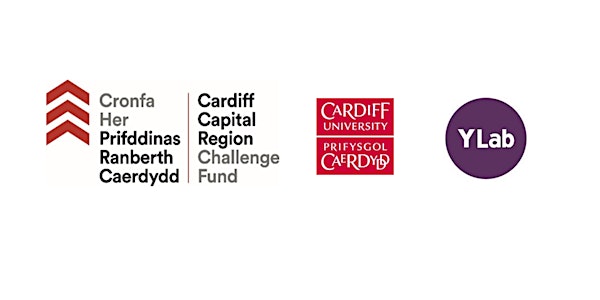 CCR Challenge Fund / Cronfa Her Prifddinas Ranbarth Caerdydd
Funding and Support for Public Sector Driven Challenges Cyllid a Chymorth ar gyfer Heriau a yrrir gan y Sector Cyhoeddus
About this event
Cardiff Capital Region Challenge Fund:
Funding and Support for Public Sector Driven Challenges
Date: Wednesday 18th November
Time: 10am
Venue: Online Event
Targeting a Public Sector audience and specifically those active in the Cardiff Capital Region, this briefing event introduces the new £10m CCR Challenge Fund.
Attendees will hear from experienced practitioners from Innovate UK and Welsh Government, as well as leading academics from Cardiff University, our partners in delivering the fund. They will gain an insight into how Public Sector bodies can act as a catalyst for driving Challenge-led Innovation and importantly how the new CCR Challenge Fund package of support can be accessed to help tackle some of the big challenges facing society.
The CCR Challenge Fund aims to build local wealth through creating commercial opportunities for organisations across the CCR, by inviting them to propose solutions to challenges across three priority themes: accelerating decarbonisation, improving the health and wellbeing of the region's citizens, and supporting, enhancing and transforming communities. The urgency of these priority themes has now been further intensified by the experience of Covid-19.
The fund is intended to help bring together challenges that require the public, private and perhaps third sectors to work together to find solutions. Key benefits will include:
• Opportunity to explore creative solutions to local economic challenges
• Investment to find and develop innovative solutions
• Improved local service delivery that benefits from tailored solutions
• New market creation and ability to 'break through' public procurement frameworks
• Potential for commercial solutions which can be scaled and sold both locally and beyond
• Local supply chain growth and development
If you're unable to attend the event and would like to find out more. Please visit the webpage www.cardiffuniversity.ac.uk/challengefund or email the CCR Challenge Fund team at CCRChallengeFund@cardiff.ac.uk
AGENDA
10h00 Introduction - Kellie Beirne (Chair), CCR
10h05 Innovation landscape in Wales - Kevin Morgan, Cardiff University
10h15 SBRI & GovTech - Jon Hazell, Innovate UK
10h25 Challenge-led Innovation in Wales - Kate Williams, Welsh Government
10h35 CCR Challenge Fund Aims & Objectives - Gareth Browning, CCR
10h40 Support Available / How to Engage - Rick Delbridge, Cardiff University
10h45 Q&A
11h00 Closing Remarks - Kellie Beirne, CCR
________________________________
Cronfa Her Prifddinas-Ranbarth Caerdydd:
Cyllid a Chymorth ar gyfer Heriau a yrrir gan y Sector Cyhoeddus
Dyddiad: Dydd Mercher, 18 Tachwedd
Amser: 10am
Lleoliad: Digwyddiad Ar-lein
Gan dargedu cynulleidfa sector cyhoeddus ac yn benodol y rhai sy'n gweithredu ym Mhrifddinas-Ranbarth Caerdydd, mae'r digwyddiad briffio hwn yn cyflwyno'r Gronfa Her Prifddinas-Ranbarth Caerdydd newydd gwerth £10 miliwn.
Bydd y rhai a fydd yn bresennol yn clywed gan ymarferwyr profiadol o Innovate UK a Llywodraeth Cymru, yn ogystal ag academyddion blaenllaw o Brifysgol Caerdydd, ein partneriaid darparu'r gronfa. Byddant yn cael cipolwg ar sut y gall cyrff y Sector Cyhoeddus fod yn gatalydd ar gyfer ysgogi Arloesedd a arweinir gan Her, ac yn bwysig, sut y gellir cael gafael ar becyn cymorth newydd Cronfa Her Prifddinas-ranbarth Caerdydd i helpu i fynd i'r afael â rhai o'r heriau mawr sy'n wynebu cymdeithas.
Nod Cronfa Her Prifddinas-ranbarth Caerdydd yw adeiladu cyfoeth lleol drwy greu cyfleoedd masnachol i sefydliadau ar draws Prifddinas-ranbarth Caerdydd, drwy eu gwahodd i gynnig atebion i heriau ar draws tair thema flaenoriaeth: cyflymu datgarboneiddio, gwella iechyd a lles dinasyddion y rhanbarth, a chefnogi, gwella a thrawsnewid cymunedau. Mae brys y themâu blaenoriaeth hyn nawr wedi'i ddwysáu ymhellach gan brofiad Covid-19.
Bwriad y gronfa yw helpu i ddwyn ynghyd heriau sy'n ei gwneud yn ofynnol i'r sector cyhoeddus, y sector preifat ac efallai'r trydydd sector gydweithio i ddod o hyd i atebion. Bydd y manteision allweddol yn cynnwys:
• Cyfle i archwilio atebion creadigol i heriau economaidd lleol
• Buddsoddi i ddod o hyd i atebion arloesol a'u datblygu
• Gwell darpariaeth gwasanaethau lleol sy'n elwa o atebion wedi'u teilwra
• Creu marchnad newydd a'r gallu i 'dorri drwodd' fframweithiau caffael cyhoeddus
• Potensial ar gyfer atebion masnachol y gellir eu graddio a'u gwerthu'n lleol a thu hwnt
• Twf a datblygiad y gadwyn gyflenwi leol
Os na allwch ddod i'r digwyddiad ac os hoffech gael gwybod mwy. Ewch i'r dudalen we www.cardiffuniversity.ac.uk/challengefund neu e-bostiwch dîm Cronfa Her Prifddinas-ranbarth Caerdydd yn CCRChallengeFund@caerdydd.ac.uk
AGENDA
10.00 Cyflwyniad - Kellie Beirne (Cadeirydd), P-RC
10.05 Tirwedd arloesi yng Nghymru - Kevin Morgan, Prifysgol Caerdydd
10.15 Menter Ymchwil Busnesau Bach a GovTech - Jon Hazell, Innovate UK
10.25 Arloesedd a arweinir gan her yng Nghymru - Kate Williams, Llywodraeth Cymru
10.35 Nodau ac Amcanion Cronfa Her P-RC - Gareth Browning, P-RC
10.40 Cymorth ar Gael / Sut i Ymgysylltu - Rick Delbridge, Prifysgol Caerdydd
10.45 Holi ac Ateb
11.00 Sylwadau Cloi - Kellie Beirne, P-RC