CDT Open Day at the University of Edinburgh
Description
The CDT Open Day is an opportunity to find out more about the EPSRC Centres for Doctoral Training (CDTs) in:
All three CDTs are fully funded, 4-year MSc + PhD degree programmes, based in the School of Informatics at the University of Edinburgh.
The afternoon will include presentations by the CDT academic staff, an informal Question & Answer session with CDT staff and current students, lunch and tours of the Informatics Forum. Please see the full schedule below.
Attendees will also be able to find out about other postgraduate degree programmes at the School of Informatics.
This event is open to all those who are interested in one or more of the CDT programmes, whether or not you have already applied.
If you plan to attend, please click on the green 'Register' button above and fill in the registration form. We look forward to meeting you there!

Event Schedule: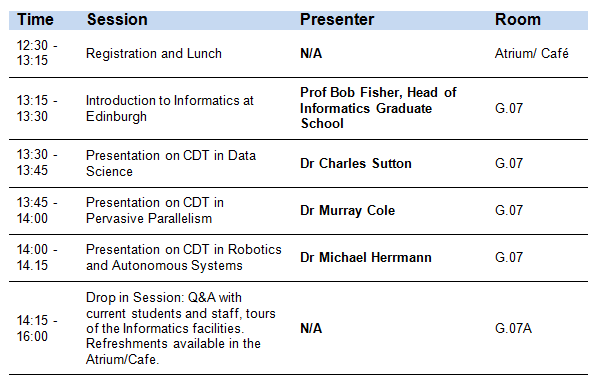 For more information about the CDT programmes visit:
http://www.ed.ac.uk/schools-departments/informatics/postgraduate/cdts/informatics-cdts
Organiser of CDT Open Day at the University of Edinburgh