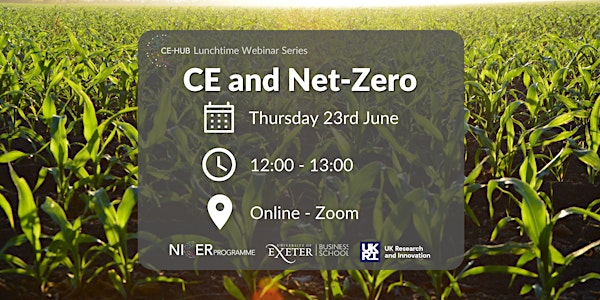 CE and Achieving Net Zero - CE-Hub Lunchtime Webinar Series
Join the CE-Hub and guest speakers to discuss how the CE can help to achieve Net-Zero for the second in a series of lunchtime webinars.
About this event
Date: Thursday 23rd June 2022
Time: 12:00 - 13:00 BST
Location: Event hosted online
Overview
November 2021 saw the 26th UN Climate Change Conference of the Parties (COP26) and the formation of the Glasgow Climate Pact. Net-Zero and the need to limit global temperature rises are more present in the public and government agendas now more than ever. In this webinar we explore how a Circular Economy is vital to achieving these vital targets.
Designed to engage and promote discussion on key topics, these webinars will include short presentation from guest speakers, followed by audience Q&A.
Format
This 1 hour webinar will include:
12:00 - 12:05 Welcome and Chair Introduction
12:05 - 12:25 Speaker presentations
12:25 - 12:55 Audience Q&A
12:55 - 13:00 Chairs Closing Remarks
13:00 Close
Meet our Speakers
Professor Ian Bateman, University of Exeter
Event Chair
Ian is an environmental economist with a wide array of research interests. These revolve around the issue of ensuring sustainable wellbeing through the integration of natural and social science knowledge within decision making and policy. Particular interests lie in the fields of quantitative analysis, integrated modelling and the valuation of non-market benefits and costs.
Ellie Banwell, The Biomimicry Institute
Ellie Banwell is a scientist and designer specializing in biomimetic design and the circular economy. Her design portfolio includes projects to create stronger community links between Israelis and Palestinians as well as ways to restore lost metals to the industrial resource cycle. She is a Schmidt-MacArthur Fellow.
Keith James, WRAP
As Head of Policy and Insights, Keith leads a team of experts across WRAPs areas of interest to support policy makers around the world with insights which inform the development and implementation of policy. This includes informing national waste management and prevention strategies, and strategies to decarbonise the UK, including the role of material resources in delivering Net Zero.
Niamh Crawford, Design Council
Niamh Crawford is Senior Programme Manager at the Design Council, responsible for leading the delivery of Social Innovation programmes. The Design Council has recently published their 'Beyond Net-Zero: Systemic Design Approach' Report and Wider Systemic Design Framework which has been developed to help designers working on major complex challenges that involve people across different disciplines and sectors. It places our people and our planet at the heart of design.
Registration
Please register using the 'register' link on this page. Please make sure you use your University of Exeter email address. If you wish to register without using Eventbrite, or if you have any questions regarding the event please contact: CE_Hub@exeter.ac.uk.
Data Protection and Privacy
To aid organisation of this event, attendee information may be shared with relevant staff in the University e.g. a list of attendees could be provided to the University host, guest speaker.
We will store your information securely, so that we can communicate to you about the event (e.g. cancellation of event, changes to the itinerary, a satisfaction survey).
We delete our access to personal information on Eventbrite after 6 months.
More information on the University's privacy policies can be found here.
For more information on Eventbrite's own privacy policy, please visit this page.