Health & Climate Change: Common Challenges, Common Solutions?
About this event
Date: Thursday 6 May 2021
Time: 14:30-16:00 CEST
Europe is facing a health crisis coupled with intensifying challenges brought about by climate change. COVID-19 has hit at the heart of existing social vulnerabilities in Europe related to growing incidence of non-communicable diseases, population ageing and persistent inequalities. At the same time, human health and well-being are intrinsically linked with the state of environment, which in turn depends on human activity and life choices.
Join us to discuss:
How we can break the vicious circle of environmental degradation and declining state of health?
What strategies and investments are needed for healthier and more sustainable European societies post-COVID-19?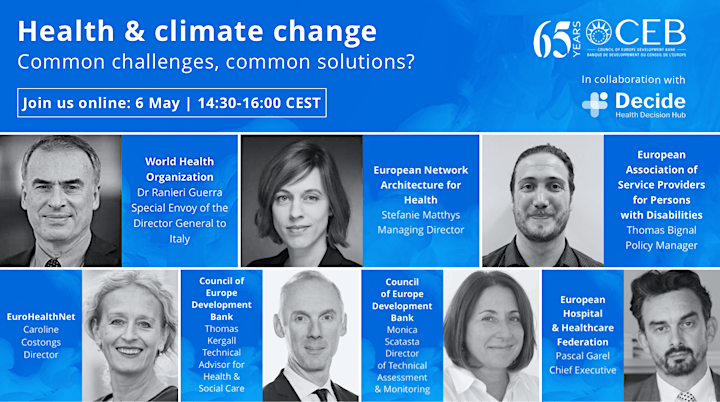 Speakers:
Introductory remarks by Monica Scatasta, Director for Technical Assessment and Monitoring of the CEB
Dr Ranieri Guerra, Special Envoy of the Director General to Italy at the World Health Organization (WHO)
Caroline Costongs, Director at EuroHealthNet
Thomas Bignal, Policy Manager at the European Association of Service providers for Persons with Disabilities (EASPD)
Stefanie Matthys, Managing Director of the European Network Architecture for Health (ENAH)
Pascal Garel, Chief Executive of the European Hospital and Healthcare Federation (HOPE)
Thomas Kergall, Technical Advisor for Health and Social Care, CEB
Moderator:
Jelica Vesic, Communication Officer, CEB
This is an open event whose intended audience is comprised of CEB's clients, partners and peers active in the health and social care sectors.