CELEBRABIS VITAE - Skull Art Exhibition - 31st October 2014
Description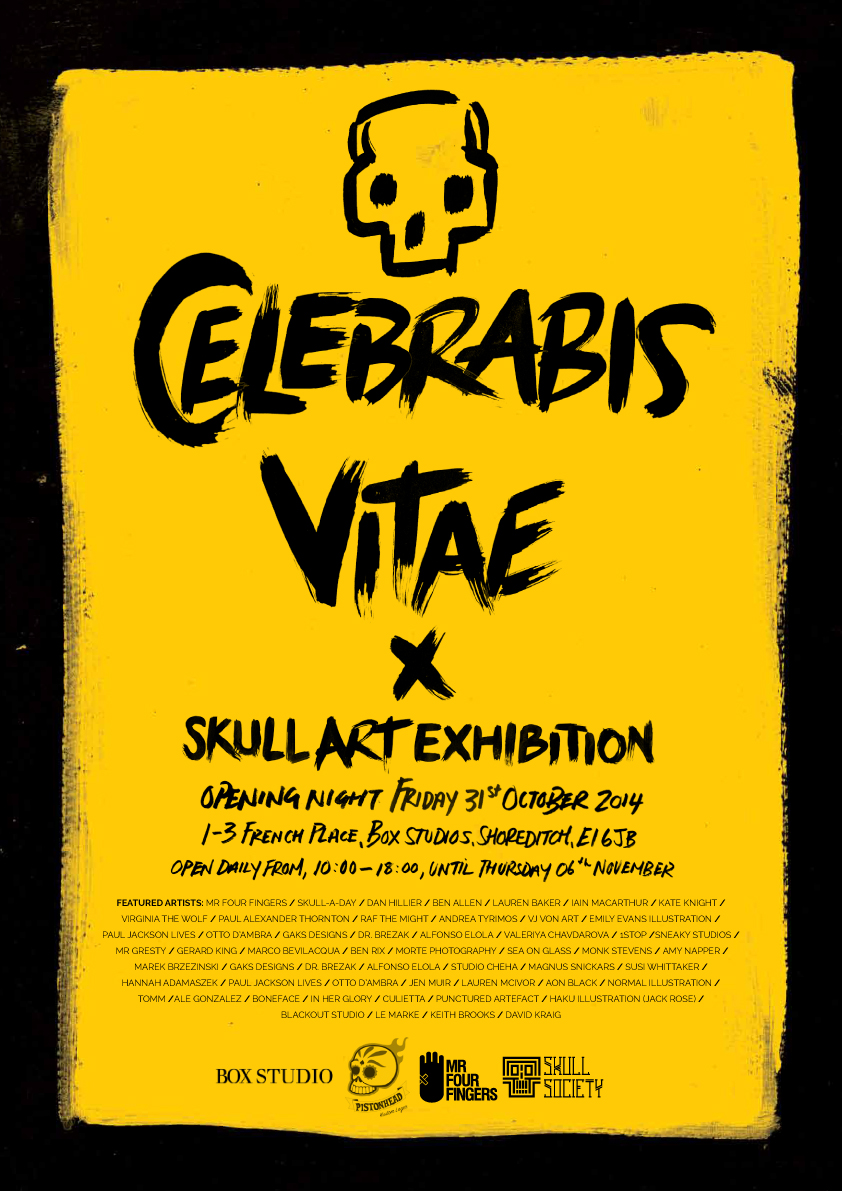 The Skull Appreciation Society, Mr Four Fingers and partners Pistonhead Lager are hosting the upcoming skull Exhibition, CELEBRABIS VITAE, on the 31st October 2014 at BOX STUDIOS in Shoreditch for thje opening night and private view.
We would like to invite you to join us in a celebration of life and art as we salute this iconic symbol and remember the lives of our past loved ones, those who have been taken from us too soon.
THE OPENING NIGHT WILL FEATURE:
Skull exhibition and shop, including goodie bags for first 10 purchases
Live drawing by Iain Macarthur
Rooftop cocktail bar - Drinks rom £2.50!
Face Painters - Free
Tarot card reader - Free
Toast and tribute to celebrate the lives of our past friends and family
DJ
Competitions
Ticket prices will start from £10, with a free cocktail on entry. Guests are encouraging to wear a skull for show – those that do will be entered into a prize draw to win something skulltastic*.
CELEBRABIS VITAE SKULL EXHIBITION DEETS:
OPENING NIGHT: 31st October 2014
TIME: 6pm - 12am
OPENING NIGHT PRICE: From £10
LOCATION: BOX STUDIO, 1-3 French Place, London, E1 6JB
DURATION: Runs from 31st October - 6th November
The exhibition will be feature the following artists including; MR FOUR FINGERS, Skull-A-Day, Dan Hillier, Ben Allen, Lauren Baker, Iain MacArthur, Kate Knight, Virginia The Wolf, Paul Alexander Thornton, Emily Evans Illustration, Paul Jackson Lives, Otto D'Ambra, Gaks Designs, Dr. Brezak, Alfonso Elola, Valeriya Chavdarova, 1STOP, Sneaky Studios, Mr Gresty, Gerard King, Marco bevilacqua, Ben Rix, Morte Photography, Sea on Glass, Monk Stevens, Amy Napper, Marek Brzezinski, Gaks Designs, Dr. Brezak, Alfonso Elola, Studio Cheha, Magnus Snickars, Susi Whittaker, Hannah Adamaszek, Paul Jackson Lives, Otto D'Ambra, Jen Muir, Lauren McIvor, AON BLACK, Normal Illustration, Tommy, Ale Gonzalez, BoneFace, In Her Glory, Culietta, Punctured Artefact, Haku Illustration (Jack Rose), Blackout Studio, Le Marke, Keith Brooks, David Kraig, VJ VON ART, Andrea Tyrimos – MORE TBC.