EXCLUSIVE VIRTUAL EVENT WITH DINNER, WHISKY & WINE PACKAGES
About this Event
BURNS NIGHT WITH BOISDALE
VIRTUAL EVENT & DINING KITS
MONDAY 25 JANUARY AT 7.30PM
THE GREATEST VIRTUAL BURNS NIGHT OF ALL TIME
HOSTED BY RANALD MACDONALD WITH SPECIAL GUESTS
Boisdale has put together three Burns Night dining kits that provide access to an exclusive virtual event with special guests on 25 January. Boisdale's founder Ranald Macdonald will be addressing the haggis and will be joined by celebrity Scottish friends including Braveheart star James Cosmo, singing sensation Tallia Storm and Clan Chief Donald Maclaren of Maclaren. The carefully curated dinner and whisky kits will be shipped direct from Scotland and delivered nationwide for a Burns Night celebration like no other. Numbers are strictly limited to 500 kits and orders must be placed by 17 January.
https://boisdaleathome.co.uk/collections/burns-kits
Ranald Macdonald commented "For the last 32 years Burns Night has always been the greatest evening of the year at Boisdale and a magnificent opportunity to be inspired by beautiful poetry, join in song, be poignantly reminded of one's very temporary place in history, and of course to drink very responsibly. Despite Lockdown 3.0 we decided that we could not let it be a year without this unique celebration of Robert Burns, Scotland and indeed LIFE. Needless to say it will surely be the most fun that one is legally allowed to have at home."
A spectacular Burns Night in the comfort of your own home is Boisdale's answer to maintaining sanity in lockdown. Boisdale's Executive Chef Andy Rose has curated three easy to prepare dining kits that are accompanied by a 200ml Wee Beastie Ardbeg ready to drink cocktail and 50ml miniatures of Glenmorangie and Ardbeg. And that's just when the fun starts.
Highlights include:
7.30pm: A short welcome from Ranald Macdonald younger of Clanranald
7.35pm: The piping in of the haggis by Donald Maclaren of Maclaren the 25th Chief of the Maclaren Clan, President of the Standing Council of Scottish Chief and former UK Ambassador to Georgia
7.40pm: The Ode to a Haggis by Robbie Burns read by James Cosmo, the legendary Scottish actor renowned for his iconic film roles that include Brave Heart, Highlander, Trainspotting, Troy and Game of Thrones
7.50pm: Tutored Ardbeg and Glenmorangie whisky tasting with Mark Tracey the Spirits Ambassador for Moet Hennessy.
8.00pm: Burns Quiz with splendid whisky prizes.
8.25pm: The toast to the Immortal Memory of Robert Burns by a surprise special guest
8.30pm: An acapella rendition of Burns' most famous song Auld Lang Syne by Tallia Storm the Scottish singing sensation and TV star
DINNER, WHISKY & WINE PACKAGES
DIRECT FROM SCOTLAND TO YOUR DOOR
Dinner, whisky and wine packages feature the most extraordinary haggis, treacle smoked salmon, dry aged beef wellington and a Scottish tart with Crowdie cream. All dinner kits include a limited edition Ardbeg Wee Beastie Rob Roy ready to drink cocktail, and drams of Ardbeg 10 and Glenmorangie 10.
Burns Night Supper (Serves Two) £35
A traditional haggis main course with whisky flight and Rob Roy cocktail
Blackface haggis (500g)
Mash and neeps
Claret and shallot gravy
*
Ardbeg Wee Beastie Rob Roy (200ml ready to drink cocktail)
Ardbeg 10 (50ml dram)
Glenmorangie 10 (50ml dram)
---------
Burns Night Dinner (Serves Two) £49
A three course traditional dinner with whisky flight and Rob Roy cocktail
Treacle smoked salmon (200g)
Shallots, capers and lemon
*
Blackface haggis (500g)
Mash and neeps
Claret and shallot gravy
*
Scottish tart
Crowdie cream
*
Ardbeg Wee Beastie Rob Roy (200ml ready to drink cocktail)
Ardbeg 10 (50ml dram)
Glenmorangie 10 (50ml dram)
------------
Burns Night Feast (Serves Two) £95
A four course traditional feast with whisky flight and Rob Roy cocktail
Treacle smoked salmon (200g)
Shallots, capers and lemon
*
Blackface haggis (500g)
Mash and neeps
Claret and shallot gravy
*
Beef Wellington (600g)
Dry aged Buccleuch Scottish beef, mushroom pate, butter puff pastry
Gratin dauphinoise, braised red cabbage with apple and horseradish, peppercorn and whisky sauce
*
Scottish tart
Crowdie cream
*
Ardbeg Wee Beastie Rob Roy (200ml ready to drink cocktail)
Ardbeg 10 (50ml dram)
Glenmorangie 10 (50ml dram)
Dinner packages include
Zoom link to virtual event on Monday 25 January at 7.30pm with special guests
Recipe card and cooking instructions (cook a haggis three ways)
Virtual event itinerary with The Ode To The Haggis and selected works by Robert Burns
Exclusive Spotify playlist for Burns Night curated by Boisdale's Patron of Music Jools Holland
Traditional itinerary for a Burns supper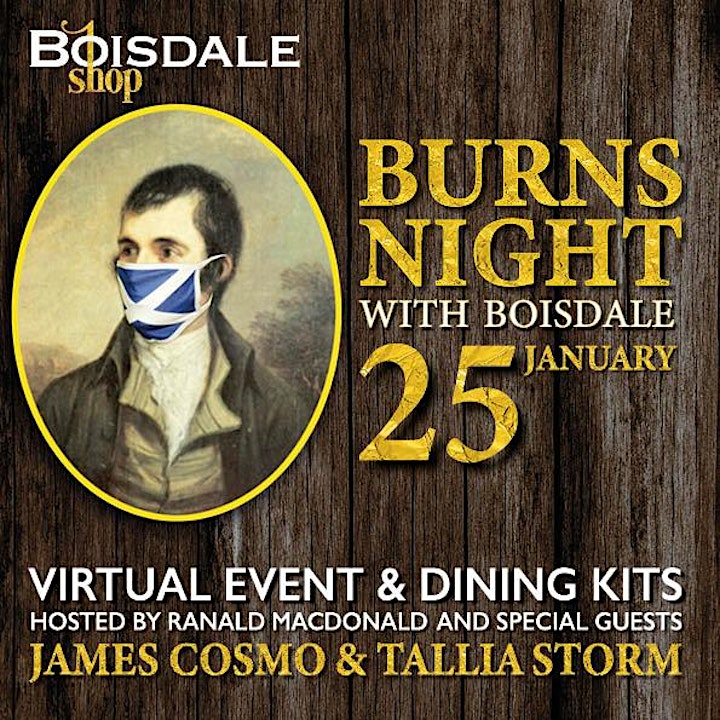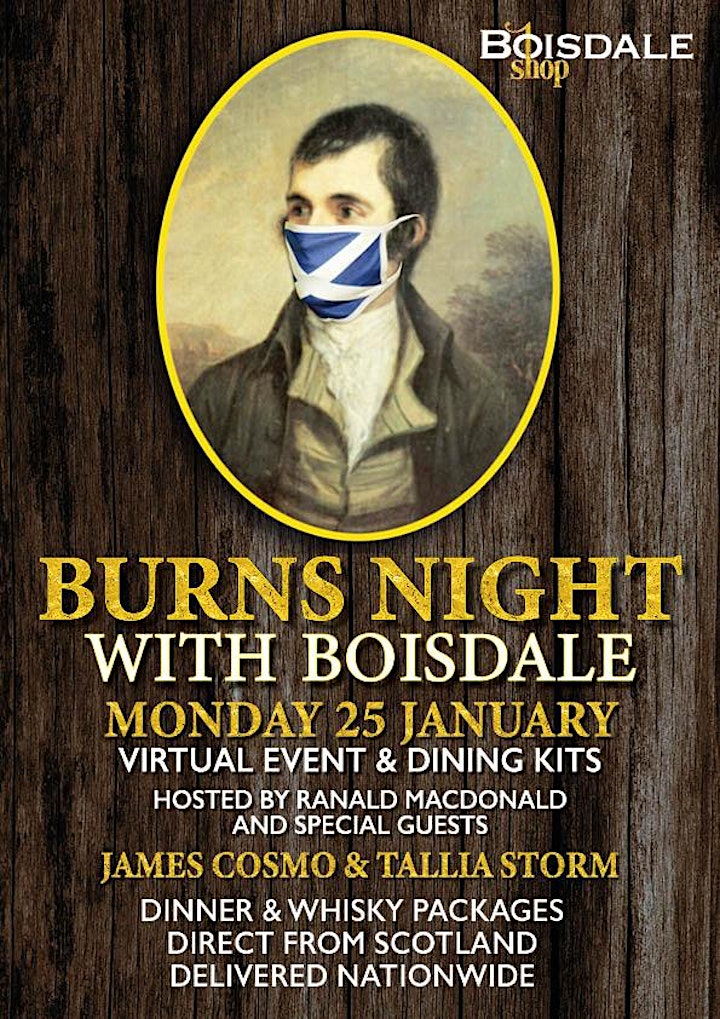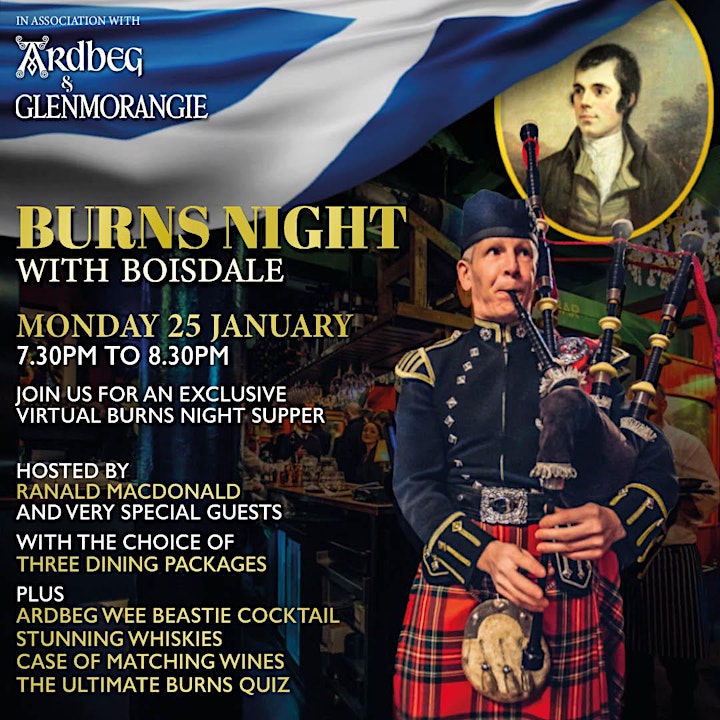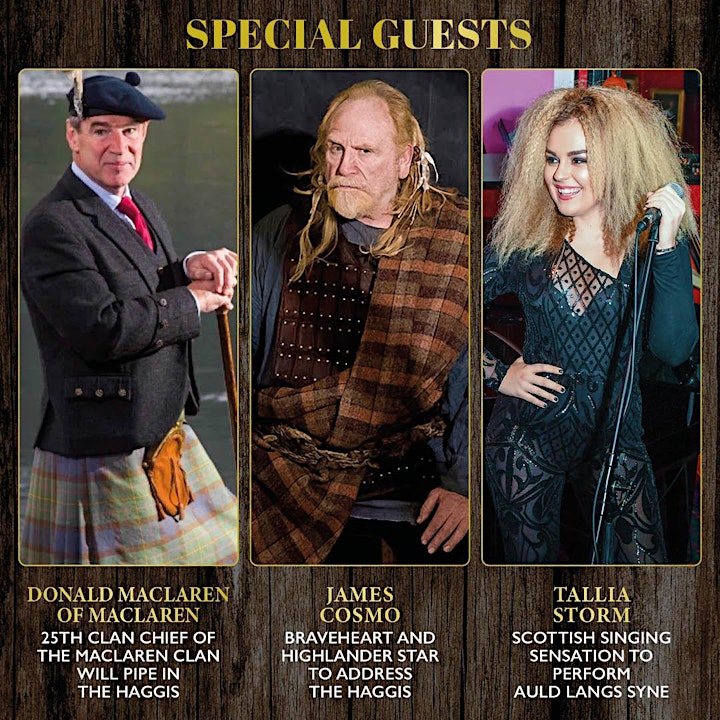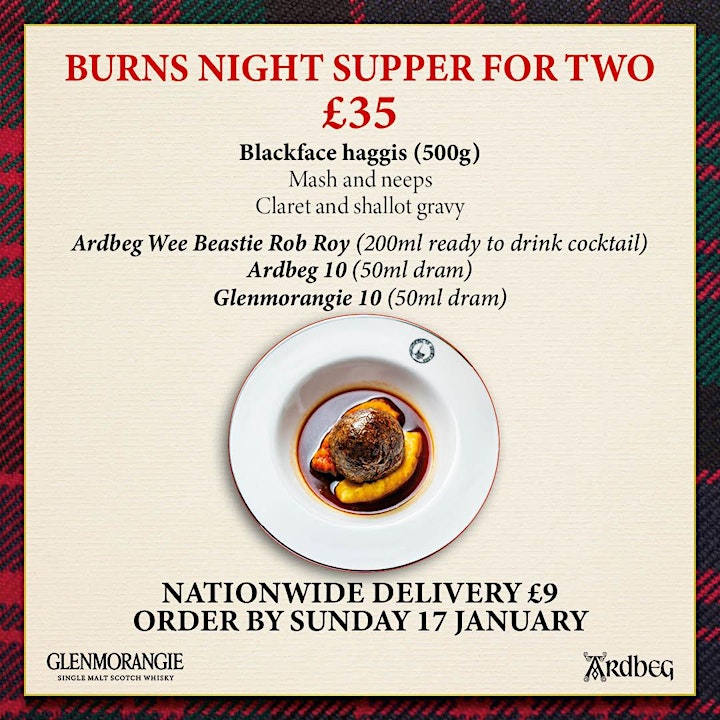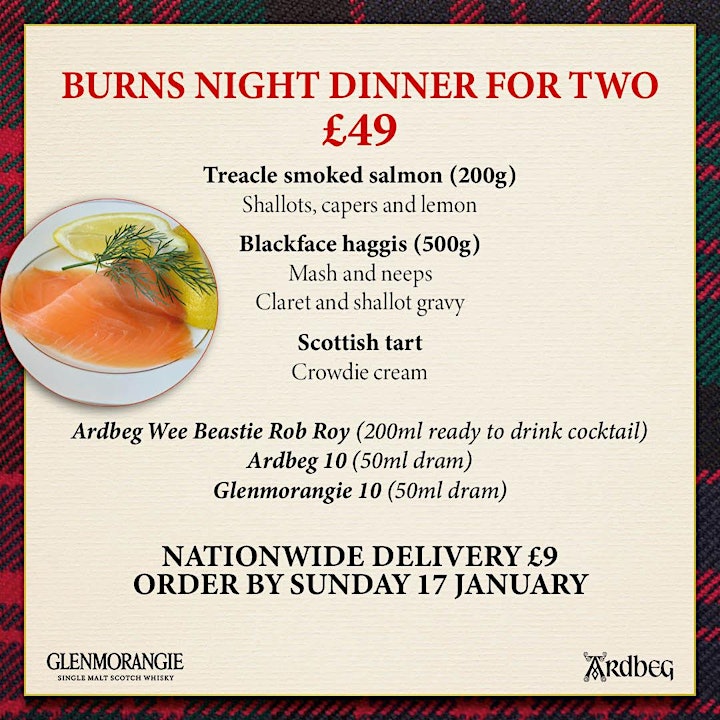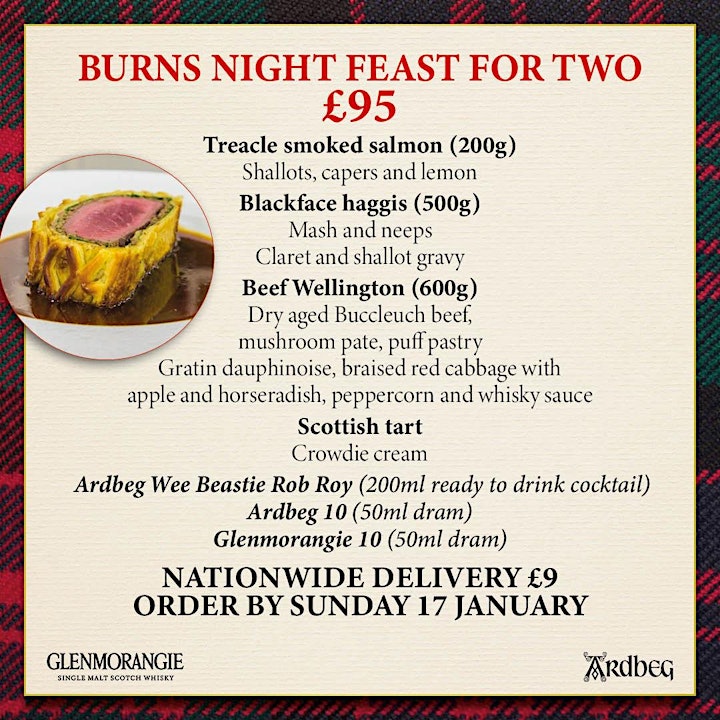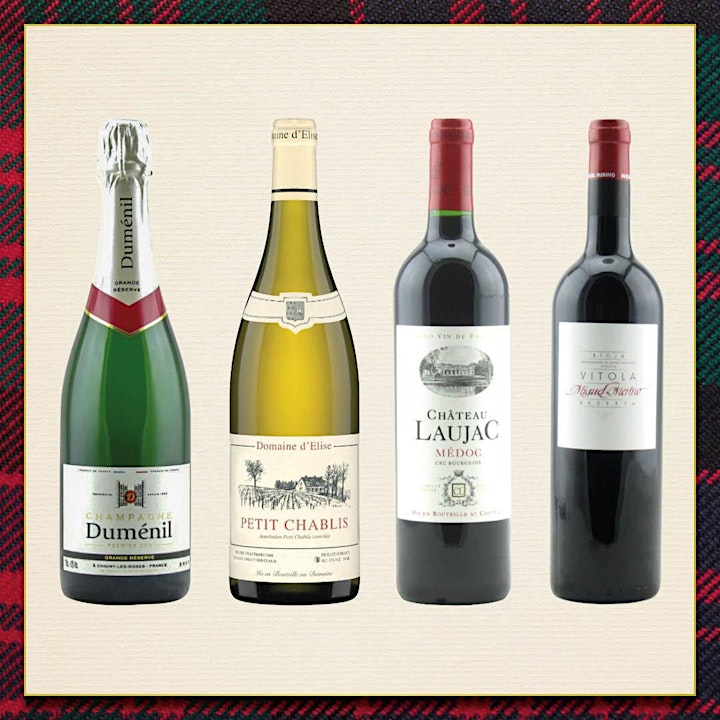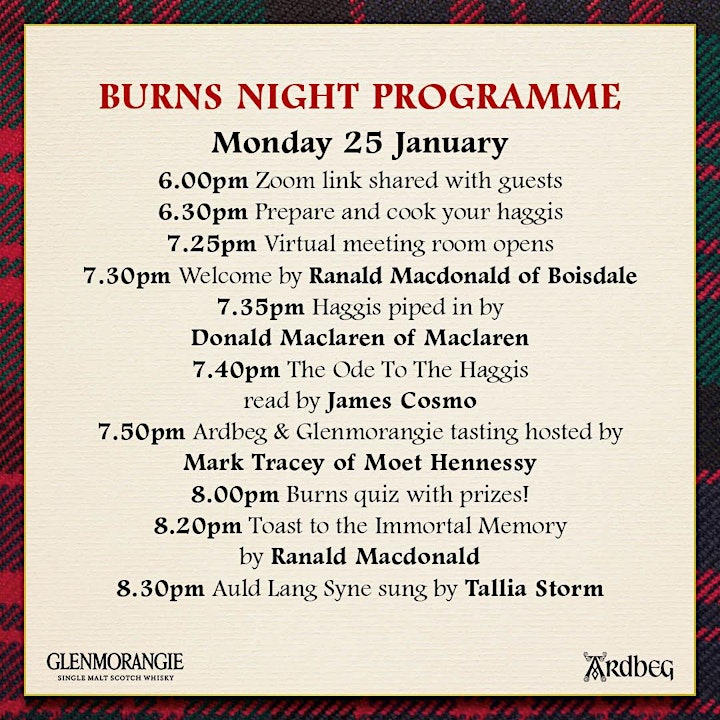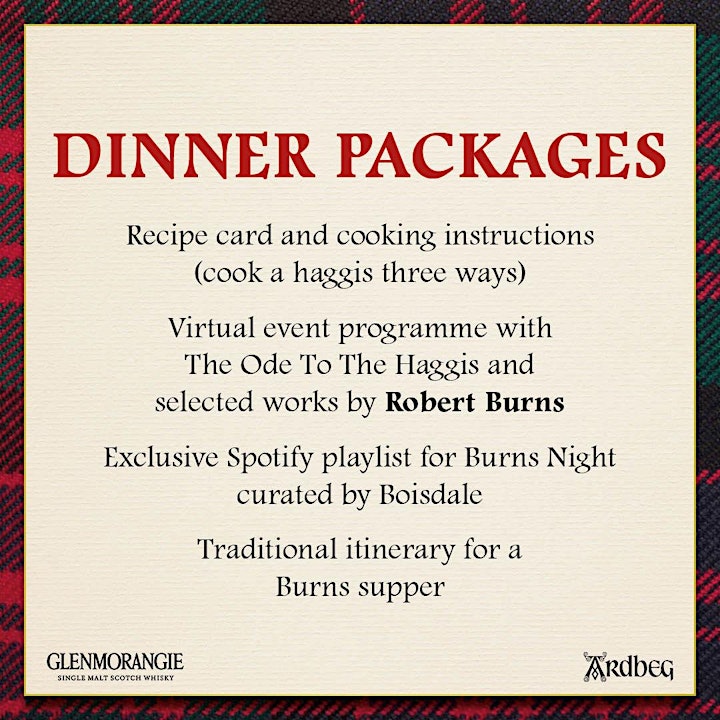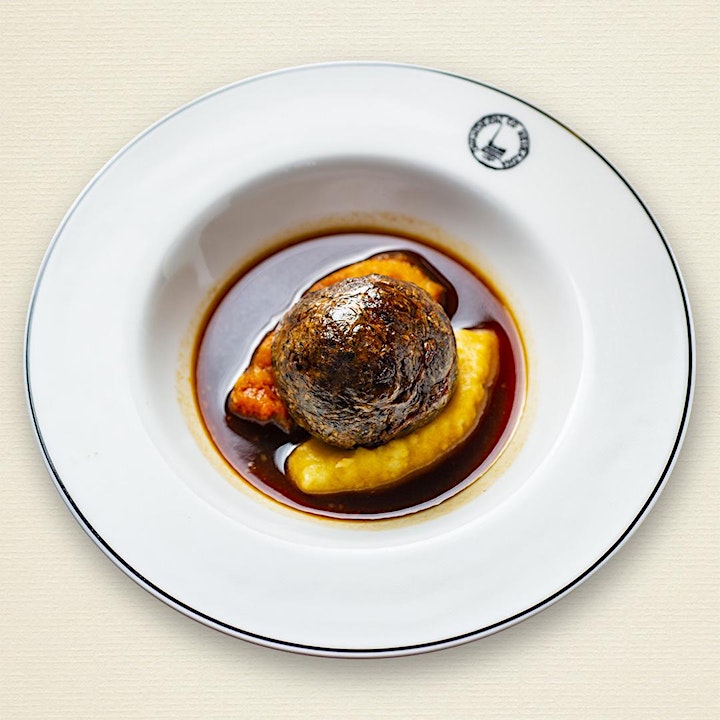 Date and Time
Location
Refund Policy