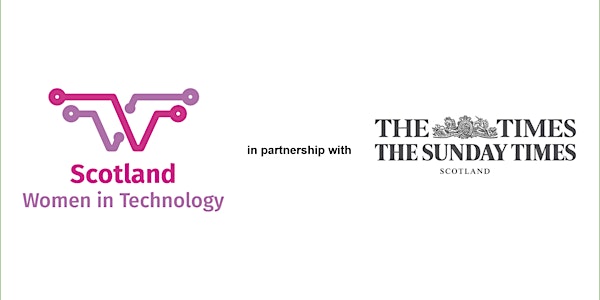 Celebrate International Women's Day with Scotland Women in Technology (Glas...
Location
The Times and Sunday Times Scotland
6th Floor, Guildhall
57 Queen Street
Glasgow
G1 3EN
United Kingdom
Description
In partnership with The Times and Sunday Times Scotland, Scotland Women in Technology are delighted to invite you to a panel discussion on this year's International Women's Day theme, "Press for Progress", with an inspiring group of women representing not just women in technology but women in business across Scotland.
Our speakers will include Margaret Totten, Jeanette Forbes, Wendy Pring and winner of the 2017 Scotland Women in Technology Lifetime Achievement Award, Sheila Flavell. Each of our speakers will give us a short introduction and their take on #PressForProgress followed by a panel discussion chaired by Gillian Bowditch, The Sunday Times Scotland columnist. We will also have a second panel featuring Toni Scullion and Sharon Lindsay who will bring other perspectives in to the discussion!
Sponsors:-
Leidos
GCI
JP Morgan
As always, this event is open to everyone.
Agenda
Drinks and nibbles from 5.30pm
Panel discussion begins at 6.00pm
We will close formally at 7.30pm, with more time for networking until 8.00pm.
Date and Time
Thu 8 March 2018
17:30 – 20:00 GMT
Location
The Times and Sunday Times Scotland, 6th Floor, Guildhall, 57 Queen Street, Glasgow, G1 3EN

Panel Discussion featuring:-
SHEILA FLAVELL,
Chief Operating Officer
Sheila Flavell is the Chief Operating Officer and an Executive Board Director of FDM Group and has over 26 years of experience in both the public and private IT sectors internationally. She is passionate about enhancing diversity in the workplace and creating exciting careers for the next generation of digital talent. Sheila played an integral role in the Group's flotation on AIM in 2005 and was a key instigator of the management buy-out of the Group in 2010 and the subsequent listing onto the main FTSE Market in 2014. Sheila's experience and knowledge of the sector has been crucial in driving the Group's global expansion programme, taking FDM into the FTSE250. Sheila spearheads FDM's global Women in Tech Initiative and FDM's Getting Back to Business Programme, aimed at providing opportunities for returners to work. She sits on the main Board of techUK and the Women in Tech Council and is frequently called to advise government committees on various issues, especially around the digital skills gap.
Jeanette Forbes, CEO
Jeanette Forbes is a qualified systems engineer who established PCL Group in March 2000 after she was made redundant during a downturn in the oil and gas industry.
Since then she has seen the company grow year on year to provide total technology provision and support including cabling services to five main industry sectors – offshore, marine, commercial, industrial and renewables – establishing respect along the way for the quality of product delivery and high level of service provision, 24hrs a day, 7 days a week, 365 days a year.
Having gone through the challenges of setting up her own business, and establishing a career in what was then, and to a large extent still is, a male-dominated oil and gas sector she is passionate about promoting the benefits of both. She has won a number of national awards and industry accolades, particularly for her role in promoting career opportunities for women in the energy sector. In 2015 she won Business Women Scotland's Inspirational Woman of the Year Award.
She is a much-sought after speaker whose audiences range from students to professional women working in the global energy sector. In 2015, she was invited to speak at the Gulf Intelligence Women in Energy Summit in Doha, Qatar, where she gave an address on: "Technology: Clearing the path for women to work in the technical field."
Born in Yorkshire, Jeanette is committed to promoting the opportunities and benefits which her adopted city of Aberdeen can offer visitors, residents and businesses. In 2015 she was appointed Ambassador for Investment in the city's Invest, Live, Visit programme and she is also involved in several other projects which focus on civic pride and economic development. She has been active as a business mentor to other businesswomen in the North-east for a number of years.
A firm believer in putting something back into the community which has supported her business, PCL Group supports a wide range of charitable events and organisations each year.
Margaret Totten,

WorldWide Finalist for Microsoft Partner Seller of the Year
Margaret was recently named as one of the UK's Top 50 most influential women in the UK IT channel. A strong evangelist for women in technology Margaret has spoken at multiple technology events throughout the UK. Recently appointed to the Microsoft Global Influencer panel Margaret has been using the platform to advocate for the inclusion in female red roles and divisions in all areas of technology. One of the founders of the Microsoft Kids Immersion experience Margaret is passionate about bringing technology to children and does a lot of work around girls in technology and encouraging technology ambitions for nuero diverse children.
In her day job Margaret works with customers of all sizes from 50 employees to over 5,000 delivering technology and digital transformation projects.
Wendy Pring, Managing Director
Wendy is a Chartered Civil Engineer and has spent the majority of her career working across the waste management sector. She set up KCP, with her husband, and has taken it to a team of skilled personnel and a diverse spread of clients across the UK. By delivering innovative solutions she has created an expert niche provider of asset maintenance and decommissioning capabilities.
She is also heavily involved with the promotion of STEM subjects in education, taking an active role in the local schools, colleges and community. She is extremely passionate about empowering our up-and-coming workforce to embrace change and understand how school subjects connect in the real world.
Our Secondary Panel Guests will provide perspectives from operational and academic experience ...
Sharon Lindsay, Infrastructure Manager
Sharon Lindsay is an Infrastructure Manager at Leidos with over 12 years of experience across varying Engineering roles. Sharon joined Leidos in 2015 as an Infrastructure Engineer before moving into a management role. Sharon leads an expanding team of highly skilled engineers focused on servicing both Scottish Government and Central Government customers. Sharon is passionate about team capability and development and is involved in Leidos' local Graduate and Apprenticeship schemes. In addition, she is a member of the Leidos STEM programme.
Toni Scullion, Computing Science Teacher
Toni Scullion is a Computing Science teacher at St.Kentigern's Academy. Toni says "I extremely passionate about teaching Computing Science, particularly getting more girls into the sector. I was a panel speaker for Tackling the Technology Gender Gap Together 2017, finalist for Scottish Women in Technology secondary teacher of the year 2017, awarded Cyber Security teacher of the year 2017 and Champion of Champions award. Aspiring to make a dent in the Computing Science gender gap in Scotland; aiming to inspire, support and engage pupils."
**Please note that other panelists may feature**