Event Information
Location
The Swiss Church in London
79 Endell Street
London
WC2H 9DY
United Kingdom
Join us for a special and unique event where we challenge the status quo and discuss all things related to SUCCESS in BUSINESS and LIFE.
About this event
Celebrate LOVE 2020 brings you a line-up of renowned speakers who are experts in business, success, and life, and how to manage and overcome challenges, failures, relationships, all relating back to the topic of BUSINESS and the role LOVE has to play.
We explore the subject of LOVE like never before and how it's relevant to YOUR success. We get into the nitty-gritty of boundaries, relationships, emotions, self-worth, self-love, and how it all relates to success in BUSINESS and LIFE. Facebook / Instagram / LinkedIn @JoinHourglass
Hourglass Inspiration Founder Lyndsay King is hosting the most dynamic event to ever come to London and will be speaking about love-energy and its relationship to success. Speakers include:
Lara Asprey, VIP matchmaker, founder and CEO of Asprey Introductions, the face of 'The Ultimate Matchmaker' on UKTV, and the author of The Very British Rules of Dating;
Michael Charming, banker and tantric and relationships expert and international bestselling author;
'Josie Naughton, 32 yr old Founder of the charity Help Refugees and Choose Love, the world's first store that sells real products to raise money for refugee relief;
Rebekah Shaman, known as the 'Urban Shaman', from the corporate world to working with the Amazonian plant medicine Cacao. She will also be providing Cacao in a heart-opening meditation ceremony—available through premium tickets—to help attendees welcome healing and love into their lives.
OpenMind, specialists in bringing mindfulness to the corporate world hosting a meditation to release fear and fill each person with love and confidence, also hosting a group meditation to release fear and replace it with love;
Stefani Ost, Founder & CEO of V Fit Foods and Culinary Health Vegan Catering, Founder of Wilhelmina Models Dubai;
Mariana Eidelkind, Founder of Oblique Beauty Luxury Salons, Former PR Communications Director;
Nathalie Vanpoperinghe, Founder of Luxury Handmade Candle company and Business Consultant;
Karen Bashford, The Manifesting Lady, Former Banker, Change Coach and Psychic tarot card reader and Healer.
This event will feature a panel discussion with a variety of experts talking from different perspectives, group discussions, Q&A, and most of all - a chance to afternoon lunch on a Saturday with a group of like-minded and inspirational women.
Celebrate Love will also feature a beauty touch-up station provided by event sponsor PIXI Beauty, and premium ticket holders will receive a special facial session to experience the PIXI glow. PIXI will also be providing all event attendees with goody bag surprises. The event aims to provide a community for attendees to share thoughts, gain guidance, and learn tips on manifesting self-love for success; becoming the change they wish to see within our communities.
Hourglass creates a place for women to build a community, share their thoughts freely, gain guidance and advice, and learn tips on manifesting self-love for success.
We empower our community to take action on their dreams - we learn the tools for success in all areas of business and life. As women of influence it is our duty to join forces and inspire all of those around us, becoming the change we wish to see. "Be free to become the person you are meant to become."
We start the day with a SPECIAL PREMIUM session, available via PREMIUM TICKET purchase, where we do a deep dive on self love in an intimate cacao heart opening ceremony and meditative environment, as well as special gifts from our sponsor PIXI Beauty who feature a stand for glow facials throughout the day. Start the day in a great way.
For collaborations and 2020 sponsorship opportunities please contact info@JoinHourglass.com.
Note: this event will have film and photography.
About Hourglass Inspiration
Hourglass is a community of inspirational women . We are busy, we make the most of our time, we make it happen, we want to be with like-minded individuals and discuss ideas not people. We strive to be inspired so we can inspire those around us. Our motto "Be free to become the person you are meant to become".
We discuss ideas, growth, business, life, family, relationships, and all of the challenges that surround pursuing our journey. We are intent on creating the life of our dreams whatever that may entail. We know we have the power, we strive to live a life free from restrictions and boundaries. We realise the importance of being happy with our journey and enjoying the ride. We are full of love for ourselves, and for others. We strive for the best.
Look forward to seeing you there!!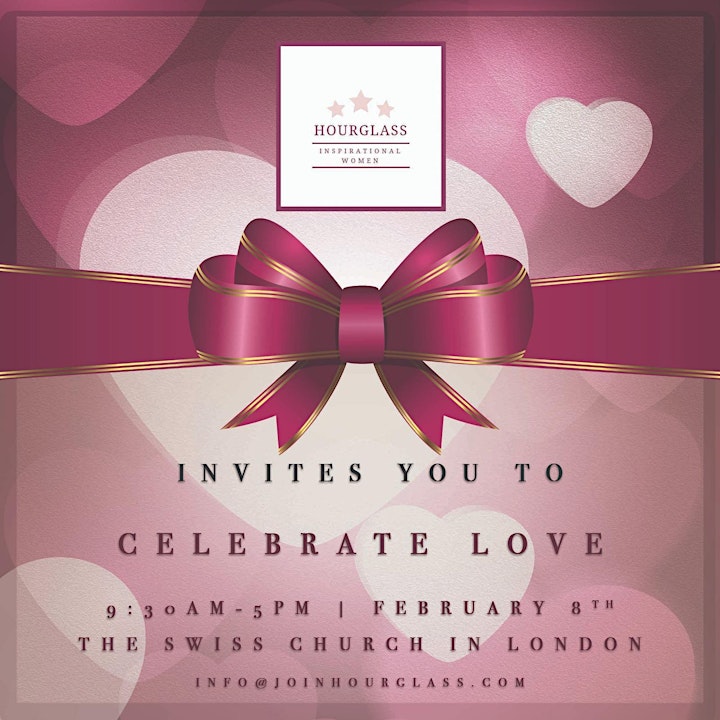 Date and time
Location
The Swiss Church in London
79 Endell Street
London
WC2H 9DY
United Kingdom