Description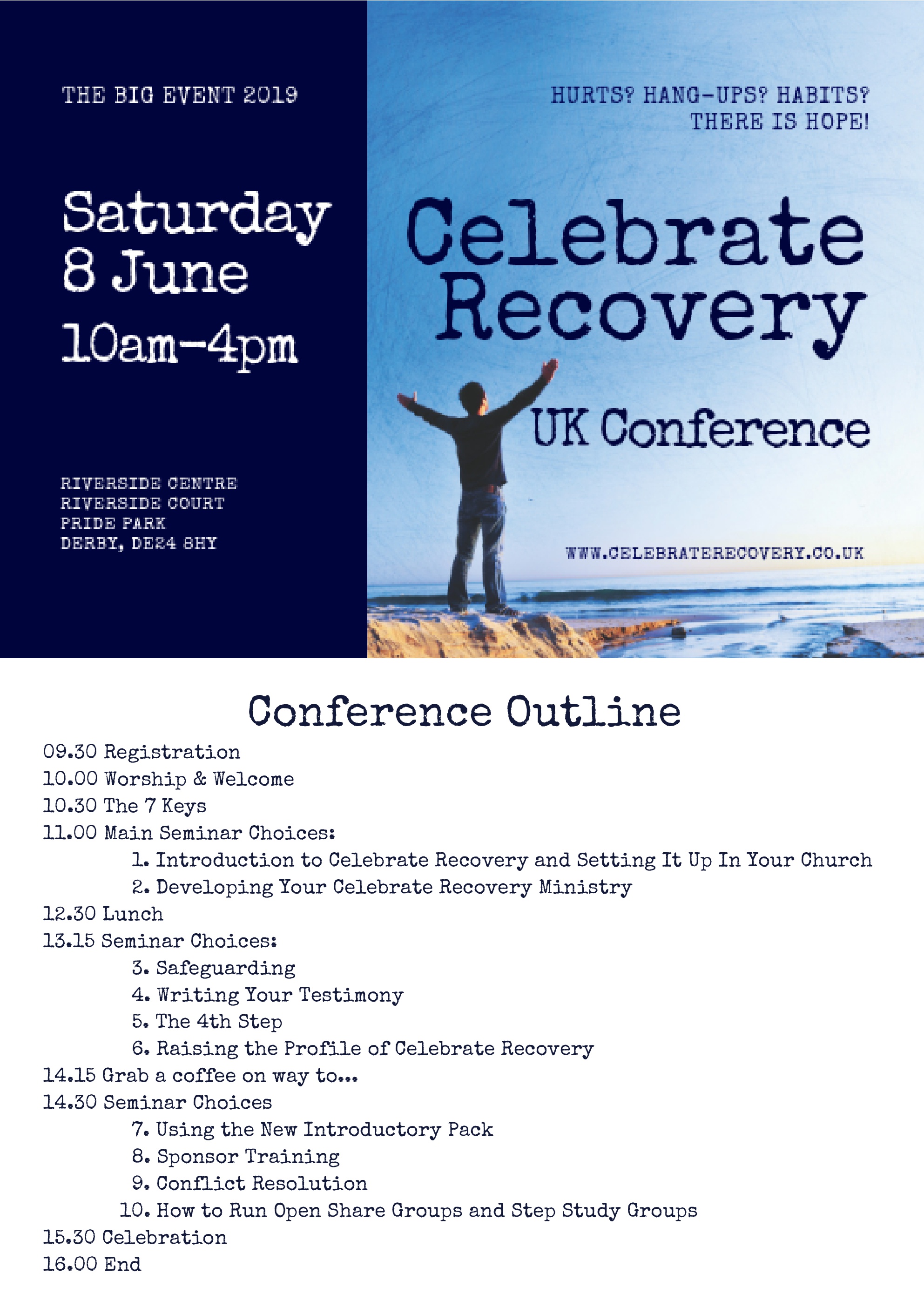 FAQs
How can I contact the organiser with any questions?
Please contact Catherine Robinson via catherine.robinson@church.org.uk or Tony Turner via tony.turner@emcf.net
Celebrate Recovery UK Conference 2019: Saturday 8th June 2019; Seminar Choices
Main Seminar
Choose from:
Introducing Celebrate Recovery and Setting It Up
New to Celebrate Recovery? This seminar gives an overview of the programme and considers what's involved in getting it started in your church.
Developing Your Celebrate Recovery Ministry
How can you take your Celebrate Recovery ministry to the next level? From improving your General Meeting Night to starting youth CR to developing a TEAM and more, there'll be plenty of food for thought.
________________________
First Afternoon Seminars
Choose from:
Safeguarding
This discussion session will provide time for those involved in Celebrate Recovery leadership to consider the important area of safeguarding. A chance to ask questions and learn from others' experiences.
Writing Your Celebrate Recovery Testimony
The best way to 'give back' in Principle 8 is to pass hope on to others by sharing your testimony. This seminar will help you get started on writing your Celebrate Recovery testimony.
The 4th Step
Principle 4's inventory can be a challenge. Get to grips with what it's all about.
Raisin

g the Profile of Celebrate Recovery
How we can raise people's awareness of Celebrate Recovery in our own churches and in the UK?
Got ideas? Come and share. Want ideas? Come and listen.
________________________
Second Afternoon Seminars
Choose from:
Using the new Introductory Pack
Whether you want to introduce Celebrate Recovery to your church or other churches, or train your team on some basics, this seminar will look at what's available in our new resource for churches.
Sponsor Training
What's the role of a sponsor? How can you make good use of your sponsor or be a good sponsor? This seminar will provide training and opportunity to ask questions.
Conflict Resolution
When there's tension between people, how can you help? Hear some helpful hints about dealing with conflict and discuss scenarios.
10.How To Run Open Share and Step Study Groups
Brush up on some basics. This seminar will also provide time to ask questions about leading Celebrate Recovery small groups.