Free art workshop, open to all, as part of the celebrate, reflect, create exhibition being held at Breakdown Bolton in June 2021
About this event
Friday 18th June, 1-3pm at Breakdown Bolton 12 St Andrew's Court. Bolton.
This is a free one off workshop as part of our 'Celebrate, reflect, create' exhibition showcasing the artwork of people facing mental health and/or substance misuse issues living in Bolton as part of projects funded by Achieve Salford CVS, Bolton CVS & The People's Health Trust NW.
The exhibition itself is a celebration of the achievements of those at Breakdown Bolton and we encourage you to visit.
This session will be lead by members of the Breakdown Bolton team
Open to all aged 18+, places limited due to current climate in Bolton
Participants will be expected to follow our coronavirus rules which can be found by clicking HERE and entrance will only be permitted for those who have submitted a picture of a negative coronavirus lateral flow test with your name and the date on/near it via email to bbgetinvolved@outlook.com. Alternatively, this can be shown on the door.
We hope to see you soon!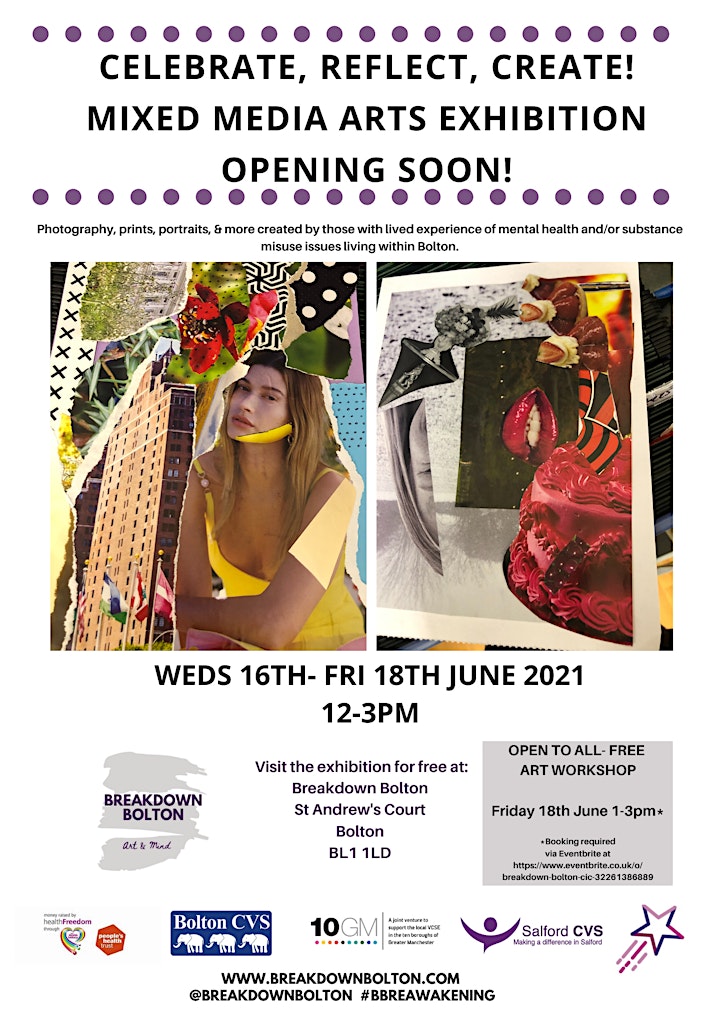 Organiser of Celebrate, reflect, create - One off mixed art workshop