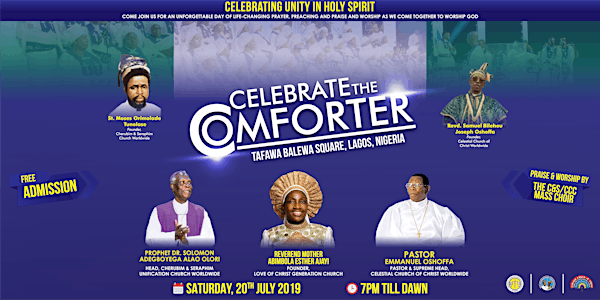 Location
Tafawa Balewa Square
45/57 Massey Bamgboshe Street
Lagos, LA
Nigeria
Come and join us for an unforgettable day of life changing prayer, preaching, praise and celebration in honour to God.
About this event
On the 20 July 2019 for the third time the Cherubim & Seraphim Church and Celestial Church of Christ come together for another joint revival, for an annual event called, CELEBRATE THE COMFORTER. The first event took a place in Excel London, in 29th July 2017. Due to the success and demand, we are back for our third year. The event is admission free.
The capacity is 50,000 and we like seeing everyone joining us to celebrate this wonderful event with a joint hearts pounding together. Let's all come together to worship in love, spirit and truth.
Under the theme, Celebrating Unity in Spirit, CELEBRATE THE COMFORTER, We'll see both churches come together to proclaim the name of Jesus, evangelise, pray for peace in Nigeria and the wider world and have powerful praise and worship that will shake Tafabalewa Square to its very foundations.
No celebration would be complete without music and CELEBRATING THE COMFORTER will be a great of music to the glory of god.
Singers leading worship include:
Chief Ebenezer Obey, Evang.Bola Are, Olatunde Olomola, Sir. Sina Peters, Lady Evang, Bisi Alawiye and Muyiwa and Riversongz
"Another highlight not to be missed will be the performance from our phenomenal mass choir. For the first time, over 150 singers from the Cherubim and Seraphim & Celestial choirs across the country are coming together to create a super mass choir."
Speakers including His His Most Eminence Prophet (Dr.) Solomon Adegboyega Alao, Rev. Pastor Emmanuel Mobiyina Friday Oshoffa, Rev Prophetess Esther Abimbola Ajayi.
Don't miss out!