Sales Have Ended
Registrations are closed
Sorry - the 'Celebrating 50 years of computing at RAL' event is now full.
Sales Have Ended
Registrations are closed
Sorry - the 'Celebrating 50 years of computing at RAL' event is now full.
Description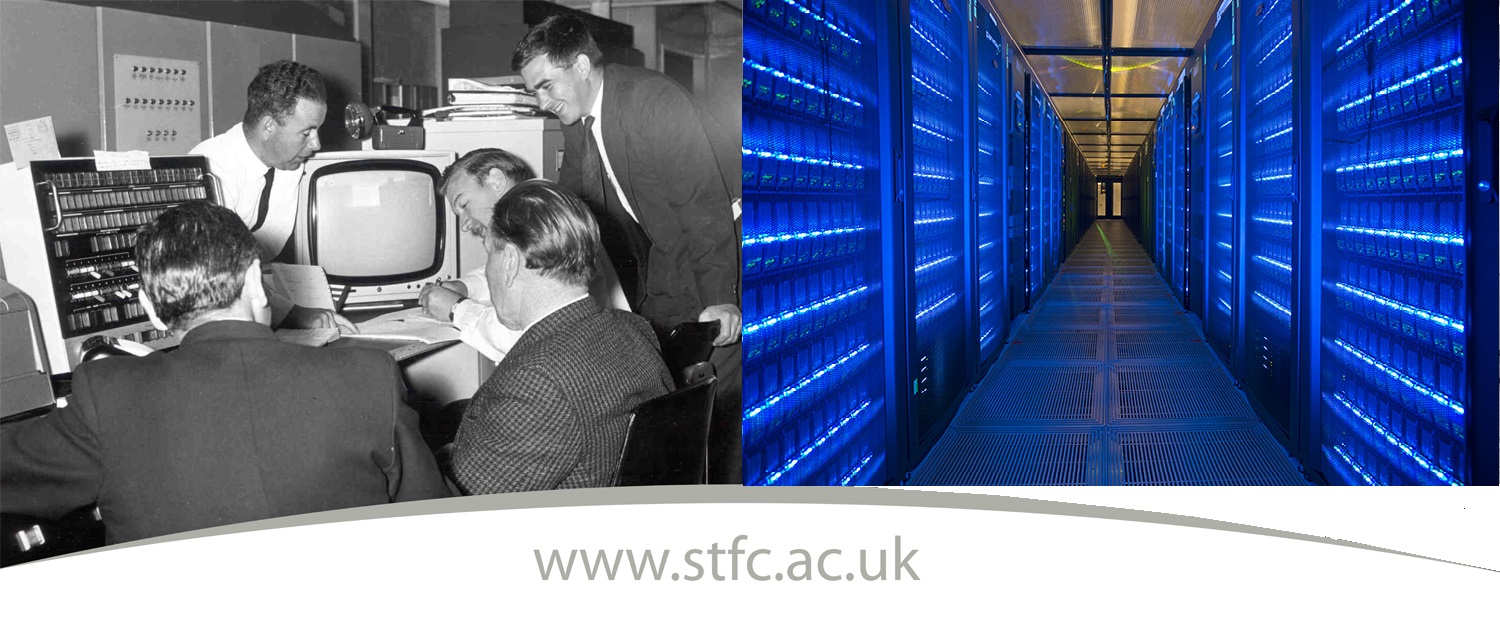 The 50th anniversary of the Atlas computer
Celebrating 50 years of computing at RAL
Thursday 13 November 2014 from 13:00 - 18:00 - Lectures, reception and exhibition
This year we are celebrating the 50th anniversary of the Atlas Computer Laboratory and continued world-class computing at STFC's Rutherford Appleton Laboratory.
The Atlas Computer Laboratory was one of the first purpose-built computing facilities in the world, and was home to the Atlas 1 computer - one of the most powerful computers in the world at the time, and the first super-computer to be built in this country.
The Laboratory established a national computing operation to support scientific research. Since 1964 it has been part of innovative work from the world's first computer animation to advanced virtual reality simulations; it has contributed to the governance of the World Wide Web; it has managed the data which led to the discovery of the Higgs boson, and continues to support major scientific experiments at facilities both on-site and internationally.
This event will illustrate some of the computing innovations at Rutherford Appleton Laboratory, and enable visitors to explore its history as well as its current work supporting world-class science. We are particularly excited that, in its 50th anniversary year, we are able to display the console from the original Atlas computer, together with memorabilia of the time.
---
Programme
13:00 - 14:30: Past and Present (Lecture Theatre)
Introduction:
Juan Bicarregui - Head of Data Division, STFC Scientific Computing Department
Welcome to RAL:
Andrew Taylor - Executive Director of STFC National Laboratories
Computing at Chilton 1959-2000:
Bob Hopgood - Atlas Computer Laboratory and RAL (1963-2000)
50 years of the mathematical software library HSL:
John Reid - Numerical Algorithms Group, STFC Scientific Computing Department
The Scientific Computing Department Today:
David Corney - Acting Director, STFC Scientific Computing Department
14:30 - 15:00: Break
15:00 - 16:30: Future Directions (Lecture Theatre)
Future Directions for Computing in Particle Physics:
Dave Britton - Professor of Physics, University of Glasgow, Leader of the GridPP project
Future directions in Gravitational Physics:
Stephen Fairhurst - Royal Society University Research Fellow, University of Cardiff, Chair of STFC Computing Advisory Panel
Future Directions in Digital Chemistry:
Jeremy Frey - Professor of Physical Chemistry, University of Southampton
The 4 forces of change for Intense-Computing:
Cliff Brereton - Director Hartree Centre
16:30 - 18:00: Reception and Exhibition (Exhibition Centre)
Organiser of Celebrating 50 years of computing at RAL
STFC is part of UK Research and Innovation, a new body which works in partnership with universities, research organisations, businesses, charities, and government to create the best possible environment for research and innovation to flourish. We aim to maximise the contribution of each of our component parts, working individually and collectively. We work with our many partners to benefit everyone through knowledge, talent and ideas. For more information visit the UKRI website.
STFC's uniqueness lies in the breadth of our remit and the sheer diversity of our portfolio, as we harness our world-leading expertise, facilities and resources to drive science and technology forward and maximise our impact for the benefit of the UK and its people.
We don't simply deliver a non-stop flow of fundamental insights and breakthroughs in spheres ranging from particle and nuclear physics to space, laser and materials science. We also have a clear focus on the need to meet real-world requirements through new medicines, cleaner energy, safer aircraft, pioneering security solutions and much more besides.
We combine the radical with the practical and blend blue-skies thinking with hard-headed applied science. Through our UK operations and our involvement in major international collaborations, we generate outcomes that shape societies, strengthen economies, build industries, create jobs and transform lives.
Our aims, ambitions and achievements are underpinned not just by our unique suite of capabilities but also by the way we're structured and governed, as well as by our clear, unambiguous commitment to the highest standards of efficiency and accountability.