Location
Park Inn by Radisson
2 St Mary's St
Bedford
MK42 0AR
United Kingdom
Refund policy
Refunds up to 7 days before event
Description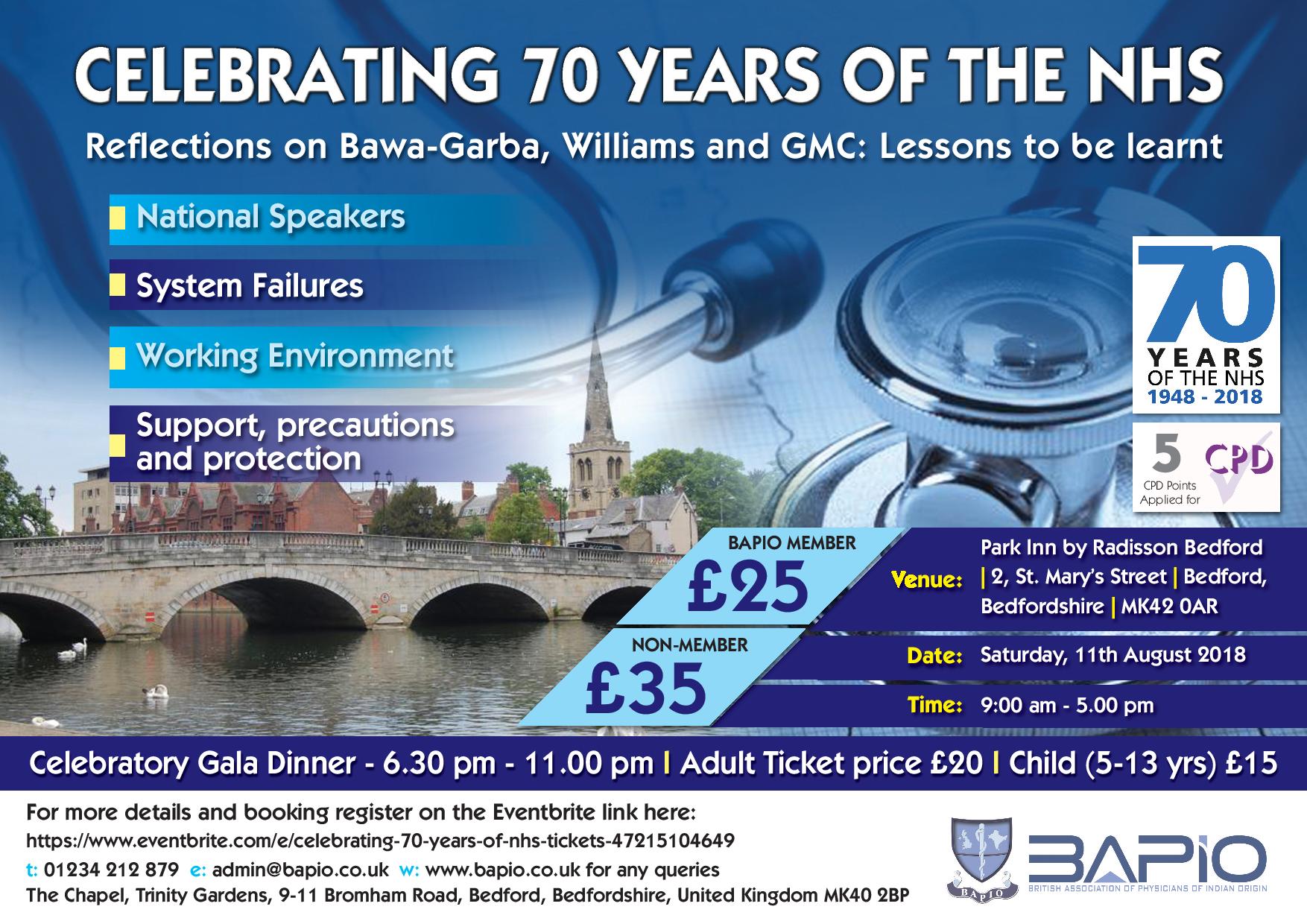 Introduction
The system failure at Leicester Royal Infirmary lead to the tragic and avoidable death of six-year-old Jack Adcock. The Registrar on duty that day, Bawa-Garba was the single doctor picked up for punishment for the system failure. She was convicted of Gross Negligence Manslaughter. Even worse, in a landmark ruling by the High Court, it overturned the ruling of the GMC's own Tribunal service (MPTS), instructing the GMC to strike the paediatric trainee Dr Hadiza Bawa-Garba from the medical register
There was an outrage in the medical community not only due to unfair treatment of the junior doctor but consequences of this case for the whole medical community; as any doctor in future could be Bawa- Garba! The Secretary of State for Health Jeremy Hunt himself felt that there had been an injustice. An urgent review led by Sir Norman Williams was ordered. The review is now published and one of the outcomes is that the secretary of state has withdrawn the GMC privilege of challenging MPTS decision.
This conference will discuss the issues raised by Bawa-Garba case, the outcome of Williams review and the GMC response to the review.
Celebrating 70 Years of NHS
Reflections on Bawa-Garba, Williams and GMC: lessons to be learned
Saturday the 11th August 2018 at Park Inn by Radisson, Bedford
5 CPD Points Applied
PROGRAMME
09:00- 9:30 Registration and Refreshments
Focussed presentations of 10-15 minutes with good time for interactive discussion

09:30 -09:35 - Welcome:
09:35- 09:45 - Introduction:
09:45- 11:15 - Session 1: The Issues
Chair:Dr Vinita Manjure Co-Chair: Dr Rishi Arora
1."Bawa-Garba Case: Trials and Tribulations" - Dr Sethu Wariyar, Consultant Paediatric Neurodisability,Training Programme Director,HEKSS
2."Gross Negligence manslaughter in healthcare : consequences of Williams rapid policy review" – Professor Neena Modi, Consultant Neonatologist and Past President Royal College of Paediatrics and Child Health
3."Is GMC inconsiderate towards doctors?" – Professor Sir Terence Stephenson, Chairman GMC
4.To learn you have to stop playing the blame game" – Mr Jagtar Basi OBE, Chairman, Coventry and Warwickshire Partnership NHS Trust
5.Panel Discussion
11:15- 11:30Tea/Coffee Break
11:30- 12:30 -Session 2: System Failure
Chair: Mr Sanjiv Manjure Co-Chair: Mr V Kalidasan
1."Role of the employer" - Ms Karen Ward, COO Bedford Hospital NHS Trust
2."Doctor, System Failure and Patient Safety":
a. Primary Care Perspective: Dr Nina Pearson,GP and Lead for BLMK Transition
b. Secondary Care Perspective: Dr Malcolm Griffiths, Associate Medical Director and RO, L& D Hospital NHS Foundation Trust
3.Panel discussion
12:30-13:00- Guest Lecture:
Chair : Prof Parag Singhal
Contribution of BME doctors to the NHS – Dr JS Bamrah CBE, Chairman BAPIO
13.00-13.45 Lunch
13:45- 15:00 - Session 3: The Future -----
Chair: Dr Ravi Madhotra Co-Chair: Dr Jyothi Srinivas
1."Is Race and Ethnicity the Elephant in the room?" Mr Roger Kline, Research Fellow, Middlesex University Business School; Trustee Patients First UK

2."Reflective learning- A myth now?" Dr Vijay Nayar, Associate Dean, HEE Eastern region

3."Playing safe? Will we all head towards defensive practice & at what cost?" Dr Joydeep Grover, MD Medical Defence Shield
4."Sustaining a happy working environment and staff morale" – Dr Mayur Lakhani, President Royal College of General Practioners
5.Panel Discussion
15:00-15:15 - Coffee Break
15:15-16:15 - Session 5: Support, Precautions, Protection
Chair: Dr Abhay Vaidya Co-Chair: Dr Chelliah Selvaskar
1."Law can be an ass; understanding the legal impact of the Bawa-Garba case"– Mr Gazan Mahmood, Barrister
2."If you land in trouble!" – Ms. Nisha Kanungo, Medical Defence Shield
3."Why Crown Indemnity is not enough" Dr Satheesh Mathew, Vice President, British Association of Physicians of Indian origin
4.Panel discussion
Concluding Remarks: Prof Keshav Singhal
Vote of Thanks : Dr Namita Arora
Followed by Gala Dinner to celebrate 70 Years of NHS.
6.30 Pm Drinks Reception.

Sit down dinner

Exquisite Indian Cuisine

Live DJ :Bollywood music and dance
1.