Description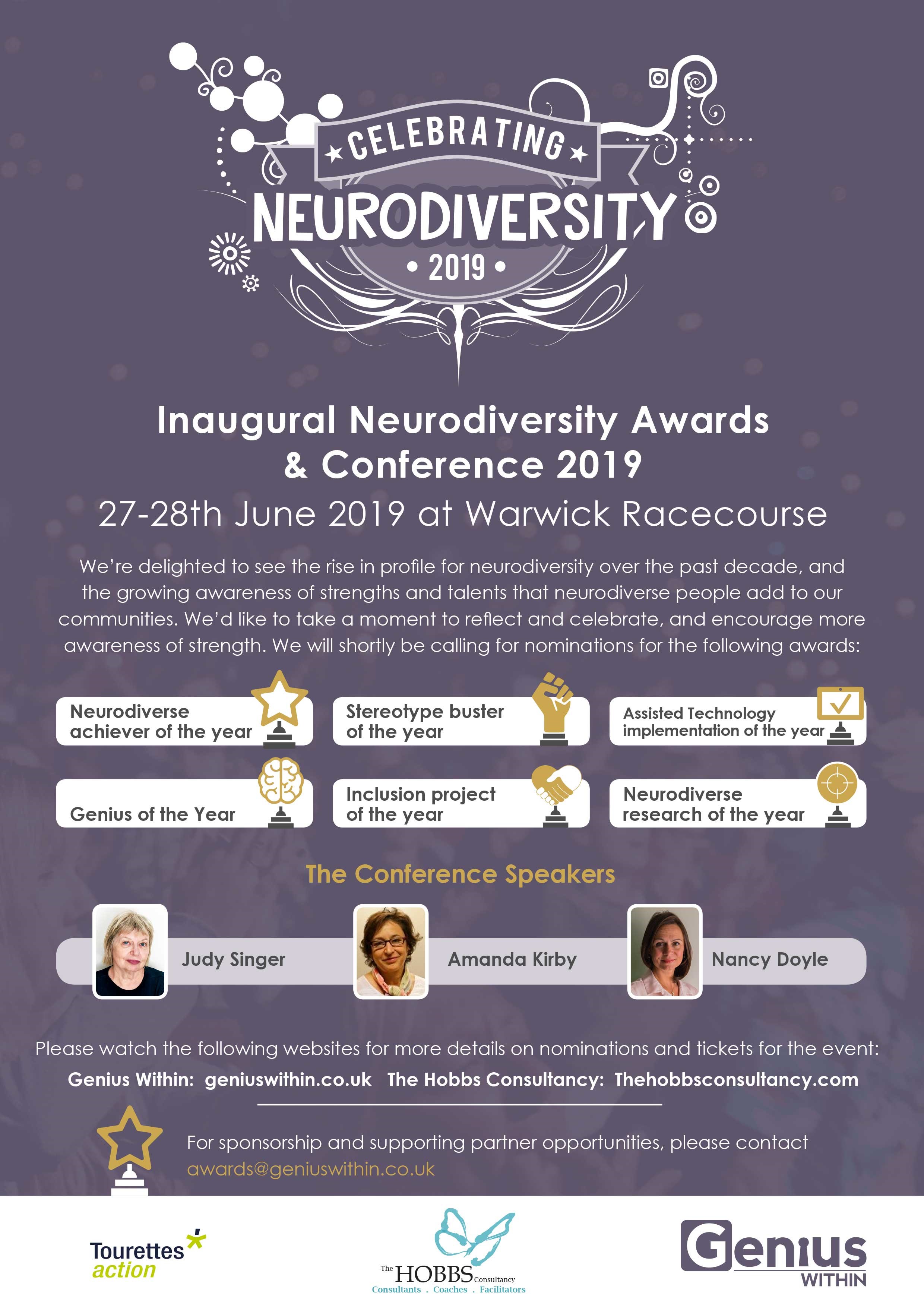 CONFERENCE PROGAMME - 28th JUNE 2019
confirmed
Steve Silberman - All the WAY from CALIFORNIA, author of Neurotribes - book signing on the day

James Lawley - co-inventor of Symbolic Modelling (A Clean Language Technique), Coaching Psych Researcher and Amazing Modeller

Amanda Kirby - Professor and leading author, researcher and activist in Neurodiversity

Judy Singer - All the WAY from AUSTRALIA, inventor of the word NEURODIVERSITY

Paul Stevenson - EMPLOYABLE ME Photographer with Tourettes

John Levell - Chair of the BDA.
Also a workshop hosted by:
Our very own Clare Cherry with some of the Social Inclusion Team, Kate Gilbert, Neurodiverse Ninja and Nancy Doyle !
Conference outline https://www.geniuswithin.co.uk/
9am-10am Registration
10am Opening Key Note:
What is Neurodiversity? Neurodivergence? Neurodevelopmental Conditions? Neurodifference?
Steve Silberman
10.30 World Café
This opening session is a live, dialectic exchange between the leading thinkers, authors, campaigners and policy influencers in the world of neurodiversity.
We will respectfully debate the evolving terminology and narratives, trying to understand and make meaning of how the different language affects public and stakeholder perception.

We've moved on a lot since the 90's, when the medical, deficit model defined our experience and support systems. What's coming next? Now that we've brought awareness of strengths into the public consciousness, where should we be going with how to talk about, diagnose and include people fall under this umbrella group?
Panel – Amanda Kirby, John Levell, Judy Singer, Nancy Doyle, Paul Stevenson
After the opening debate, all conference attendees will take part in a 'world café forum', which is a technique for listening and aggregating ideas with a large group. You'll be invited to contribute your thoughts and preferences around the way we talk about neurodiversity.

These will be collated and presented back in the afternoon, along with the panel discussing how we can influence the institutions who 'make the rules' on diagnosis and reasonable adjustments.
11.40 Break Out Sessions 1 – 3
Break Out Session 1: Intro to "Clean Language"
James Lawley, world class Coach, Coach Training and Researcher, presents an introduction to Clean Language Coaching as a dynamic technique for exploring theory of mind, respectful listening and empowering clients.
Break Out Session 2:Overlapping symptoms and misdiagnosis – what are we going to do about it?
Amanda Kirby, leading researcher, activist and entrepreneur presents the scientific evidence behind co-occurrence and misdiagnosis of symptoms in neurodiversity.
Break Out Session 3: Reading is a transition technology?
TBC -
12.40 Lunch and World Café
13.30 Key Note: Not what you expect
Holly Ferguson, Broadway Producer, will be interviewed by Roxanne Hobbs about the journey from rural America to the top of her career in the creative industry without 'following the well-trodden path'.
14.00 Break Out Sessions 4 – 6
Break Out Session 4: For you personally, what's working well in Neurodiversity?
Open Session: Experiences of neurodiverse/divergent/different/ adults/allies - a listening and sharing session for people who have lived experience, celebrating success, breaking down barriers, examples of excellence in systemic inclusion.
Break Out Session 5:Neurodiversity and Employability – progress on social inclusion
Clare Cherry, award winning entrepreneur of the Social Enterprise "Work this Way" presents on how the neurodiversity movement has influenced and improved services for people who are long term unemployed and incarcerate - Employability Day celebration! #EmpDay2019
Break Out Session 6:Making an impact – the research and practice infinity loop
Nancy Doyle, Policy Impact winner 2018 for the Division of Occupational Psychology presents the need for evidence based practice and practice informed research in the neurodiversity field. How can practitioners do more to develop the body of work that we use to drive policy changes at the systemic level? How can researchers connect into what practitioners are doing to evaluate and analyse practice?
15.20- 60 min interactive discussion
Feedback from the morning session on emerging narratives

Followed by comments from the panel on:
- Influencing diagnosis
- Influencing inclusion policy
- Reducing the disability employment gap for neurodiverse people

Questions to the panel from the audience. and an invitations to international guests to comment on observations of Neurodiversity in the UK
16.20 Conference close
16.30 Networking drinks
Cake! Prosseco!
18.00 Conference ends
FAQs
How do I book onto the sessions ?
You will be able to sign up for the Break out session on the day upon your arrival. These sessions have a limited availability and will be available on a first come first served basis.
How can I contact the organiser with any questions?
Please email events@geniuswithin.co.uk
What's the refund policy?
30 days prior to the event 100% refund