About this Event
Aim of event
This event is an opportunity to celebrate rural social work in Scotland, recognising how it is different and what it has to offer social work practice. It's an exciting and rare opportunity for those working in rural contexts to reflect on the nature of rural practice, create new connections and (future) networks with a community that seldom comes together. The day will include contributions from across Scotland, and colleagues working in the other countries of the UK.
We recognise that rural social work sits outside the mainstream and dominant discourse, and is 'remote' just like the areas it works in, often overlooked, under-researched or simply 'missing'. The day will provide an opportunity to celebrate our work and consider how we raise the profile of rural social work.
Aims of the day
Celebrate rural social work – recognising what it is and who we are; what it has to offer policy and practice in Scotland; its different context
Knowledge exchange
Create new connections and possible future networks
Approach to the day
This is not a traditional "conference"; please come willing to share, to learn and find out from others and contribute to make this a really worthwhile experience for all.
The day will take a collegiate informal type approach, combining keynotes with plenty of space for more informal sessions. This is to allow time for discussion, knowledge exchange , cross-fertilisation of ideas and new connections to be made. This is also about acknowledging everyone's expertise in the room and drawing on this to help answer: What next for rural social work?
Who should attend?
Anyone involved in implementing, shaping and championing social work in rural settings who wants to learn, network and share what makes for effective practice going forward.
Programme
We are delighted that the day will be opened by Iona Colvin, Chief Social Work Advisor for Scotland, and excited by confirmed keynotes and workshop contributors from Shetland to Dumfries and Galloway.
Keynotes:
Prof. Sarah Skerratt, former Director of Policy Engagement, Scotland's Rural College
Colin Turbett (author Rural Social Work Insight) and Jane Pye (Senior Teaching Associate in Social Work, Lancaster University)
Alison Hulmes (BASW Cymru, National Director Wales) and Andrew Pennington (Senior Practitioner, Powys)
Parallel sessions:
Living and working in rural communities- social workers' lived perspective
Minorities and marginalisation in rural communities
Public Protection in a rural context
Continuing professional development
The full draft programme is now available for download.
Registration and travel
This is a free conference.
The conference is at the Baptist Church in Dumfries.
Parking:
There is parking at the Baptist Church, but in case of overflow, free parking zones have been highlighted in the map below with blue stripes. Please note that Gillbrae Medical Centre CANNOT be used for alternative parking to the Centre.
Please do not park on Gillbrae Road due to traffic obstruction.
For those coming by train or looking to book an overnight stay, further information is available here.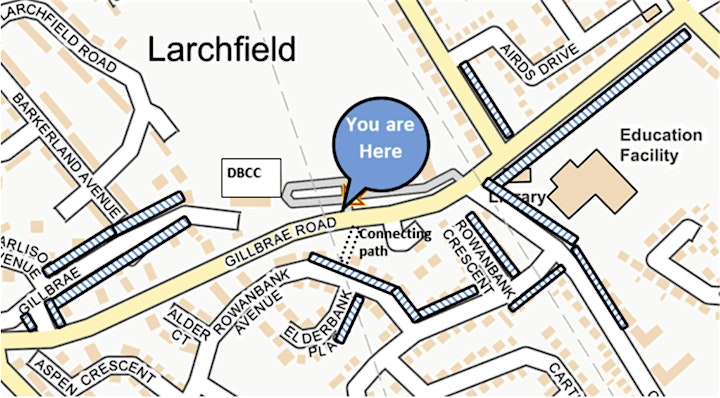 Partners
This conference is being delivered in partnership by: Dumfries and Galloway Council, Iriss, Lancaster University, Scottish Association of Social Work, Social Work Scotland, and The University of the West of Scotland.

--------------------------------------------------------------------------
Iriss will keep your data for a maximum of 1 year. Your personal information will be used for event purposes only and not shared with third parties.
Privacy policy