About this Event
NOW Group are delighted to welcome everyone to this event in partnership with Fermanagh and Omagh District Council to showcase the successful Loaf Academy training programme which has been running since October 2019 for people with learning difficulties and autism in the local area.
Join us at Loaf Café at the Ulster American Folk Park to sample some Loaf favourites including our award winning sausage rolls, as well as hearing a number of success stories from NOW Group Programme Manager Sean Hanna. You will also have the opportunity to hear from local businesses and participants on how the programme has benefited them and find out how you can engage with NOW Group when recruiting staff, working in collaboration or even offering suitable placement opportunities.
NOW Group are an award-winning social enterprise and charity. We are passionate about changing lives and our priority is on outcomes and impact for individuals, their families and the community. We support people with learning difficulties, disabilities and autism into jobs with a future across Northern Ireland.
NOW Group are also the prestigious facilitator of the JAM Card initiative. JAM Card allows people with a learning difficulty, autism or communication barrier tell others they need 'Just A Minute' discreetly and easily.
Bus Transport will be made available to these events, from Enniskillen and/or Omagh depending on demand. Please contact the Economic Development Department to book your seat:
Tel: 0300 303 1777 Email: businesssupport@fermanaghomagh.com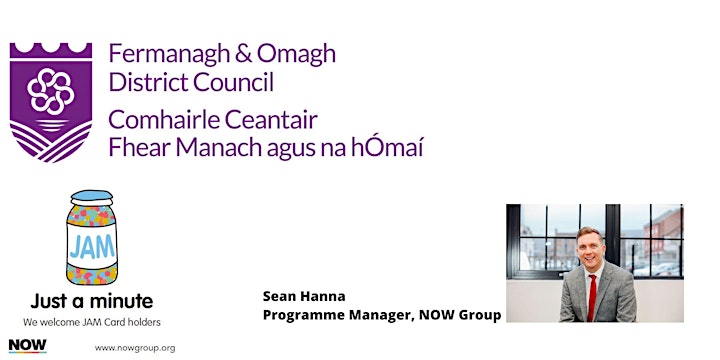 This event is delivered as part of Fermanagh and Omagh District Council's Enterprise Month which is taking place between 02 - 26 March.
To view the full programme visit www.fermanaghomagh.com.