Description
Join us and celebrate the first year of the West London Alliance (WLA) Work & Health Programme!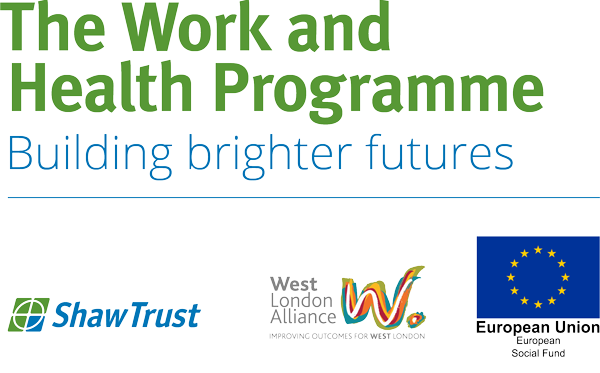 This is an opportunity for you to hear from our participants, you will hear about their thoughts and experiences on the programme as well as how it has helped them to transform their lives!
WLA and Shaw Trust senior leaders will be present to talk about the future plans for the programme and show you how partners, employers and participants can benefit and get involve.
Lunch will be provided.
About the West London Alliance (WLA) Work & Health Programme
The WLA Work and Heath Programme is part of the devolution deal for London, and is delivered in the boroughs of Barnet, Brent, Ealing, Hammersmith and Fulham, Harrow, Hillingdon and Hounslow. It provides localised employment support for people who:
• Have health conditions or disabilities,
• Have been unemployed for more than two years,
• Would benefit from early help to find employment because they may be at a disadvantage in the labour market European Social Fund
About the European Social Fund
The programme receives around £12m of funding from the European Social Fund (ESF) programme in London. The Greater London Authority is responsible for managing the 2014-20 ESF Programme in London. Established by the European Union, ESF funds help local areas stimulate their economic development by investing in projects which will support innovation, businesses, skills development, job creation, social inclusion and local community regenerations. For more information visit https://www.gov.uk/european-growth-funding.