One Community AGM and Celebration event.
About this event
This year we have invested £1m to unlock the power of community in Kirklees.
Join us on October 7th to celebrate how our community came together to tackle a global crisis on a local level.
This past year has been one to remember for obvious reasons, and this event will highlight not only the struggles we have faced as a community but also the ways in which we have come together as a community to support those in need.
Whether it was a food parcel left on a doorstep, a friendly face appearing on a screen, or guidance through uncertain times, we were able to ensure that public generosity made its way to the organisations best placed to make the biggest difference.
Join us to find out what impact investing £1m in our community has had.
We will be serving a light buffet 5:30-6pm. (Seats at 6pm).
We will be joined by the Deputy Mayor of West Yorkshire Alison Lowe and Jason McCartney MP for Colne Valley.
We will also be conducting our AGM on the night.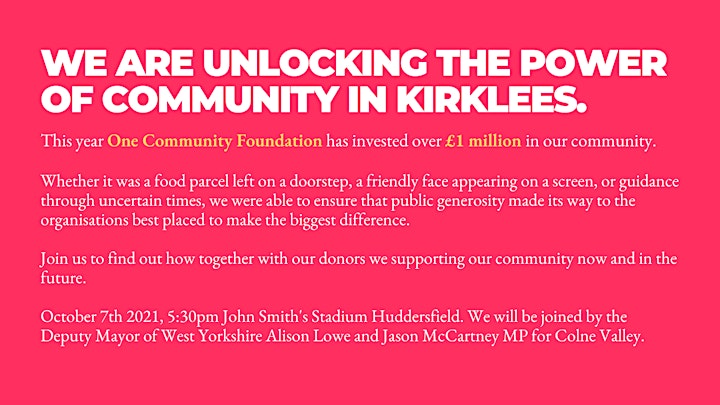 Organiser of Celebration Event & AGM
Community Foundation is a registered charity set up to address local issues and bridge gap in local giving. They are responsible for building endowment funds with donations from both businesses and individuals. The income from these funds is then distributed as grants to good causes within the community in Kiklees .