Celebration of Life 2016 Charity Dinner in support of Orchid Uk & Carers UK
Description
Dear Guest 
Presenting Celebration of life 2016 in Support of Orchid Uk (fighting Male cancer) & Carers UK (making life better for carers)
KML Events UK are proud to join Celebration of life Events in announcing an evening of celebration, entertainment and fundraising where guests can celebrate the lives of friends and loved ones who have experienced trauma ,illness or bereavement. During the evening we will champion awareness of men's cancers in addition to honouring the work of the thousands of carers who look after or have looked after relatives and friends less able to care for themselves due to disabilities, sickness and trauma
We all know someone or will know someone whose life has been affected by cancer or has relied on a carer at some stage of their life. This could even be you. There have been several awareness campaigns for cancers that affect mainly women, but what of our men? Since high profile celebrities such as Roger Moore spoke out about his experience of prostate cancer and the "check your chaps" campaigns, we are more aware, but there is still work to be done.
Kindest regards
Felicia & Medina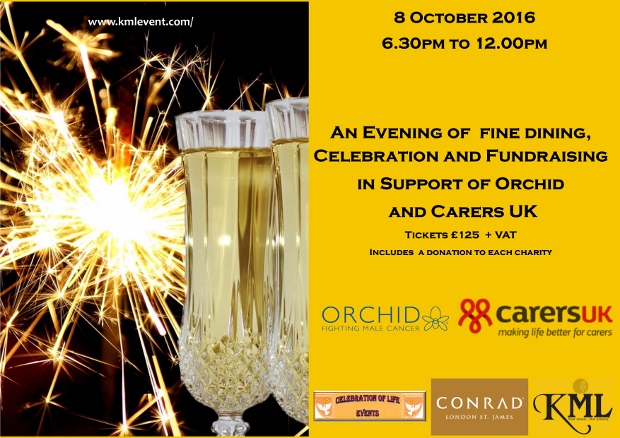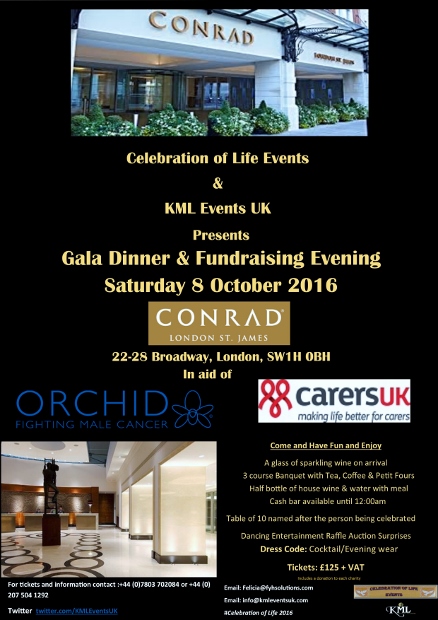 Contact us for more info and to book your package
   +44 (0) 207 504 1292 / info@kmleventsuk.com
   +44 (0)7803 702084/ felicia@fyhsolutions.com                                          
                                                         
ACT NOW! SPACES LIMITED!
Facebook: KMLEventsUK LTD Twitter: @KMLEventsUK
#CelebrationofLife2016
Orchid, Registered in England with the Charity Commission No. 1080540 Company Registered in England No. 3963360
Carers UK 2014. Registered charity number 246329 (England & Wales) and SC039307
(Scotland) Company limited by guarantee registered in England and Wales number 864097
Hospitality Packages are available !
Sponsorship Opportunities are available !