Location
St Mary's Catholic Church
8 Julian Road
Bath
BA1 2SQ
United Kingdom
Refund policy
Contact the organiser to request a refund.
Eventbrite's fee is nonrefundable.
Sales Have Ended
Registrations are closed
Unfortunately booking for this Mass has now closed. If this is because all seats have been booked; please join the waiting list. This is an automated system and you will be sent an email if a place becomes available. Waiting list numbers help us understand whether we need to put on an extra Mass, so do please use this facility. If you come to Mass without booking a seat, either on Eventbrite or by telephone, we may ask you to go home, & book into another Mass. The only time we can allow you entry, without a prior booking, is if we have seats that have not been booked. The stewards will not know this until just before each Mass.
Reservations for Mass. Donations to Collection . Book via Eventbrite. No internet access? You can use answerphone 07415 000 566
About this event
Photographs: Tony McAteer.
There will be no Masses at St Mary's from Sunday 10th Jan – Wednesday 13th January inclusive. This is because Fr Jeremy has to self-isolate ahead of a medical procedure. Therefore there will be no Masses on
Sunday 10th January
Wednesday 13th January
There WILL be Mass on Friday 8th January at 10.00am. The usual timetable (below) will recommence from Friday 15th January.
We are pleased to offer Mass on Sundays (9.00 am, 10.30 am and 5.00 pm) Wednesdays (10.00 am) and Fridays (10.00 am).
You can now make a Mass offering / donation to the collection via Eventbrite.
IMPORTANT PLEASE READ INSTRUCTIONS BEFORE BOOKING :
Booking for each Mass closes 15 hours before the service. (See Booking Section below for details).
Donations to the collection are voluntary and it is not necessary to donate when you reserve a place at Mass. We do understand that many people are facing greater financial hardship.
Some people already give regularly by standing order. We have added the donation facility for those who prefer to give via the collection, or are visitors, and because we have been unable to take the Sunday collection since March 2020.
Any donation is welcome, no matter the size, or how often. Only the donations secretary will see this information.
BOOKING MASS / NO DONATION: On the booking page under "Registration" please enter the number of people you wish to reserve a place at Mass for. Then proceed as normal.
BOOKING MASS / ADDING A DONATION: On the booking page under "Registration" enter the number of people you wish to reserve a place at Mass for. Under "Donation / Mass Offering" enter the amount you would like to give. Follow the instructions for making a payment. Then add the details for each person attending Mass as normal, INCLUDING yourself.
Making a donation generates an "eRegistration" called "Registration1" but this is NOT a booking for Mass. Each reservation for Mass also generates an eRegistration.
E.g. if you are booking for 2 people (including yourself ) and are making a donation. You will see
Registration 1 - For the donation.
Registration 2 - For your place at Mass.
Registration 3 - For your companion's place at Mass
There is more information about the impact of Covid-19 on Parish income at the bottom of this page.
Thank you for the many ways you support St Mary's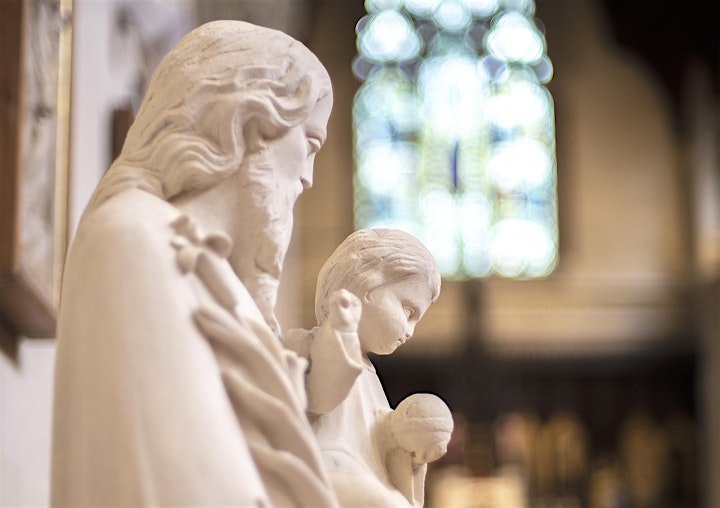 IMPORTANT POINTS TO REMEMBER
The obligation to go to Mass on Sunday is suspended and you are not obliged to go to Mass on any day of the week.
Masses remain subject to strict guidelines and measures. There are 60 places at each Mass, in addition to Fr Jeremy, the stewards and the reader. More than 50 spaces are regularly booked for Sunday mornings. If you come to Mass without a reservation, and all the seats have been booked, you will not be allowed into church.
Please reserve your place, either via Eventbrite or the dedicated, parish answerphone 07415 000 566.(For those who are unable to book via the Eventbrite or who do not have internet access.)
Stewards will assist you on the day.
You may sit with people in your support bubble but must maintain social distance from others. Please do not talk to friends in the church, however tempting it may be.
Facemasks are compulsory (including for children) We are unable to allow you entry to the church without this or an exemption note. Handmade masks, in a variety of sizes, are available to purchase at the entrance, before Mass. £5 each; please bring exact money. All money goes towards church funds.
NHS Covid-19 Test and Trace App. If you have a Smartphone and are using the App, please scan the QR code at the entrance.
Toilets remain closed. Please make sure young children & vulnerable adults are aware of this.
Disabled Access: Entry is through the front door unless you are unable to manage stairs. If so, you are welcome to go in and out through the Sacristy. The Sacristy door is at the back of the church; accessed by a footpath from the car park. Turn left onto the footpath behind the church. The Sacristy door is near the end of the building on the right.
Please do not park in the front of the church. We are using the emergency door as an exit.
We need more Mass stewards to keep up with the number of people coming. If you are aged 18-70 and are able to help in this way, please get in touch with the Parish Office at address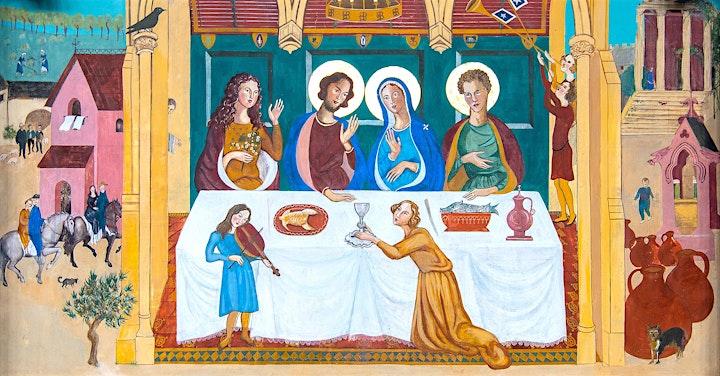 Fresco Fourth Panel - The Marriage Feast at Cana. Artist Fleur Kelly
BOOKING / REGISTRATION PROCESS
Booking OPENS when the link is available on the parish website and BOOKING CLOSES 15hrs before Mass as follows
Sunday 9.00 am Mass - Saturday at 6.00 pm
Sunday 10.30 am Mass - Saturday at 7.30 pm
Sunday 5.00 pm Mass - Sunday at 2. 00 am
Wednesday 10.00 am Mass - Tuesday at 7.00pm
Friday 10.00 am Mass - Thursday at 7.00pm
To help ensure St Mary's Church stays COVID secure and safe for everyone: please read and follow the guidance included with your booking confirmation email and your ticket.
To book via Eventbrite; click the link that includes the dates you are interested in. You will be asked to select a date. You can then book as usual. To book a second date; clink on the link again and repeat the process.
If Mass is fully booked; please click the "Register" button for your chosen date to join the WAITING LIST. You will be notified automatically if someone cancels, and the list helps us understand if we need to add another Mass.
If you wish, you can make a one-off donation to the Sunday collection. This is voluntary . It is not necessary to make a donation to reserve a place at Mass.
When registering by PHONE or EVENTBRITE we ask for your email and /or phone number, in case we need to contact you at short notice. By providing this you are agreeing that we may contact you by phone or email regarding your booking and any future changes to our booking process.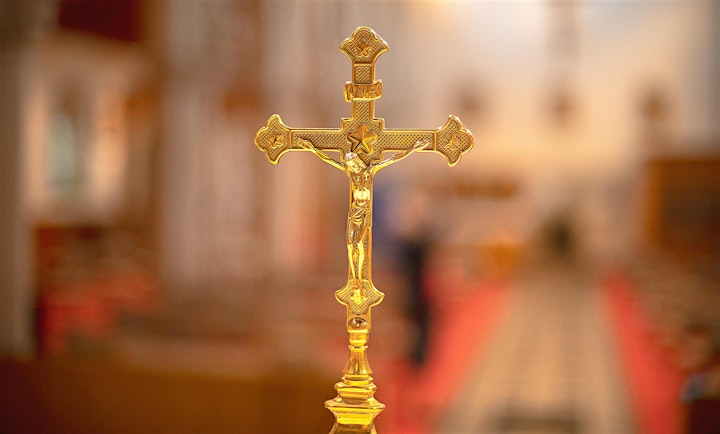 The Impact of Covid-19 on Parish Income
Our income maintains the parish and sustains our outreach work.
Unfortunately, our income is down by 30%. Major factors include
No Sunday Mass collections since March.
Other income that supports the parish is reduced or gone. (e.g. Hire income from Parish Centre and weekday car park permits not being renewed.)
Our expenditure has increased due to
The usual bills still coming in
New costs e.g. PPE, hand sanitiser, signage, metre sticks etc.
Streaming of Masses (setup and ongoing costs). Thank you for donations to enable this.
Thank you if you support our parish with a regular donation. It is much appreciated. We do understand that many people are facing greater financial challenges than before.
If you are able to make an occasional contribution, we are immensely grateful. Including, if you are in a position to begin, or increase, a regular contribution.
For more information please go to St Mary's website and select "church giving " https://www.stmarysbath.org.uk/parish-life
If you are a taxpayer, please consider using Gift Aid to increase the value of your gift by 25% at no cost to you. Contact the Gift Aid secretary Michael at GA.bath.stmary@cliftondiocese.com