Celebratory Event: Champagne Afternoon Tea 2019 / Digwyddiad Dathlu: Te'r P...
Description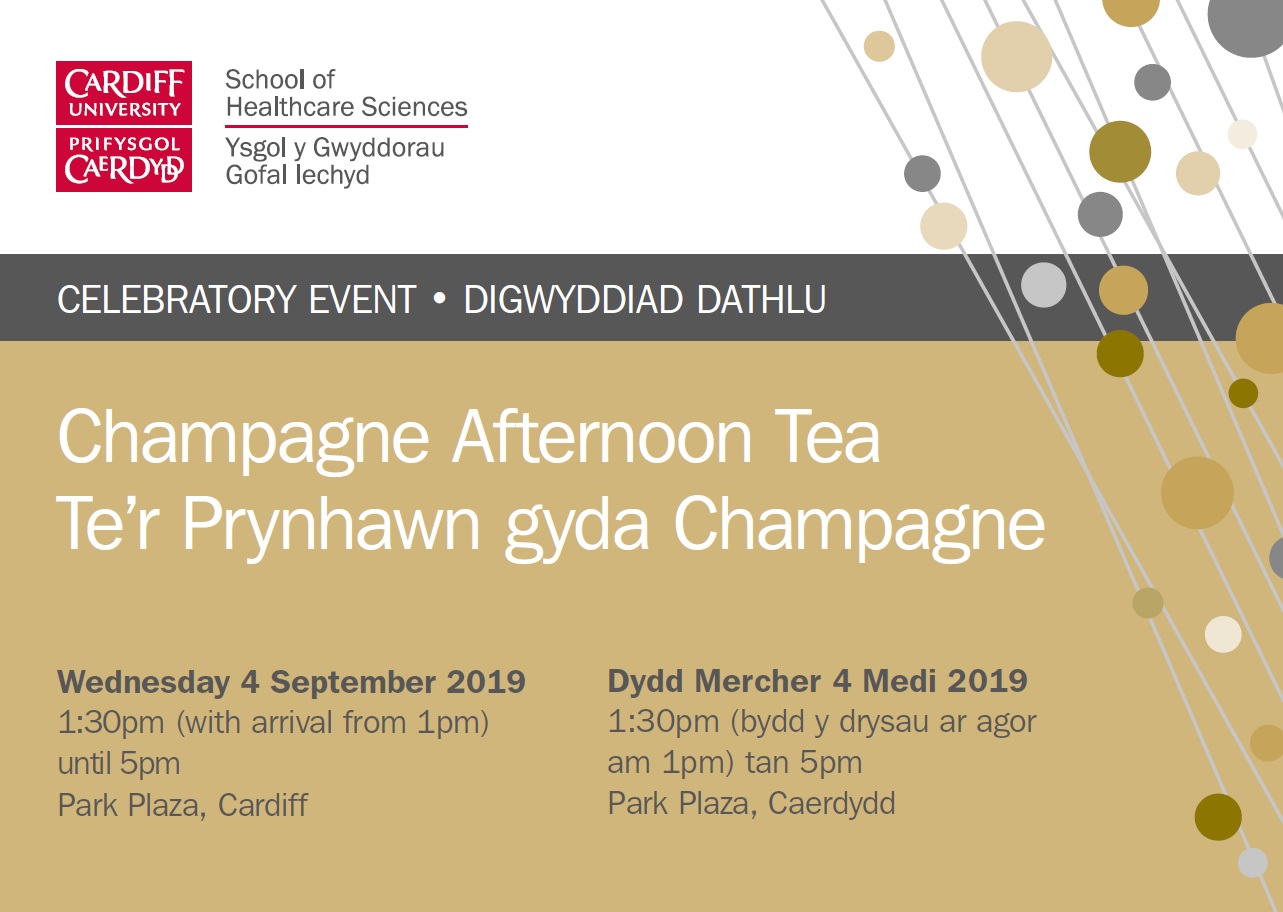 ---
The School of Healthcare Sciences at Cardiff University will be holding an event to celebrate our success and partnership with our placement colleagues. As part of this a number of awards will be announced. These were selected by students on all of our undergraduate healthcare programmes.
In celebration of your dedication this year, the School of Healthcare Sciences would like to invite you to join us for a celebration champagne afternoon tea and prize giving.
Due to capacity restrictions this event is by invitation only.
School of Healthcare Sciences Celebratory Event: Champagne Afternoon Tea
Wednesday 4th September 2019
1.30pm – 5pm (with arrival from 1pm)
Park Plaza, Cardiff
If you have any questions about the event or changes to a booking, please contact colleagues in the Marketing and Communications team by emailing HCAREmarketing@cardiff.ac.uk
---
Bydd Ysgol y Gwyddorau Gofal Iechyd Prifysgol Caerdydd yn cynnal digwyddiad i ddathlu ein llwyddiant a'n partneriaeth gyda'n cydweithwyr lleoliadau gwaith.Cyhoeddir enillwyr nifer o wobrau yn y digwyddiad. Y myfyrwyr sydd ar ein holl raglenni gofal iechyd israddedig sydd wedi dewis y rhain.
Hoffai Ysgol y Gwyddorau Gofal Iechyd eich gwahodd i ymuno â ni ar gyfer te prynhawn Champagne a chyflwyno gwobrau i ddathlu eich ymroddiad eleni.
Oherwydd prinder lle, drwy wahoddiad yn unig y cewch fynd i'r digwyddiad hwn.
Digwyddiad Dathlu Ysgol y Gwyddorau Gofal iechyd Te Prynhawn Champagne
Dydd Mercher 4 Medi 2019
1.30 pm – 5 pm (gan gyrraedd o 1pm ymlaen)
Park Plaza, Caerdydd
Os oes gennych unrhyw gwestiynau am y digwyddiad neu os ydych am wneud newidiadau, cysylltwch â'm cydweithwyr yn y tîm Marchnata a Chyfathrebu drwy ebostio HCAREmarketing@caerdydd.ac.uk.
---