Cell Symbiosis Therapy (CST) Taster Evening

Tuesday, 26 January 2016 from 18:00 to 20:30 (GMT)
Event Details
Cell Symbiosis Therapy (CST) 
A Taster Evening
with Gilian Crowther 
Naturopath and Nutritional Therapist 
Dip NT/ND, mBANT, mNNA, CNHC reg
This event is for healthcare professionals and complementary practitioners
The evening serves as an outline to our more intensive Introductory Seminar held at regular intervals throughout the year.
What is Cell Symbiosis Therapy?
Over two billion years ago, a unique act of symbiosis took place: two prokaryotes (organisms without a cell nucleus or any other membrane-bound organelles) combined to form a completely new type of nucleated cell: the eukaryote [1]. Mankind owes its very existence to this unique evolutionary development. Cell Symbiosis Therapy® is based on this fundamental recognition that all human cell systems have a hybrid nature.
What are Mitochondria?
Mitochondria are living organelles that have developed from bacteria, and govern almost all our metabolic activity, energy performance and detoxification processes [4]. This means they play a central role in our health and recovery. When our mitochondrial function is impaired, the energy (ATP) required for controlling our differentiated cell activity is no longer formed within the mitochondria using oxygen and the formation of oxygen radicals [5], but either anaerobically outside the mitochondria via glucose fermentation, or aerobically, i.e., using oxygen, but without forming oxygen radicals. When this happens, cells activate their cell division cycle rather than continuing to drive the differentiated cell performance of all organ systems. [6]
Examples of illnesses caused or accompanied by mitochondrial dysfunction [3]
ADHD (attention-deficit hyperactivity disorder)

AIDS

Allergies

Autoimme diseases

Cancer (an intracellular immune dysfunction – a "safety mode" in immune function)

Circulatory disorders – arteriosclerosis, heart attack, stroke

Depression

Diseases of old age (Alzheimer's, dementia, Parkinson's)

Fungal infections (Candida, Pneumocystis carinii, aspergillosis, etc.)

Hormonal disorders

Hypertension

Impotence, frigidity

Lowered immunity

M.E., burnout

Organ degeneration, raised cholesterol

Orthopaedic disorders

Premature aging

Viral infections (herpes, Epstein-Barr, hepatitis, etc.
About Gilian Crowther
Gilian Crowther MA (Oxon), mBANT, mNNA, CHNC
 reg. is a Naturopath and registered Nutritional Therapist who studied complementary therapy in Germany for many years before completing her training in the UK.
She specialises in a mitochondrial approach that she encountered while in Germany called Cell Symbiosis Therapy (CST), and practises this within the Academy of Nutritional Medicine (AONM), a large network of doctors and complementary therapists with a CST clinic in London.
She holds training courses and seminars for the Academy of Nutritional Medicine and the CST Academy.  
Gilian also holds the position of Director of Research at the Academy of Nutritional Medicine (AONM), within this role she continuously pursues research into related topics with affiliated specialists.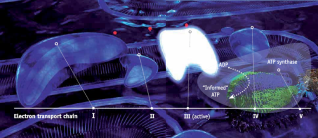 The registration cost for the event is £15
College of Naturopathic Medicine
41 Riding House Street
London
W1W 7BE 
United Kingdom
The event is CPD accredited (2 1/2 hours)
The event is CPD accredited with the NNA Naturopathic Nutrition Association

[1] Margulis, L. (1971). Origin of eukaryotic cells. Yale University Press. ISBN-10: 0300013531
[3] Brown, Guy C., Murphy, Michael P. (2010). Essays in biochemestry. Portland Press. ISBN-10: 1855781786
[4] Alberts, B., Johnson A., Lewis J., Raff, M., Roberts, K. Walter, P. (2002). Mulecular biology of the cell. New York: Garland Science. ISBN-10: 0-8153-3218-1
[5] Scheffler, IE. (2001). A century of mitochondrial research: achievements and perspectives. Division of Biology, University of California, San Diego, and Center for Molecular Genetics, La Jolla, CA 92093-0322, USA. PMID:16120266
[6] McInerney, J., Alverez-Ponce, David (2011). The human genome retains relics of its prokaryotic ancestry: human genes of archaebacterial and eubacterial origin exhibit remarkable differences. Genome Biology and Evolution. 3: 782–790
Gilian Crowther

The Academy of Nutritional Medicine (AONM) Director

of Research CST Specialist, MA (Oxon), mBANT, mNNA, CHNC reg. is a Naturopath and registered Nutritional Therapist
When & Where

College of Naturopathic Medicine
41 Riding House Street
W1W 7BE London
United Kingdom


Tuesday, 26 January 2016 from 18:00 to 20:30 (GMT)
Add to my calendar
Organiser
The Academy of Nutritional Medicine (AONM)

Cell Symbiosis Therapy (CST) Taster Evening