Central Europe Symposium 2013: 'Europe' Then and Now

Thursday, 18 April 2013 from 09:45 to 17:00 (BST)
Event Details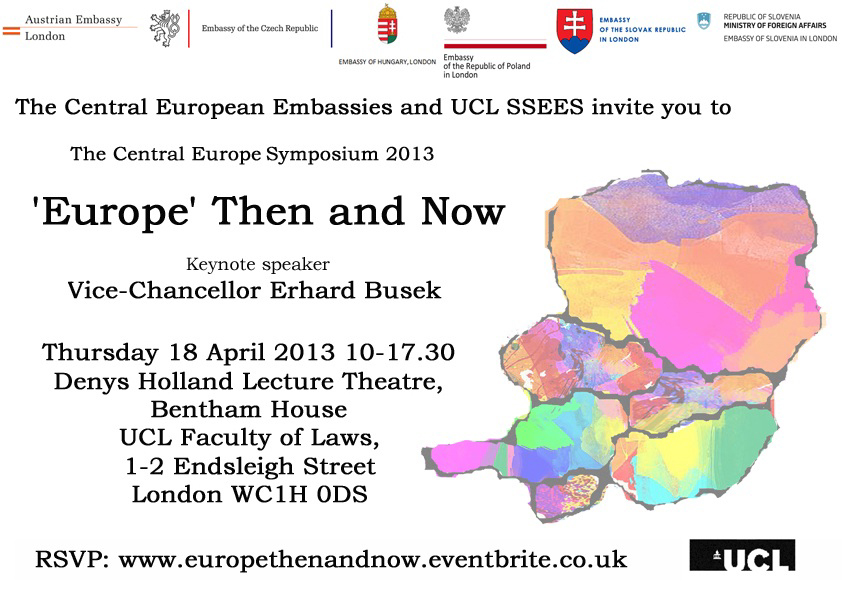 'Europe' Then and Now
Hosted by
HE Mr Emil Brix, Ambassador of Austria
HE Mr Michael Žantovský, Ambassador of the Czech Republic
HE Mr János Csák, Ambassador of the Republic of Hungary
HE Mr Witold Sobkow, Ambassador of the Republic of Poland
HE Mr Miroslav Wlachovský, Ambassador of the Slovak Republic 
HE Iztok Jarc, Ambassador of Slovenia
Dr Robin Aizlewood, Director,
UCL School of Slavonic and East European Studies
Thursday 18 April 2013 10-17.30
Denys Holland Lecture Theatre, Bentham House
UCL Faculty of Laws, 1-2 Endsleigh Street
London WC1H 0DS
Little more than a decade ago, 'Europe' represented an ideal and a model to the region of Central Europe, where the shadow of the former Iron Curtain was still a recent memory. Now, that same 'Europe' is the site of social and economic crisis on a scale unseen since World War Two. Does Central Europe, with its experience of fundamental social and economic change, offer lessons for the current crisis of 'Europe'?
Keynote speaker: Vice-Chancellor Erhard (Chairman of the Institute for Danube Region and Central Europe): "What Central Europe contributes to the European Project"
Political Science panel: The Question of 'Europe'
Not long ago few would have questioned that a priority for post-socialist countries in Central and East-Central Europe was to learn from the Western European countries of the EU zone how to become 'normal', modern European societies. Today, those founding EU countries are undergoing a level of social and economic upheaval unprecedented in recent memory. Does the conscious reflection on the identity of 'Europe' that the post-socialist societies of necessity undertook reveal new perspectives on the current identity crisis in the EU as a whole?
Speakers: Prof. László Csaba, Dr. Roderick Parkes, Dr. Andraž Zidar
Economics panel: Economics and the Moral Society
While economics has always held tangible consequences for society at large, the study of macro-economic patterns and processes has traditionally been the reserve of highly trained specialists. At a time when economic crises have given rise to widespread social disturbances, however, the study of economics confronts ever more urgently moral or indeed philosophical questions regarding broader social structures. Have economic questions become the most important moral questions of today?
Speakers: Mr. György Barcza, Prof. Jan Svejnar, Nataša Williams
Cultural History panel: Culture and the Public Sphere
In Central Europe 'the intellectual' has traditionally been a figure who reflects on social and political questions as much as cultural ones. Today it is increasingly difficult to separate the cultural from the public sphere as a whole. Does Central Europe present a model of the 'engaged intellectual' that has particular relevance for those societies that have traditionally drawn distinct boundaries between cultural, political, and economic discourse?
Speakers: Prof.Balázs Mezey, Wojciech Przybylski, Dr Michal Vasecka
Programme
09.45 - Registration 
10.15 - Keynote Speech: "What Central Europe Contributes to the European Project"
Erhard Busek (Chairman of the Institute for Danube Region and Central Europe) 
11.00 - Coffee break 
11.15 - Political Science Panel: "The Question of 'Europe'", chair Sean Hanley (UCL SSEES) 
Speakers: Prof. László Csaba, Dr. Roderick Parkes, Dr. Andraž Zidar 
13.00 - Lunch: Masaryk Senior Common Room, SSEES, 16 Taviton Street, WC1H 0BW 
13.45 - Economics Panel: "Economics and the Moral Society", chair Slavo Radosevic (UCL SSEES) 
Speakers: György Barcza, Prof. Jan Svejnar, Nataša Williams 
15.30 - Tea break 
15.45 - Cultural History Panel: "Culture and the Public Sphere", chair Tim Beasley-Murray (UCL SSEES) Speakers: Prof. Balász Mezei, Wojciech Przybylski, Dr Michal Vasecka 
17.00 - End 
Reception at the Embassy of the Republic of Poland, 47 Portland Place, London W1B 1JH
When & Where

Denys Holland Lecture Theatre,
Bentham House UCL Faculty of Laws,
1-2 Endsleigh Street
WC1H 0DS London
United Kingdom


Thursday, 18 April 2013 from 09:45 to 17:00 (BST)
Add to my calendar
Organiser
UCL School of Slavonic and East European Studies
Central Europe Symposium 2013: 'Europe' Then and Now