Centre for Urban Transport Technology @ QM Industry Event
Centre for Urban Transport Technology @ QM Industry Event, Queen Mary University of London
About this event
QMUL has won two large grants from the Dept of Education (£18M) and the Skills for London (£10M) to establish an Institute of Technology (IOT) where we will offer degree apprenticeships from 2022 with our partners at Newham College. As part of this we are establishing a new QMUL Urban Transport Technology Centre and new relationships with large employers and SMEs.
So far more than 50 QMUL academics have expressed an interest in joining this research group. One of our initial motivations was to bring together this community at QMUL so that it is easier for external partners to navigate and to allow us to develop a QMUL wide activity from which we can build large future CDT and platform grants.
In this lunch event, two of our IOT anchor partners, Siemens and the Port of London Authority, as well as Connected Places Catapult and Podaris, will join us to scope out their largest research challenges . We also encourage our academics to pitch our research areas. Our idea is that we will identify initial projects of mutual interest that our existing taught students can work on collaboratively in 2020-21.
Register and reserve your seat for free today!
Access to the UTT @ QM Industry Event Options:
(1) Use your E-ticket
(2) Use this link directly
Access to the breakout sessions:
(1) UTT @ QM Industry Event PLA Breakout Session
(2) UTT @ QM Industry Event CPC Breakout Session
(3) UTT @ QM Industry Event Podaris Breakout Session
Full Programme: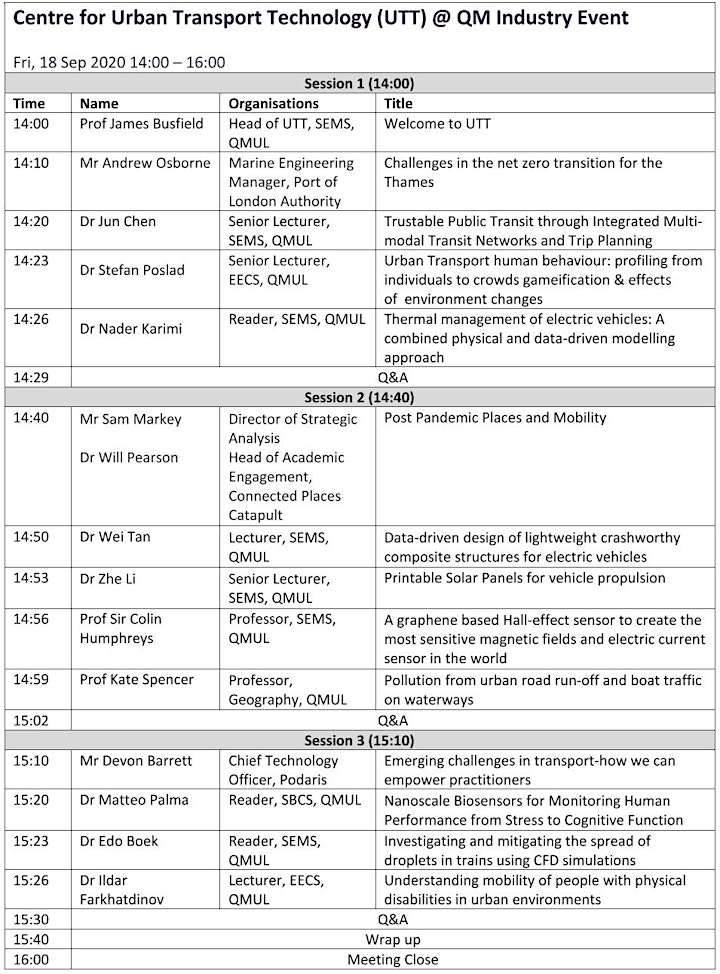 Organiser of Centre for Urban Transport Technology @ QM Industry Event