Event Information
Refund policy
Contact the organiser to request a refund.
Eventbrite's fee is nonrefundable.
Feed your creativity with a deep dive into mind mapping and collaging. A beautiful guide to clarity and a fresh grounding.
About this event
The Centred Self Workshop
Vision Board 2 Part Workshop
Since 2018 I have led over 100 people through different iterations of this workshop, evolving each one to do more.
I'm so excited to share this one with you + can't wait to meet you,
Lizzie
Reconnect + Reimagine
By exploring what joys, what ease, what experiences, what growth and contributions we wish to enrich our lives with...
We can find how to (uniquely) experience life + find what we are seeking.
By seeing how no one else has our answers the choice is laid bare in our hands, with tools from this workshop we can feel re-centred and resilient.
Are you feeling a pull to a more Centred Self?
Why 100+ women have taken the workshop so far:
~ Feeds your creativity
~ Draws a line under your life's chapter so far
~ Opens you up to your centre and wisdom
~ Helps you reimagine your possibilities
~ Makes any decision making needed easier
~ enhance approach to work .... ok, life!
~ to feel inspired and grounded
You leave with:
~ A tangible beautiful tool to remember all this
~ A artwork by you for your wall ( I promise you'll feel proud)
~ See your present and future with fresh eyes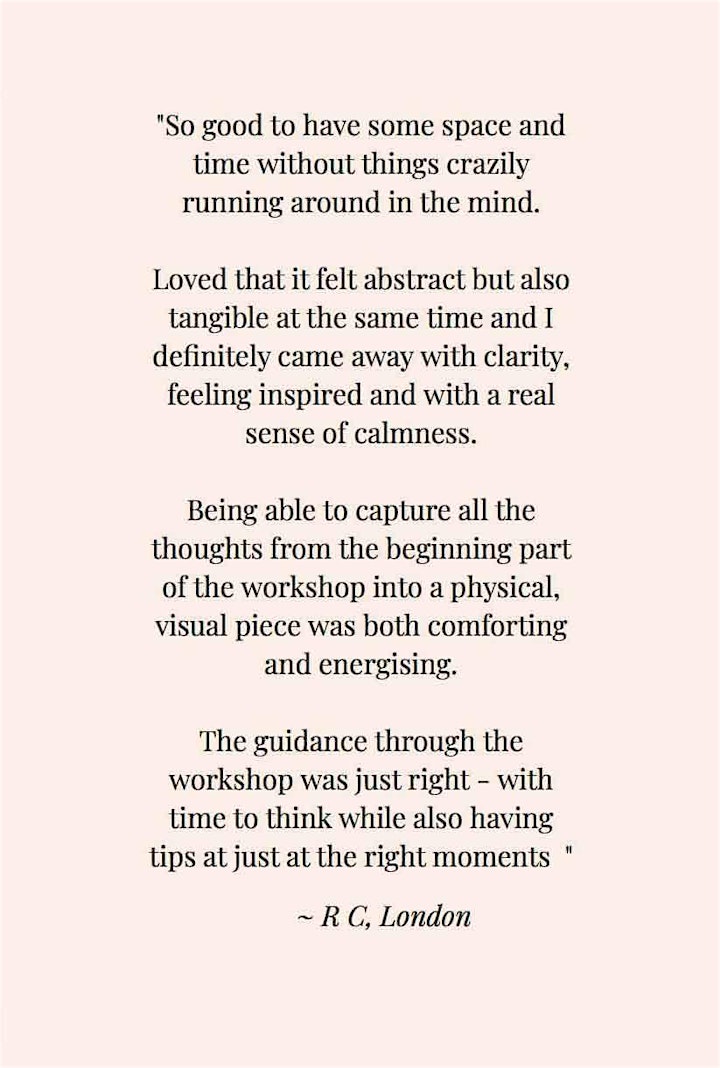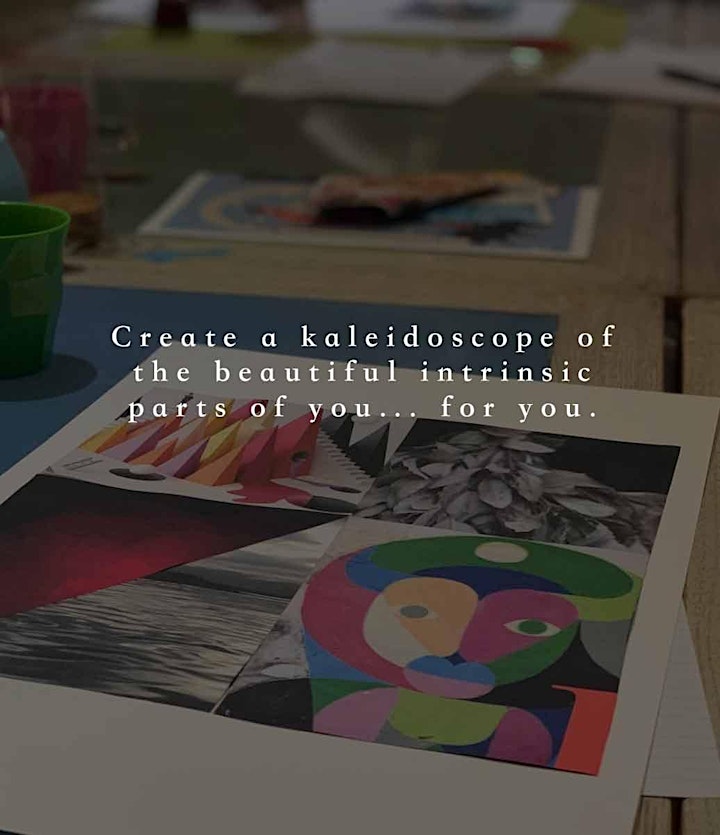 What it involves:
PART 1 (1.5hrs) ~ Mind Mapping - bring something to journal in! Saying Hi - sharing when you wish and being part of a sacred safe place.
Between sessions ~ Time to collect your images for the following session
PART 2 (1hr) ~ Process of creating & attaching intention - with as much help as you need.
What you will receive:
- E-book to settle you into this space.
- If needed for collage base and mount - Prep pack of 1 A4 and 1 A3 Card
​
What you will need:
A journal
10 Magazines/image material to cut up freely.
A4/A3 paper/card (see above if problem)
Scissors, pritt stick, ruler/straight edge.
​
Cost - £30 inc Card, Ebook + 1:1 Call after Class. 2 £10 Supported Places per Class
Join a group of 4 - 8 people or request a recording (must be watched within 3 days of live event)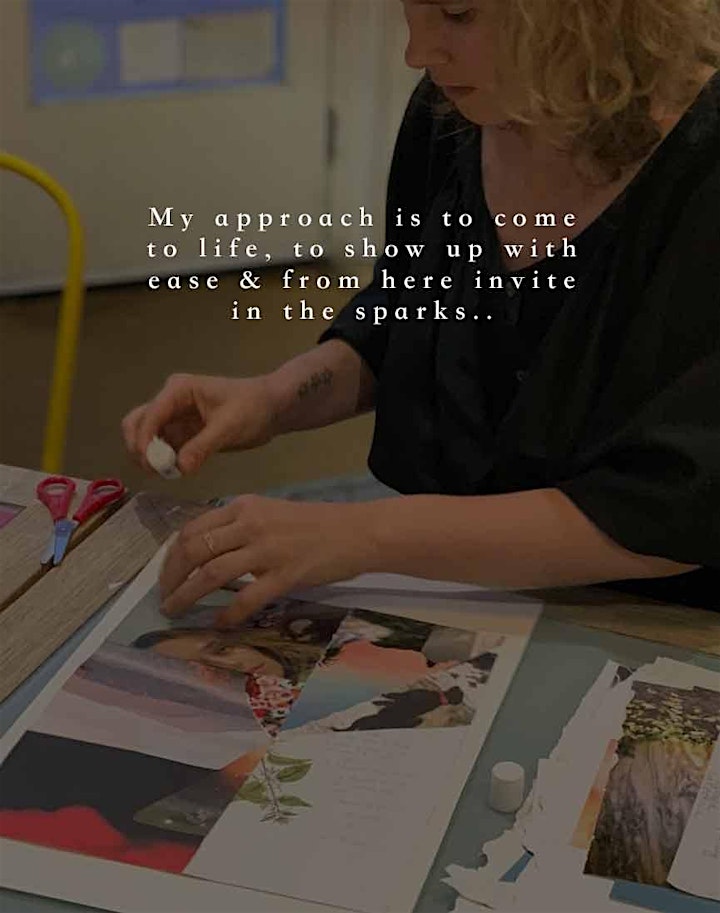 My Teachings
​
What if you could show up to every day and every challenge in a state of joyful ease, let the creative solutions flood in, whilst enjoying each moment?
Sometimes our world knocks us off balance, tests our paths and we find ourselves sapped of energy. What if we came prepared. This vision board is that, to keep our attention on what can refill our energy and spark light. This is the tool to keep you grounded in the path of your choosing and focusing your attention on how you want to spend your precious time.
My approach is by discovering self and seeing your value, ease floods in & from here creativity sparks. Making space for the creative genius. Elizabeth Gilbert speaks of the creative genius visiting you and having to grab hold. Here, we set them a place at the table, with open arms.
​
Gift yourself Clarity
You will access where life works its best for you and the state of mind that attracts your success. Deeply discover what makes your heart and mind tick to create your re-centred self.
​
The Most Accessible Yearly Investment
Overflowing with tools from my obsessive self growth study and practise, my 15 years of professional creative practise and 100+ people's feedback into the workshops material. You leave with a tool for your year ahead, a kaleidoscope of the beautiful intrinsic parts of you... that you can use daily with affection, readiness and trust.
​
For your Relationships
Look at her (your artwork) everyday, feel the energy you gave her and she will give it back. Do this for you and liberate others too, because when you resonate this inner light your world benefits and aligns.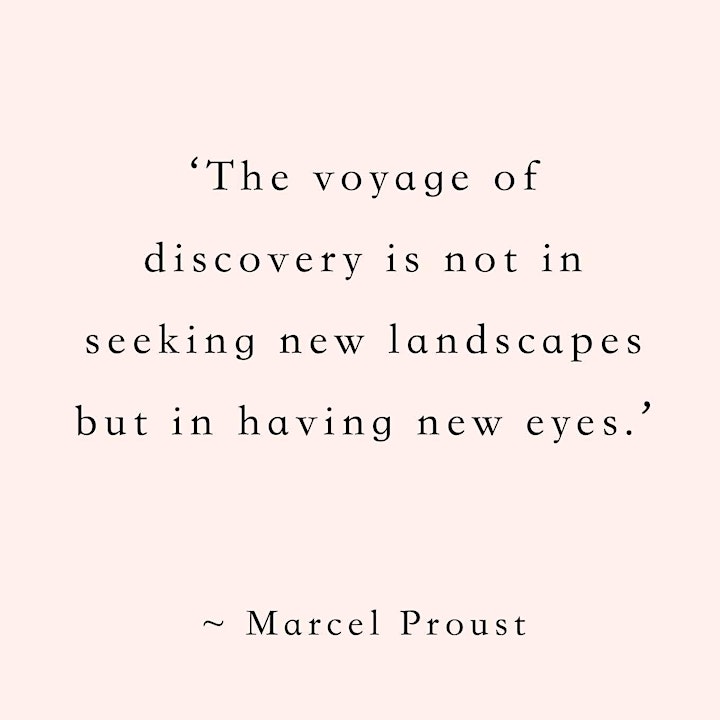 Testimonials
'Didn't expect to get so much from it' ~ N. K, London
'I had an amazing time this evening, thank you! Your mediation sequences were fab too, I feel great. ' ~ E, Kent
'Just wanted to say that was incredible' - S.M, London
' I really enjoyed it especially that mediation. I've written so much its reminder me how much I love to write so thank you'. ~ L.T, Dorset
'I loved making my vision board with Lizzie. Each session was such a calming, kind and open experience; I was inspired to be specific but to also to find freedom and play. I had known that I had wanted to make a vision board for a while but had had no idea where to begin. Lizzie provided a clear and easy-to-follow structure that allowed me to discover what I really wanted in life and what truly brought me joy. When I look at my vision board (numerous times each day!) I often think, 'yes, this is me, these are the things I want more of', and it feels right. The creative design of the vision board that Lizzie encourages is so eye-catching and pleasing to look at as well, I have it framed in our hallway now, it's like a very personal piece of art!' ~ H.G, London
'I really enjoyed taking some time out to focus on my vision board, the class by Lizzie( we resonate (as you wish)) was an amazing space to find clarity on what I want to materialise in my life. Lizzie has an amazing ability to help you focus, and Connect with your feelings, and guide you through the creative journey. I would love to repeat this workshop every year so that it sets the tone for the whole year ahead.' ~ S.F, London
*By purchasing your ticket you'll be added to We-Resonate e-letters. You can unsubscribe at anytime.
Date and time
Location
Refund policy
Contact the organiser to request a refund.
Eventbrite's fee is nonrefundable.
Organiser of Centred Self ~ 2 Part Vision Board Workshop with We-Resonate
Lizzie Clark is the founder of We-Resonate, Mindset Coach and Senior Creative Designer. After ten years, working in New York + for McQ Alexander McQueen, Lizzie founded her sustainable womenswear brand, coaching and self connection workshops.
~

We-Resonate began as my answer to the fashion industry, to lift the meaning of clothing and value the materials already here. However the answer doesn't start at what clothes we buy, but by knowing what is important to ourselves and how we (uniquely) wish to experience life ~ Lizzie
Follow the journey here - Instagram