Event Information
Refund policy
Contact the organiser to request a refund.
Eventbrite's fee is nonrefundable.
A creative + mind opening workshop exploring what makes your heart and mind tick. You'll finish with clarity and a re-centred self.
About this event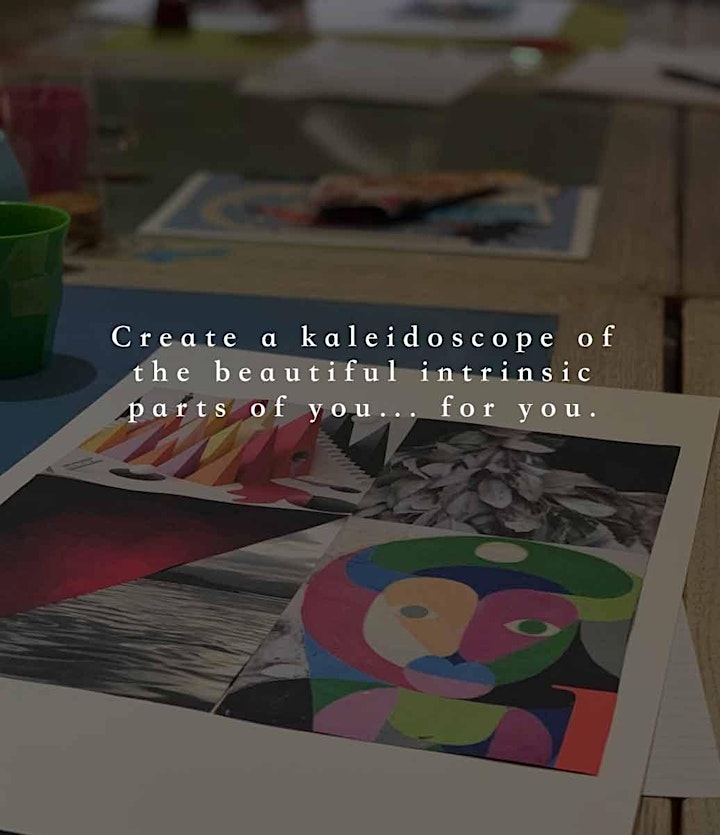 2 PART WORKSHOP Centred Self Workshop with We-Resonate
Tuesday Evening 5th Jan 7.30-9pm (PART 1)
+
Tuesday Evening 12th Jan 8-9pm (PART 2)
~
Lizzie (Hi!) Founder of We-Resonate will be leading a small group on this hands-on workshop, helping those taking part to nurture their creativity and life objectives through mind mapping and vision boards. You'll leave brimming with clarity and a fresh grounding.
~
What are you seeking?
You could be wandering aimlessly, curious or perhaps already reached an epiphany! This workshops gives you a simple tool to celebrate, connect with and discover your centred self to help you on your journey with ease and joy, through what you find beautiful. Be it a person, song, picture, state of mind, teaching, book, mood, desire. Give it a place to live and resonate from.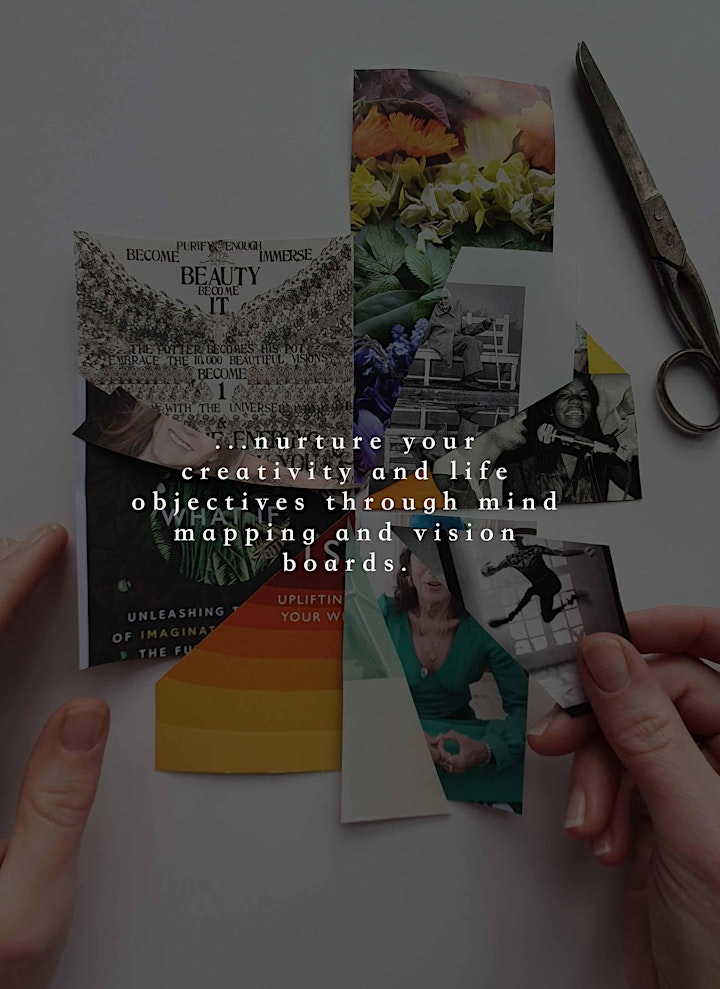 ~
When it comes to getting through, to or over something we can have the approach of 'Just show up, push through, just do it' - all this comes with a hint or more of struggle. One client said she used to lock herself in her studio for days and waits for it to come (note you don't need to be an artist!).
~
My approach is to come to life, to show up but with ease, and from here I invite in the sparks, the gilts of genius that are so ready to enter, any time we open our doors to it.
~
This vision board doesn't include swimming pools and mansions.
~
You will access where life isn't working its best for you and set a place where it does (even if you don't know where this is now). Combined with a mind mapping of what makes your heart and mind tick you'll finish with clarity and a re-centred self.
~
The tool you leave with is made with your own hands, a kaleidoscope of the beautiful intrinsic parts of you...
An Artwork that you can display with affection, readiness and trust.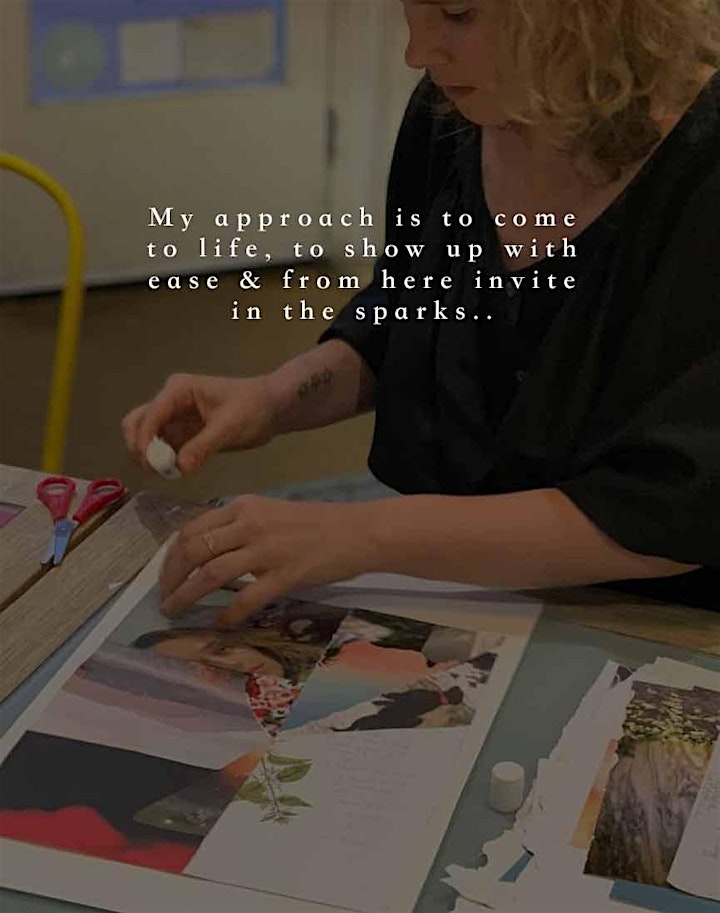 ~
Look at her (your artwork) everyday, feel the energy you gave her and she will give it back. Do this for you and liberate others too, because We ~ Resonate and that's a power to change the world.
WHEN:
2 Part Workshop - Tuesday Evening 5th Jan 7.30-9pm + Tuesday Evening 12th Jan 8-9pm (+ 1hr of your own time inbetween)
What you'll be doing:
First Tues ~ Mind Mapping - bring something to journal in! Saying Hi - sharing when you wish and be part of a sacred safe place.
These sessions allow for you can take your time to collect the images for the following tuesday.
Second Tues ~ Collaging - with as much help as you need to create your vision board.
What you will receive:
- E-book to settle you into this space.
(for those with no access to card):
- 4 pieces of card - please send me your address!
Please bring yourself:
First Tues - A journal
For you to use inbetween sessions - 10 Magazines/image material to cut up freely.
Second Tues
- A4/A3 paper/card (see above if problem)
- scissors, pritt stick, ruler/straight edge.
Option to receive, not compulsory:
- Within the session you will be invited to share your thoughts, this can be a great space to feel heard.
- A Digitally composed Poster + option to have printed professionally - see below (approx £10 extra, unframed)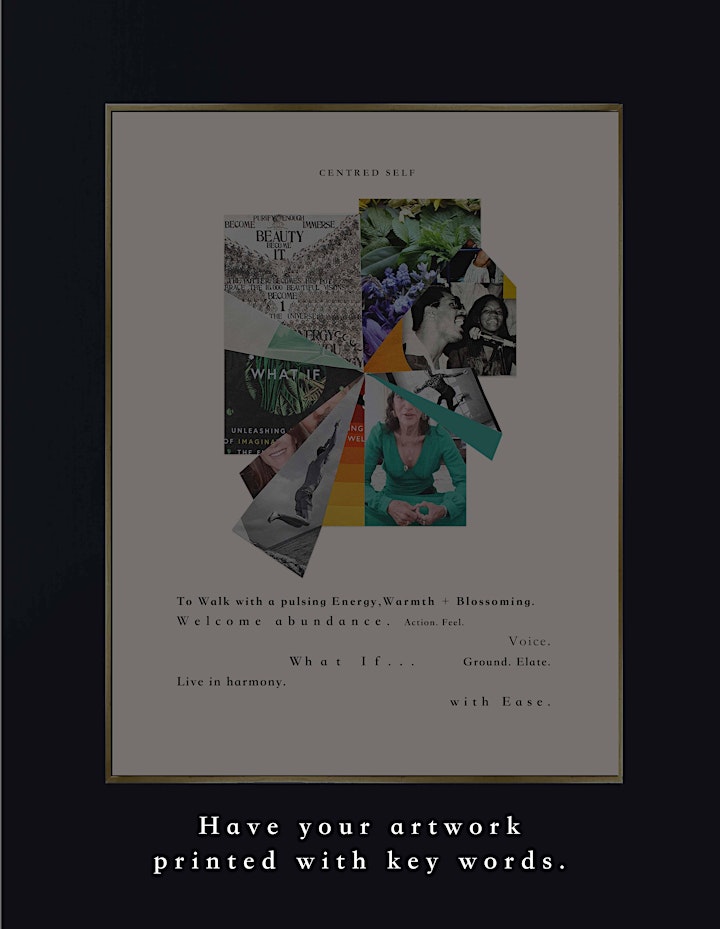 As always 5% of We-Resonate sales support positive change in our communities.See who here.
T&C's
You will be added to We-Resonate's mailing list so you can recieve the E-Book + updates on this event - you can opt out at any time by replying - unsubscribe.
Please add lizzie@we-resonate.com to your contacts or look out for emails!
Testimonials
'Didn't expect to get so much from it' ~ Nina
'I had an amazing time this evening, thank you! Your mediation sequences were fab too, I feel great. ' ~ Emmy
'Just wanted to say that was incredible' - Sara
' I really enjoyed it especially that mediation. I've written so much its reminder me how much I love to write so thank you'. ~ Leigh
'I loved making my vision board with Lizzie. Each session was such a calming, kind and open experience; I was inspired to be specific but to also to find freedom and play. I had known that I had wanted to make a vision board for a while but had had no idea where to begin. Lizzie provided a clear and easy-to-follow structure that allowed me to discover what I really wanted in life and what truly brought me joy. When I look at my vision board (numerous times each day!) I often think, 'yes, this is me, these are the things I want more of', and it feels right. The creative design of the vision board that Lizzie encourages is so eye-catching and pleasing to look at as well, I have it framed in our hallway now, it's like a very personal piece of art!' ~ Hannah
'I really enjoyed taking some time out to focus on my vision board, the class by Lizzie( we resonate (as you wish)) was an amazing space to find clarity on what I want to materialise in my life. Lizzie has an amazing ability to help you focus, and Connect with your feelings, and guide you through the creative journey. I would love to repeat this workshop every year so that it sets the tone for the whole year ahead.' ~ Sahar
Date and time
Location
Refund policy
Contact the organiser to request a refund.
Eventbrite's fee is nonrefundable.
Organiser of Centred Self ~ More than a Vision Board Workshop with We-Resonate
Lizzie Clark is the founder of We-Resonate, Mindset Coach and Senior Creative Designer. After ten years, working in New York + for McQ Alexander McQueen, Lizzie founded her sustainable womenswear brand, coaching and self connection workshops.
~

We-Resonate began as my answer to the fashion industry, to lift the meaning of clothing and value the materials already here. However the answer doesn't start at what clothes we buy, but by knowing what is important to ourselves and how we (uniquely) wish to experience life ~ Lizzie
Follow the journey here - Instagram