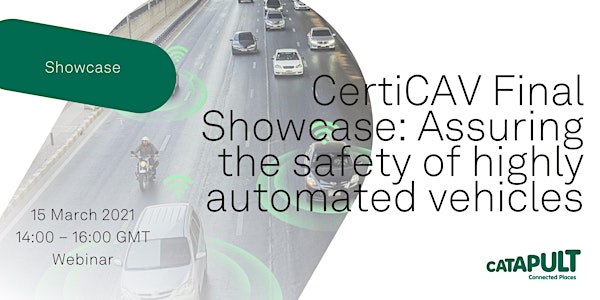 CertiCAV Final Showcase: Assuring the safety of highly automated vehicles
Join us for CertiCAV Final Showcase: Assuring the safety of highly automated vehicles on 15th March 2021
About this event
The CertiCAV project has created a potential practice framework for the development and management of Highly Automated Vehicle (HAV) assurance. This assurance focuses on the important area of safety, but also touches on other practical aspects such as the efficiency of the transport system and cooperation between road users. Working for the Department for Transport, the Connected Places Catapult in collaboration with WMG – The University of Warwick, have explored topics including the information a manufacturer would be expected to present, how performance requirements may be developed and measured, best practice for HAV verification & validation, and finally the activities an independent authority may conduct to assure conformance to the requirements.
This webinar is a chance to be informed of, and ask questions about, the ideas we have developed during the project. These ideas will be built on by the DfT as they develop regulatory assurance processes for HAVs to help bring the technology to market and enshrine the UK's global leadership position in HAV testing and safety.
Speakers
Representative from DfT
Dr Zeyn Saigol, Principal Technologist, New Mobility Technologies, CPC
Tom Webster, Principal Engineer, New Mobility Technologies, CPC
Rob Myers, Safety Management Technologist, New Mobility Technologies, CPC
Dr Siddartha Khastgir, Head of Verification & Validation, Intelligent Vehicles, WMG, University of Warwick
Richard Holland, Team Lead for Safety, Regulations, and V&V, New Mobility Technologies
Agenda
14:00 Welcome and overview of project
14:05 Keynote from DfT
14:20 Overview of CertiCAV assurance proposals
14:40 Deep dive into selected topics:
Generation of scenarios relative to an ODD
Building testable requirements from the 9 CertiCAV safety criteria
What an audit and inspection process should be looking for
15:25 Demo of CertiCAV proof-of-concept in simulation
15:45 Q&A session
To find out more about Connected Places Catapult events please visit our website.
Organiser of CertiCAV Final Showcase: Assuring the safety of highly automated vehicles
Connected Places Catapult accelerates smarter living and travelling in and between the places of tomorrow.
We focus on growing businesses with innovations in mobility services and the built environment that enable new levels of physical, digital and social connectedness. The Connected Places Catapult operates at the intersection between public and private sectors and between local government and transport authorities. We convene the disparate parts of the market to help innovators navigate the complexity of doing business, creating new commercial opportunities and improving productivity, socio-economic and environmental benefits for places.