Location
Etc. Venues London
Marble Arch, Garfield House
86 Edgware Road
W2 2EA
United Kingdom
Description
RippleRock are proud to offer a series of courses beginning the week of 16th Feb 2015. Each of the courses tells a story in its own right delivering value to those who attend; together the courses are trilogy, exposing attendees to a variety of practices, techniques and concepts for the Agile practitioner.
Certified ScrumMaster

course, this CSM course includes graphical recording to provide a visual record of your learning experience. With Mark Summers and graphical artist Stuart Young. Includes the Visual Artistry workshop for free.

(19-20th February 2015) +free visual artistry workshop - £950+VAT
Visual Artistry Workshop

. Learn how to use visual artistry as a tool to initiate projects, enhance learning and have fun with your teams. With Graphical artist Stuart Young, supported by Agile Coaches Helen Meek and Mark Summers.

(18th February 2015) - £400+VAT
Certified Lean Kanban Foundation

. Learn all about Kanban, once again your experience will be captured graphically. With Helen Meek and Stuart Young. Includes the Visual Artistry workshop for free.

(16-17th February 2015) +free visual artistry workshop - £950+VAT
Certified Lean Kanban Foundation with free 1 day Visualisation/ Artistry Workshop
Instructor: Helen Meek, AKT
A Certified Lean Kanban course is designed to teach Kanban with a focus on the role of anyone wanting to adopt Kanban. In order to enhance the learning experience the interactions and learnings will be captured graphically by a visual artist. During the course this will be used to reflect on what is being taught and it will serve as a permanent output that you will be sent after the course.
Kanban is a set of practices and principles that bring the benefits of Lean theory to organisations.
Benefits include; increasing the flow of value, visualising and establishing an optimum workload for the team's capacity, reducing waste, creating better organisational alignment and building a culture of engaged workers.
The Kanban method focuses on making incremental, iterative changes that evolve business processes into more efficient and manageable work streams while avoiding the risks associated with complex change programmes.
This interactive 2-day workshop, accredited by the Lean-Kanban University, provides a thorough grounding in the principles and practices of Kanban.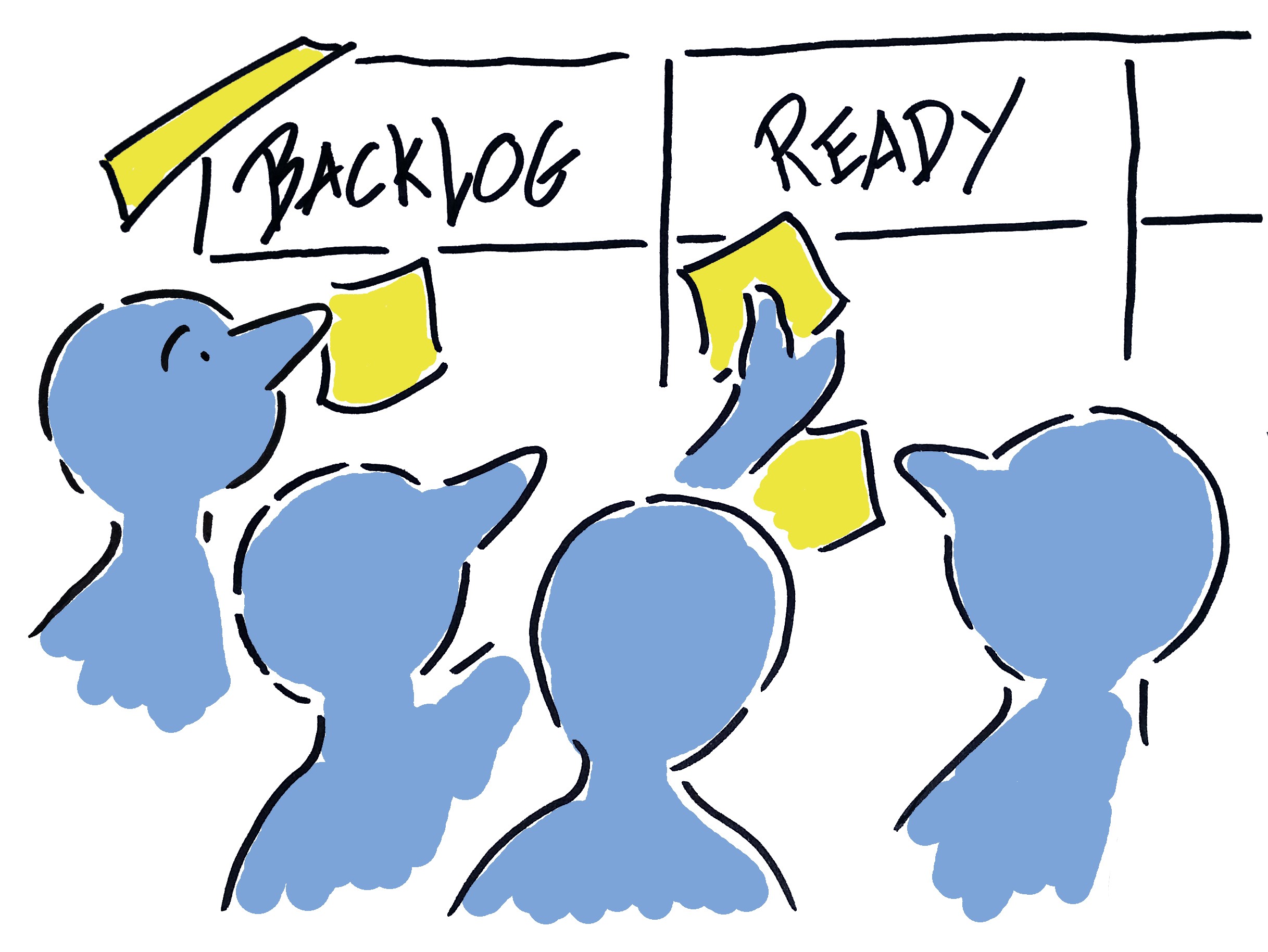 About Helen Meek
Helen is an outgoing and driven coach and trainer who is passionate about working with Individuals, teams and organisations on their road to agility. Helen has working with many varied organisations and teams in many different industries and brings this vast wealth of experience and knowledge to her training and coaching.
Helen has a holistic approach to coaching operating with individual team members, whole teams, leaders, managers and executives across technical and non-technical departments. You will often find her working with clients on rolling out enterprise level Kanban or Scrum.
Helen is proud to be an Accredited Kanban Trainer with the Lean Kanban University and runs regular classes publicly and privately. Not forgetting her roots Helen is a regular trainer for Agile and Scrum.
Helen is a great believer in sharing her knowledge and encouraging other to do the same and enjoys growing the Agile and Kanban communities. She has many achievements under her belt including:
Founding the Agile Coaching Exchange (ACE) and Kanban Coaching Exchange (KCE) user groups.

Active speaker and participation at the Scrum Gatherings, XP, Lean Kanban and Agile Business
Conferences


Being an organiser for the first ever European Scrum Alliance Coaching Retreat
Helen is an authentic coach with many years of real, practical experience and war wounds from her own Agile journey. This is what makes Helen the ideal coach, trainer and leader.

Agenda

Agile and Lean Principles
Kanban and the Agile Manifesto

Agile Principles

Kanban Overview
Little k and Big K - the kanban technique and method

Revolutionary vs Evolutionary Change

Principles of the Kanban Method

Core Practices of the Kanban Method

Depth of Implementation

When is Kanban typically used?
Visualising the Workflow Work Items
Identifying Work Item Types

Modelling the Process

Demand Analysis

Kanban Boards
Kanban Simulation

Team-based realistic simulation of using a Kanban system in action
Limiting Work in Progress
Little's Law

Limiting WIP

Input Queues

Output Buffers

Setting WIP Limits
Managing Flow
Cumulative Flow Diagrams

Measuring Flow

WIP as an indicator of Lead Time

Identifying Problems

Removing Bottlenecks
Making Process Policies Explicit
Classes of Service

Cost of Delay

Scheduling Policies

Service Level Agreements
Feedback Mechanisms
Empirical Feedback

Feedback Within the Team

Feedback Between Teams

Feedback from Manager to Team Member
Kaizen - Collaborative Improvement
Improvement Cycles

Rhythm and Cadence
Who Should Attend



This course is useful for anyone who wants to be successful using Kanban within their organisation. As such, it will benefit anyone who is involved in using Kanban or considering using Kanban. It will be helpful both to those new to Kanban and those who have explored Kanban but who now want to consolidate their knowledge in a practical setting.
In terms of roles, the course is suitable for:
Product and Project Managers

Development Team Members (Architects, Designers, Coders, Testers, etc.)

Business Analysts

Scrum Product Owners & ScrumMasters who want to enhance their Lean / Agile skillset.

Participants on this course should gain sufficient knowledge about the Kanban Method and related topics to:

Lead or guide a team in their adoption of Kanban - from initial visualisation and the design of kanban systems through to evolutionary change

Answer questions and support the team in day-to-day operation

Help teams to identify and resolve hindrances to flow

Take measurements and create meaningful metrics that helps the team

Evolve process and practice according to team needs in a meaningful way

Connect with the Kanban community for the sharing of practical experiences and the development of new ideas and techniques
Please note: If you select to attend the Visualisation/Visual Artistry Workshop, this will take place on Wednesday 18th February.
Visualisation/ Artistry Workshop
Instructor: Stuart Young
Enriching a workshop, meeting or presentation with engaging visuals needn't be an exclusive art. Join Stuart Young of Illustration Station for an intensive and enjoyable visualisation and artistry one-day workshop. Build your confidence and leave the session with your own unique toolbox jam-packed full of reusable images, tricks and methods.
Leave your inhibitions behind you and remember anyone can draw!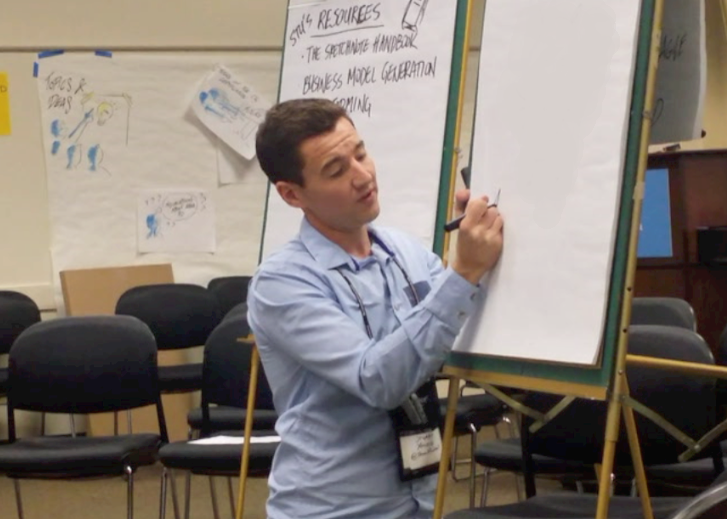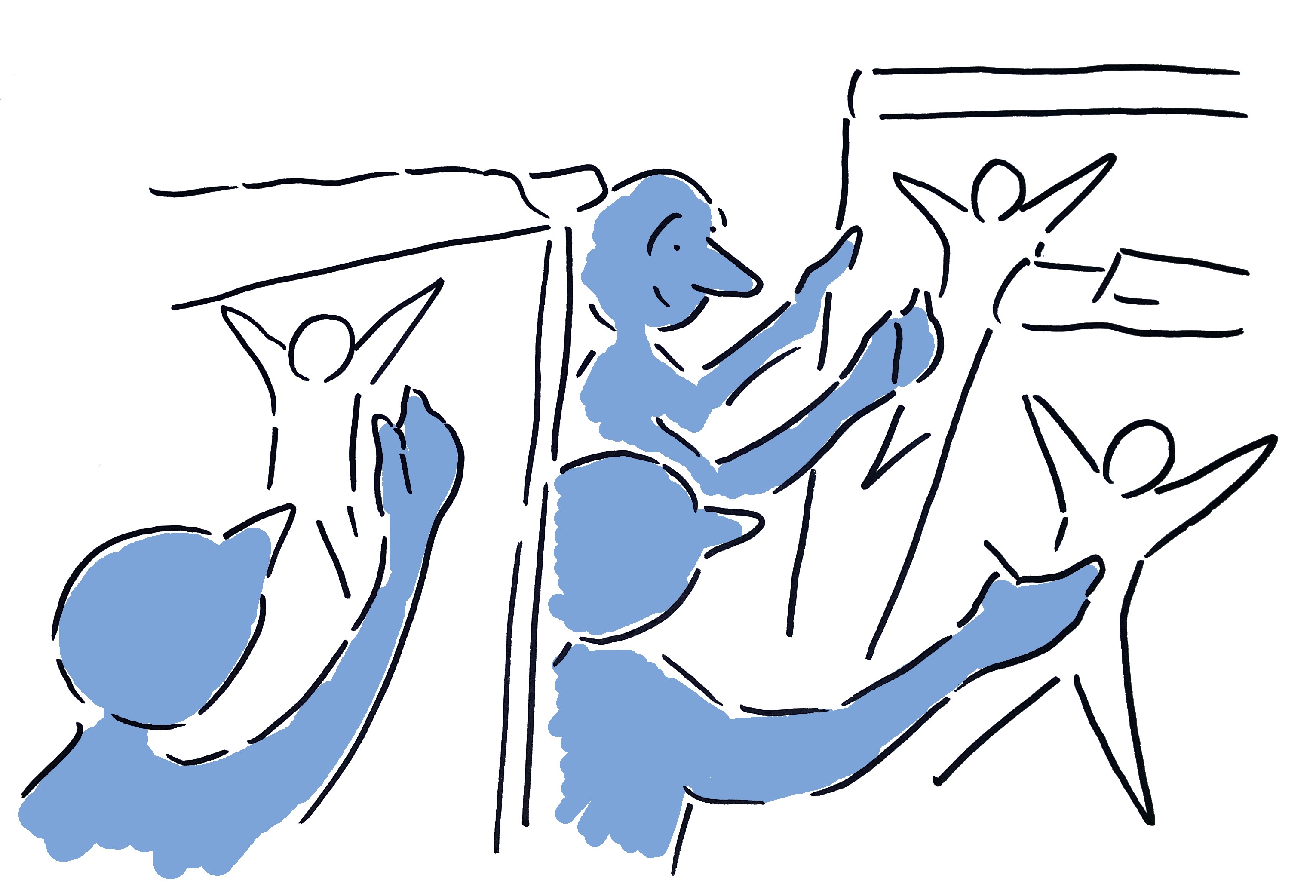 The Workshop:
Don't expect to find a table, slide-deck or even sit down for longer than 2 minutes! There will be plenty of interaction to keep you on your toes.
We will be spending a short amount of time talking through the theory of live visualisation before undertaking a variety of exercises to build your confidence when writing or drawing in front of a crowd. If you are familiar with Scrum or Agile we will discuss how techniques can be applied during ideation sessions and retrospectives.
Whilst listing the key areas that will be covered during the day, at the beginning of the session all attendees will have the opportunity to build a backlog and write down something they wish to take away from the workshop. The group will then collectively prioritise each topic making sure that the session is perfectly tailored for all.
Most importantly there will be plenty of time for self-discovery so that you can build a bank of images and ideas that work for you. No one should go home empty handed.