Description
Professional Scrum with Kanban (PSK) is a 2-day course that teaches Scrum practitioners how to apply Kanban practices to their work. Through theory, case studies, and hands-on exercises, participants will understand the importance of transparency and flow as it pertains to the Scrum framework.
Scrum.org have worked with Daniel Vacanti in the creation of this course. In 2007, Daniel helped to develop the Kanban Method for knowledge work. He managed the world's first project implementation of Kanban that year.
Course Objectives:
Gain a clear understanding of how flow works within the context of Scrum
Be introduced to Kanban practices that Scrum Teams can adopt to help improve their effectiveness and efficiency
Understand how to effectively use the appropriate Kanban practices without changing
Learn a practical approach to improving transparency and visibility of work
Course Topics:
Dispelling Common Myths
Understanding Professional Scrum
Kanban Theory, Principles and Practices
Kanban in Practice
Scrum with Kanban
Who Should Attend:
The Professional Scrum with Kanban course is for anyone doing Scrum. It is particularly beneficial for those people within an organization who use Scrum to deliver products to market including Product Owners, Development Team Members and Scrum Masters.
Certification:
All participants completing the Professional Scrum with Kanban course will receive a password to attempt the Professional Scrum with Kanban I (PSK I) assessment. This assessment is only available to students of the class currently. The test is currently under construction and will be available soon. The industry-recognized PSK I certification requires a minimum passing score of 85%. If you attempt the PSK I assessment within 14 days of receiving the password and do not score at least 85%, you will be granted a 2nd attempt at no additional cost.
Trainers:
The trainer for this PSK course will be Michal Epstein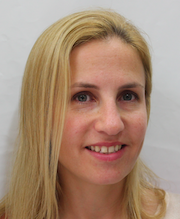 Michal Epstein is an experienced Agile coach and Professional Scrum Trainer (PST) certified by scrum.org
Michal has over 14 years of experience in the IT and software industries. She served in wide range of professional and managerial positions, among them: building wide scale global production environments, managing QA teams and leading Agile methodology in large software organizations.
Michal's experience both in the IT production world and in software development contributes to her wide and holistic perspective when implementing Agile projects. While training and coaching teams for Agile mindset, she focuses on implementing cross organization agile culture.
---
Frequently Asked Questions:
What is included in the price?
The price includes two days of training with Daniel and Michal, which includes course materials and the opportunity to take the PSK assessment and certification after the course.
Will you be charging VAT for this class?
Actineo Consulting LLP is a business registerd in the United Kingdom and the course will be delivered in another EU country. Under European legislation, VAT will not be charged to businesses other EU countries. Individuals and businesses based in the UK or outside the EU will be charged 20% tax. During the registration process, if you register with a valid non-UK EU tax number, the system will not apply any tax to your booking.
What are the course hours?
Courses start at 09:00 and finish at 17:30 each day.
What is the language of the course?
The course will be taught in English. If you require the same course in a different language, please email us at education@actineo.email to discuss your needs.
How many people are attending?
Our courses are capped at 16 attendees to ensure a premium learning experience.
How should I prepare for the course?
The only preparation required is to read the Scrum Guide & the Kanban Guide for Scrum Teams
I'm not sure if I have enough experience to take the course. What should I do?
Email us at education@actineo.email and we will advise you.
Can I claim PMI PDU credits for attending the course?
Yes. You can claim 14 PDU's for attending a course.
Where can I contact the trainer with further questions?
You can email us at education@actineo.email
Can you organise this course as a private class?
Yes, we can. If you would like to have this class delivered as a private class for a group of participans, please contact us at education@actineo.email. We deliver this course throughout the globe.

Cancellations & Refunds
We reserve the right to postpone or cancel this course if there are insufficient registrations. In this case, you will be offered an alternative date or a full refund. We will not be responsible for any other costs incurred.
Refund requests:
up to 30 days before start date - 100% fee retained
30 or more days before start date- 100% refund
Contact: education@actineo.email