Description
Learn Scrum by building a revenue generating product in 15 weeks!
Join us for this novel course which leads to the Scrum Alliance Certified Scrum Master (CSM) certification. You will join a group of no more than eight like-minded people who will work together over the course of 15 weeks to create a revenue-generating product. As the Agile Manifesto says you will learn better ways of developing software by "doing it."
We will begin by forming a team with a high degree of psychological safety, trust, shared understanding, and alignment. We will then proceed to brainstorm and validate revenue generating ideas. You will then build and launch a product (think Shopify store) and iterate on the product/market fit and the marketing/customer fit. You will encounter challenges and frustrations and learn how to work through them.
The course will be chaperoned by two experienced Scrum Alliance certified coaches who have collectively coached over 200 hundred teams and led agile transformations of several thousand people.
OUTCOME:
You will learn and live the Scrum five values.
You will practice the five Scrum events.
You will create the three Scrum artifacts.
You will experience the three Scrum roles.
You will learn and practice several common approaches to discovering and validating products.
BENEFITS:
Increased self-awareness
You will feel confident about your ability to work as a member of a Scrum team.
You will receive the CSM after you pass the Scrum Alliance certification exam.
AGENDA:
Week 1: Getting to know each other

Week 2: Building a high trust, high safety team
Week 3: Introduction to key Scrum concepts
Week 4-5: Determining value
Week 6-7: Selecting a product
Week 8-10: Developing the product
Week 11-12: Launching the product
Week 13-15: Product refinement and pivots




PREREQUISITES:
No prerequisites except for a positive attitude, enthusiasm, and a willingness to do the work between the sessions.


WHO SHOULD TAKE PART:

Team members, Scrum Masters, Coaches, Managers
ABOUT THE COACHES: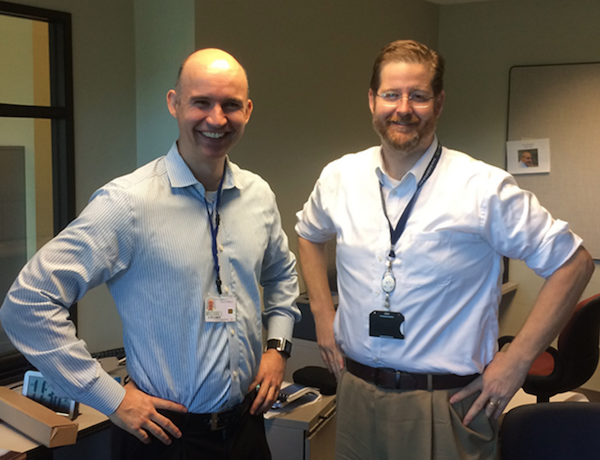 Mark Palmer (right)
Mark Palmer was the 9th Scrum Alliance Certified Team Coach (CTC) in the world, with over 20 years in technology, software, and product development. Mark's major engagements have been with Capital One, State Street, the U.S. Government, Anthem, Phillips 66, and Advance Auto Parts. He is also the founder and co-organizer of ScrumRVA, Richmond VA's Scrum User Group.
Michael de la Maza (left)

Michael de la Maza is one of approximately one hundred Scrum Alliance Certified Enterprise Coaches (CEC) in the world. As an Agile coach, his major engagements have been with Paypal, State Street, edX, Carbonite, Unum, and Symantec. Previously, he was VP of Corporate Strategy at Softricity (acquired by Microsoft in 2006) and co-founder of Inquira (acquired by Oracle in 2011). He is the co-author of Professional Scrum with TFS 2010, Why Agile Works: The Values Behind The Results, and Agile Coaching: Wisdom from Practitioners. He holds a PhD in Computer Science from MIT.
Speak to the organisers - Adventures with Agile

To speak to the organisers of this program for further details:
Email: training@adventureswithagile.com